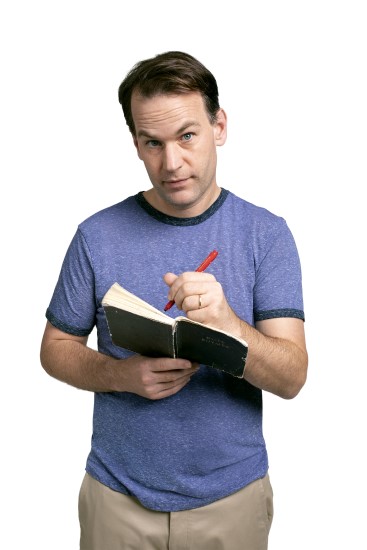 Comedian Mike Birbiglia is taking his one-man show, The New One, on the road with a stop here in the nation's capital at the National Theatre. Mike delves deep into parenthood as he becomes a father for the first time. The show gives the audience a unique point of view – the guy's perspective of being a dad with some funny anecdotes along the way. The New One is the best show to start National's 2019-20 season!
Birbiglia is about to embark on a life-changing as he goes from a man who loves couches to becoming a first-time father in the eighty-minute program. As he starts off the show, we see Mike had two loves in his life – his wife Jenn that he calls "Chlo" and his couch. He goes to great length about describing a couch as "a bed that hugs you".  The story solely focuses on him and his wife deciding to have a baby, their trouble of conceiving and the trials and tribulations of raising a newborn. In fact, Mike informs us of his seven reasons why he should not have kids. One of the them is his sleepwalking and he showed the audience this weird custom-made bed sheet that he made for his condition. Another reason is "I have a cat" – to me, that needs no further discussion if you own a cat.
Birbiglia draws you in with his laid-back rhetoric, making the audience feel like he's telling his story for the first time and we are along for the ride. When the disclosure of deep personal topics come up, he lowers his voice to a mysterious whisper, begging you to lean forward just to hear what he is talking about. By the end of the evening, you feel an old friend playing catch up with him.
He also has incredibly sharp wit and gift for wordplay. His amazing yet hysterical one-liners can sneak up on you like a stealth bomb. Mike had some touching moments from his daughter which any first-time father can relate to. Those special precious moments include the time he recorded his wife giving birth to making up words to Ava Maria to put her to sleep. I enjoyed the hearing of poems his wife penned during their first year with Oona in the production. One of my favorites was the one about their daughter at age eight months: "An infant reaches for something (I don't know what), pushes it farther away and cries in frustration each time she reaches without realizing she is crawling for the first time. She is just like her father." You got admit that tugs at the heartstrings.
The staging in the production is so simplistic, except for one epic sight gag that needs to be seen to believe. Nonetheless, it perfectly serves Mike and his play. The New One is a very good-humored entertaining one-man show that deserves praise for its brilliant storytelling and its creator Mike Birbiglia. Everyone in the audience laugh quite emphatically, me included.
MIKE BIRBIGLIA'S THE NEW ONE will run at National Theatre through Sunday, September 29, 2019. Running Time: One hour and 20 minutes, No Intermission
Thursday at 7:30pm
Friday and Saturday at 8pm
Saturday matinee at 2pm
Tickets are currently on sale and may be purchased at TheNationalDC.com or by calling 1-800-514-3849.
GRADE: A+ (A Must See)