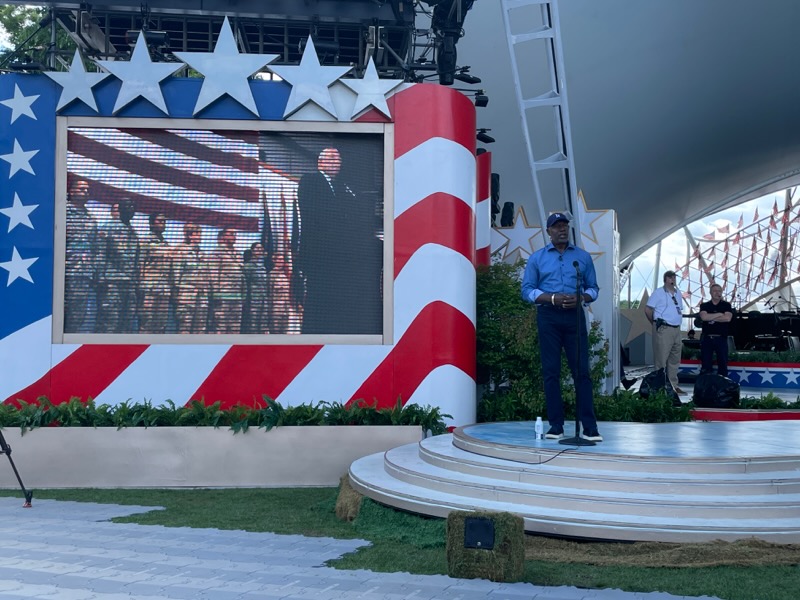 Tonight, on PBS, the 33rd Annual National Memorial Day Concert will entertain audiences once more. For the first time since the global pandemic began in 2020, the annual concert will feature a live audience and live performance. Long time hosts Gary Sinise and Joe Mantegna will guide us once again from the stage at the West Lawn of the U.S. Capitol in Washington DC.  It's the annual event that continues to honor the men and women who serves and have served in the US Armed Forces.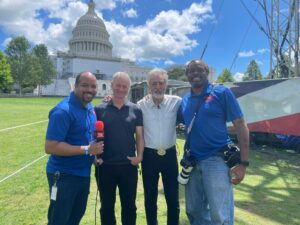 I talked to long time hosts Gary Sinise and Joe Mantegna who have been hosts since 2005 and 2002 respectively and asked them How does it feel to come back to the US Capitol for the first time since the pandemic? Sinise started by saying "I think they did a terrific job scrambling for 2020 when we faced with a pandemic. And they put a great show together that year and last year was really good. But there's nothing that compares to be in on the West Lawn of the Capitol with all our pals here during this concert. It's an important day, Memorial Day. Memorial weekend is important to remember.
Mantegna followed up "Well, exactly just what Gary said. I mean, the first year we had we went up to Gary Sinise Foundation offices, kind of under scrambled. Together we put on a pretty good show. And then the next year, we a little more time. And I thought, you know, sometimes it says necessity is the mother of invention. I think we picked up some little tricks that you know, might even help, you know, future concerts and what we did. But as Gary said, There's nothing duplicate standing on that stage. And looking up and seeing a capitol building with the flag flying. That's the way that celebrate Memorial Day.
Next the two talked about the tributes they will be both be presenting. Joe will be honoring Gold Star Families with Emmy award-winning actress Jean Smart. Joe stated "Well, Jean, and I will be, in a way honoring the family of the Graham family, such a Major General Mark Graham and his wife, Carol, and what they have gone through, you know, there's that whole thing of everyone gives some, some gave all and there's all these kinds of phrases that can go along with service. But this is a family that had gone well above and beyond. And so, to tell their personal story of their of themselves and their two sons. And the result of it, showing that it's not all often it's not always just wartime that create tragedy, sometimes it's also the kind of mental anguish and mental suffering that many of our servicemen and women go through. So, it's an incredible point in story and like I've been doing this concert 21 years."
Sinise will pay tribute to the Medal of Honor. He goes on to say "We have about 6,667 Living recipients. We're blessed that we have five of them that are going to be featured in the concert tomorrow. They represent over 3,500 who have worn the medal since the Civil War. And we get to highlight five special individuals tomorrow night. And they represent of course all the Medal of Honor recipients all the living recipients and all those they were the medal for which are those that they served with and who didn't come home so they will be the first one to tell you that the metal isn't theirs. It's somebody else's and they wear it for them."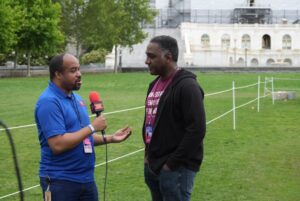 The 2022 event will feature many tributes in its program. One of which is a remembrance of the late Secretary of State General Colin Powell. Powell was involved with the NMDC since 1991. Broadway legend Norm Lewis talks about the song that he will perform in honor of the Medal of Honor recipients. "Written by Kathie Lee Gifford and my friend David Friedman. It's called "My Hero" and it's initially it was written for a dad who took care of his son who was paralyzed all of his life in a wheelchair and did everything for him and was able to like the other guy was able to graduate from college and all this stuff. So, he had all these advantages. Anyway, they wrote it in tribute to him.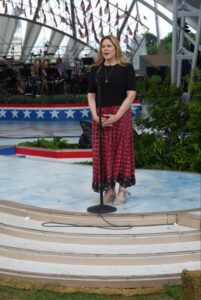 Actress Mary McCormack returns to the concert for the fifth time paying tribute to the Women who served in World War II. When asked to describe the tribute, she said "We have nine veterans, the greatest generation women of here. And they range between 98 and a half to 103 years old. And its just time we get to say thank you publicly as a nation, you know, for all that they did during that time. I mean, women did so much. From millions of filling factory jobs where we needed them while our men were away fighting and to every single job, right down to pilots, landing and enemy battlefields active battlefields and rescuing soldiers. It's just, we didn't really recognize how much they gave. And so, it's a real honor to get to do that tonight."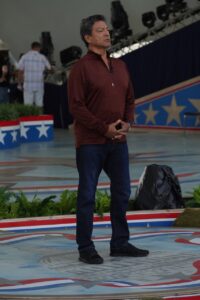 Yellowstone actor Gil Birmingham shares the story of Francis Whitebird, a Vietnam Veteran who is described as a generational warrior. "Yeah, it's really kind of an astonishing story of a man. That's a generational warrior. You know, his family has gone back because many of the Native American families have and World War I, you know, a great grandfather, uncles and World War II and two boys even presently have gone Iraq and Afghanistan. So, it's generational, you know, in their service with the country? And it's, it's wonderful to be able to honor here. Birmingham goes on to tell us what the holiday mean to him personally, "It's been it's been evolving since being here because it's so inclusive. And I think that's the thing I love about it all, it's the spirit of reminding all our veterans in the families, and the public of the sacrifices that they've made, and that they're not alone in this. And this is a gathering that gives you a sense of community that you will always be embraced within this family."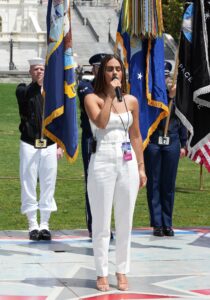 American Idol Season 10 alum Pia Toscano returns to the annual concert for the first time in eleven years. She will be performing the National Anthem and God Bless America. As a granddaughter of a US Marine, she tells us how she felt coming back to perform, "When I got the email, I was like, "Absolutely, yes. clear my schedule. I have to be there." This is one of the most beautiful events and as you mentioned, my grandfather was a Marine. So anytime I get to honor our country, it makes me so proud!"  She talks about her latest single "I'm Good" which dropped a few days ago and the inspiration for it saying "I'm Good is a very empowering song. It's a feel-good record. And it was the path to my healing and to feeling okay with myself as an individual as an independent person. You know, we go through so much in our lives. And sometimes we feel like we need others to complete us. And this is the journey to finding love within myself."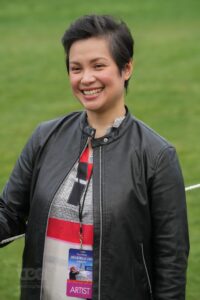 Broadway and Disney Legend Lea Salonga will be performing "The Prayer" and I asked what the song meant to her personally and she responded "Well, the song has kind of taken on much more of a life. I mean, it's a song that was on a film. And then it just became something else. I've been singing the song off and on since I was pregnant with my daughter, I think that might have been the first time I actually sang it and to sing it here. Given that it's Memorial Day, and that we are remembering those who have served and those who have passed on, because they were serving, it takes on a different sort of gravity. So, it's not just praying for someone's safety. There's a little bit more to it than that.
You can see this amazing concert TONIGHT AT 8pm EST/7pm CST on your local PBS stations or Stream It Live on the PBS YouTube channel