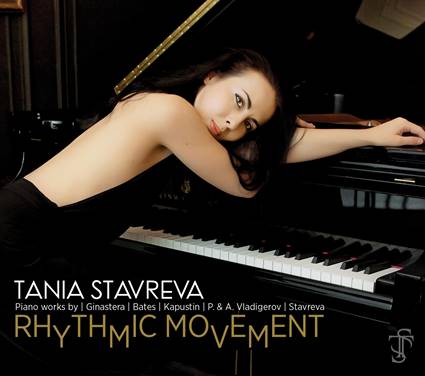 Bulgarian pianist Tania Stavreva is set to release her first solo piano album "Rhythmic Movement" January 7th, 2017. She made her New York recital at Weill Recital Hall at Carnegie Hall in 2009 and has also performed at the Lincoln Center, Kaufman Center, and many others. With such a resume, it's obvious she has a talent that needs to be heard.
The titular track "Rhythmic Movement" starts out as a quickened melody that grabs your attention. "Ratchenitza" is softer in melody than the first track and has a beautiful and peaceful sound. "Mouvement Rhythmique" is energetic and seems to resemble the first and similarly named track. "Danza del Viejo Boyero" is performed with a rather quickened melody. As beautiful as the song is, it seems to have a "race against time" feel to it. "Danza de la Moza Donosa" is sweetly played and relaxing to listen to. As opposed to the more upbeat songs, this is a track that will set your soul at ease and be the perfect song to listen to while out on the town or during a quiet evening at home.
"Danza del Gaucho Matrero" has both a jovial and serious tone. "Ruvideo ed Ostinato" has a powerfully deep sound. "Jazz Concert Etude Prelude" is quick paced and wonderful to listen to. The melody at the 1:08 mark is fun and has a lovely upbeat sound. "Jazz Concert Etude Toccatina" is upbeat and has a joyful tune, and possibly one you could dance to at a formal event. "The Dark Side of the Sun" is appropriately titled, as it begins with a thunderous sound of the keys, leading into a soft and dreamy melody.
The whimsical keys in "White Lies for Lomax" make this beautiful song perfect to listen to at the end of a day. These next two tracks are quite different from the rest, as they are two versions of the song "Dilmano Dilbero". "Dilmano Dilbero vocals" is the brief yet beautiful acapella rendition, and "Dilmano Dilbero Variations" is the equally beautiful instrumental version. The energy in the final track "Ritmico y Distorsionado" is exciting and makes you want to get up and dance.
"Rhythmic Movement" is truly an album that will bring you to your feet. No matter your musical preference, you're going to want this album for your playlist. Go get your copy January 7th.
Final Grade: A