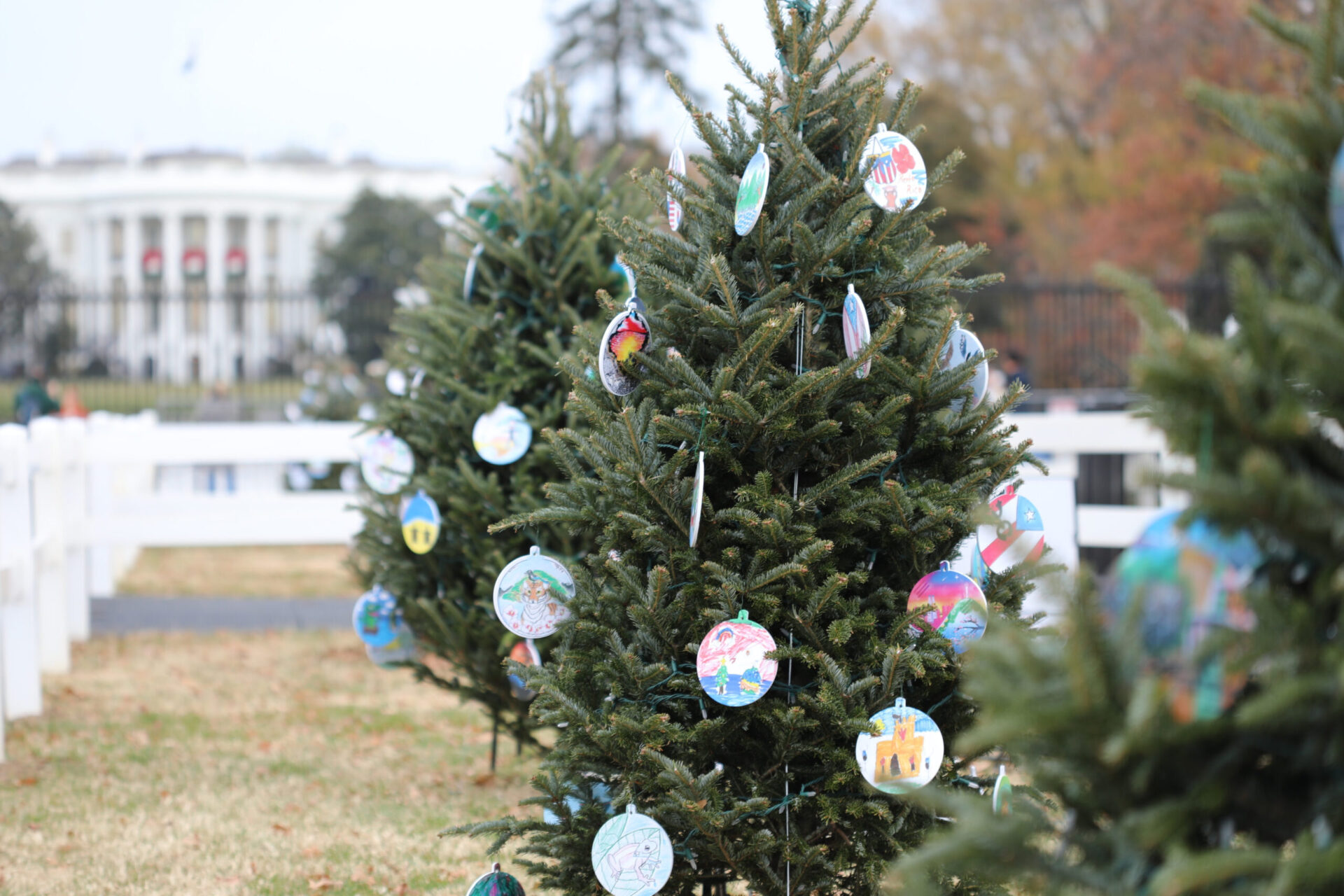 American Celebrates trees in 2021. Ornaments designed by students from each state, territory, and more, adorned small trees around the National Christmas Tree. NPS Photo.
From state flowers to notable landmarks, American students have designed one-of-a-kind ornaments to celebrate the places they call home. These ornaments will adorn 58 smaller trees that surround the National Christmas Tree. The trees represent states, territories, and schools managed by the Bureau of Indian Education and the Department of Defense Education Activity.

The America Celebrates ornament program is an annual collaboration of the National Park Service, the U.S. Department of Education and the National Park Foundation (NPF). Each federal partner worked within their organizations to facilitate the identification of elementary, middle and high schools to participate in the America Celebrates program. The project is funded by the NPF.

The National Christmas Tree Lighting has strong ties to education.

In 1923, a letter arrived at the White House from the District of Columbia Public Schools proposing that a decorated Christmas tree be placed on the South Lawn of the White House. On Christmas Eve that year, President Calvin Coolidge walked from the Oval Office to the Ellipse and pushed a button that lit the first National Christmas Tree.

During World War II, wartime restrictions meant no new ornaments were purchased for the National Christmas Tree in 1942. Washington, D.C students donated ornaments that would supplement the use of reused ornaments from previous years.

This year, more than 2,600 students participated in the American Celebrates ornament program! The students, ages 4 to 19-years-old, learned about the places they call home. From history and ecological wonders, to exploring different mediums of art, these students' ornaments are a must-see this holiday.

Since 1973, the National Christmas Tree has been a living tree which can be viewed year-round in President's Park – one of America's 423 national parks!

The America Celebrates display is one of the highlights of the National Christmas Tree experience. You're invited to view the National Christmas Tree and the 58 trees' ornaments up close from Dec. 2 through Jan. 1, 2023. Can't make in in person? Check out the President's Park Facebook page for photos of the ornaments!

In partnership with NPF, CBS will broadcast the 2022 ceremony on Sunday, Dec. 11 (8 – 9 p.m., ET/PT) on the CBS Television Network. The National Christmas Tree Lighting will also be available for the public to view at CBS.com beginning Dec. 12.

Stay tuned to learn more about this year's event! For more event information and updates, please visit www.thenationaltree.org and follow President's Park on Facebook or Twitter.

58 schools designed ornaments for the 2022 National Christmas Tree display in President's Park:

Alabama – Barton Academy for Advanced World Studies (Mobile)
Alaska – Effie Kokrine Charter School (Fairbanks)
American Samoa – Nu'uuli Vocational Technical High School (Pago Pago)
Arizona – San Luis High School (San Luis)
Arkansas – Little Rock West High School of Innovation (Little Rock)
California – Nueva Vista Language Academy (Delano)
Colorado – Infinity Middle School (Aurora)
Connecticut – O'Connell Elementary School (East Hartford)
Delaware – North Dover Elementary School (Dover)
District of Columbia – Friendship Public Charter School Blow Pierce Academy
Florida – Tohopekaliga High School (Kissimmee)
Georgia – Heritage High School (Conyers)
Guam – iLearn Academy Charter School (Dededo)
Hawaii – James Campbell High School (Ewa Beach)
Idaho – Christine Donnell School of the Arts (Boise)
Illinois – Oregon Junior/Senior High School (Oregon)
Indiana – Union Elementary School (Zionsville)
Iowa – Eagle Grove Elementary (Eagle Grove)
Kansas – Leawood Middle School (Leawood)
Kentucky – Owensboro Innovation Academy (Owensboro)
Louisiana – Harry Hurst Middle School (Destrehan)
Maine – Robert Connors Elementary School (Lewiston)
Maryland – Calvert High School (Prince Frederick)
Massachusetts – Falmouth Academy (Falmouth)
Michigan – Hanover-Horton Elementary School (Hanover)
Minnesota – Clover Ridge Elementary School (Chaska)
Mississippi – Madison Middle School (Madison)
Missouri – Sullivan High School (Sullivan)
Montana – Hyalite Elementary School (Bozeman)
Nebraska – Bennington South Middle School (Bennington)
Nevada – Garside Junior High School (Las Vegas)
New Hampshire – Arts Academy of New Hampshire (Salem)
New Jersey – Leeds Avenue Elementary School (Pleasantville)
New Mexico – Bernalillo Elementary School (Bernalillo)
New York – Maplewood Intermediate School (Huntington Station)
North Carolina – Greene Central High School (Snow Hill)
North Dakota – Valley City Jr. Sr. High School (Valley City)
Northern Mariana Islands – Commonwealth of the Northern Mariana Islands Public School System
Ohio – Lakota Central (West Chester)
Oklahoma – Jenks Middle School (Tulsa)
Oregon – Oregon School for the Deaf (Salem)
Pennsylvania – Kutztown Area High School (Kutztown)
Puerto Rico – Escuela Especializada de Educacion Bilingue (Cidra)
Rhode Island – Young Woods Elementary School (Providence)
South Carolina – Saluda High School (Saluda)
South Dakota – Stanley County Elementary School (Fort Pierre)
Tennessee – Arlington High School (Arlington)
Texas – Del Valle High School (El Paso)
U.S. Virgin Islands – St. Croix Educational Complex (Christiansted)
Utah – Helen M. Knight Elementary School (Moab)
Vermont – Wallingford Elementary School (Wallingford)
Virginia – Falmouth Elementary School (Falmouth)
Washington – Lummi Nation School (Bellingham)
West Virginia – Robert L. Bland Middle School (Weston)
Wisconsin – Jackson Elementary School (Janesville)
Wyoming – Beitel Elementary School (Laramie)

Bureau of Indian Education
Taos Day School (N.M.)
Riverside Indian School (Oka.)

Department of Defense Education Activity
Brussels Elementary High School (Belgium)
Bechtel Elementary School (Japan)
Fort Campbell High School (KY)