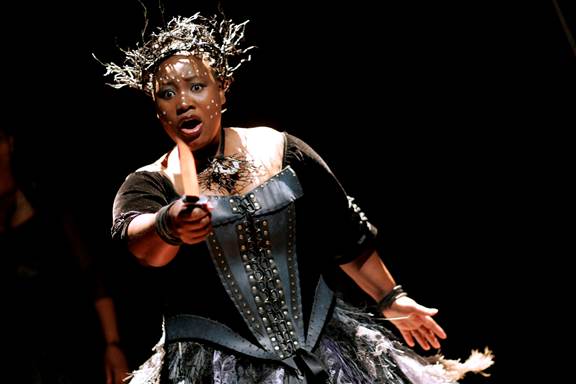 Isango's Baltimore stop on world tour is Oct. 17-19
Award-winning South African theater company, the Isango Ensemble, will stop at Baltimore's Center Stage during its U.S. tour to perform its adaptations of Mozart's opera, The Magic Flute (Impempe Yomlingo), and Shakespeare's epic love poem, Venus and Adonis, for one weekend only, Oct. 17 to 19.
The 30-member company reimagines Mozart's 1791 masterpiece through South African eyes, with the original score faithfully transposed for an on-stage orchestra of marimbas, drums and other South African percussion instruments. Mozart's operatic fairy tale of a love-struck prince's quest to rescue the Queen of the Night's daughter with the aid of a magic flute is reimagined through an African prism and set in an African township.
Based in Cape Town, the Isango Ensemble reinvents classics from the western theater canon into African settings. Its spirited interpretation of The Magic Flute won an Olivier Award for Best Musical Revival and the Globes de Cristal for Best Opera Production following a sold-out season at the Théâtre du Châtelet in Paris.
"This production has received accolades, awards and standing ovations from Tokyo to Paris. So when the opportunity arrived to have Isango play Center Stage directly after our production of Amadeus, it was just too irresistible an opportunity to let pass," says Center Stage Artistic Director Kwame Kwei-Armah. "There is a whole section ofAmadeus dedicated to the creation of the Mozart's masterpiece, The Magic Flute. Being able to see the opera reimagined in such an exciting way will be a truly unique experience."
The Magic Flute (Impempe Yomlingo) will be performed Friday evening, Oct. 17, and Saturday afternoon and evening,Oct. 18. There will also be a student matinee Friday.
One performance of Shakespeare's poem Venus and Adonis transformed through Isango's music, dance and magical theatricality will be offered at Center Stage on Sunday afternoon, Oct. 19. This interpretation– originally a 2012 collaboration with Shakespeare's Globe Theatre in England– tells in three African languages and English Shakespeare's seductive story of Venus' enchantment with Adonis after her son, Cupid, wounds her.
"Isango's production at Center Stage is an example of the continued realization of Kwame's goal to bring international and innovative productions to Baltimore," says Center Stage Managing Director Stephen Richard. "We are also doing that this season with Marley, a new musical written by Kwame based on Bob Marley's life and music."
Isango's performances are special additions to Center Stage's music-filled 2014/15 Season, which continues with the opening of the Pulitzer Prize-winning musical, Next to Normal, on Oct. 15.
For ticket information, visit www.centerstage.org. Tickets to Isango's performances will be available at a discounted price to Center Stage members.