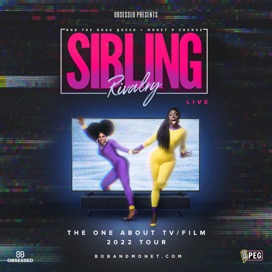 It's not every day that you get to experience two of your favorite queer performers in a new way, and the "Sibling Rivalry Live" Tour gave the energetic fans of D.C. everything they wanted and more!
Going into this show, I was expecting a live podcast with maybe a couple of lip syncs within. While this show did have both of those things, what we received was so much better and different from any other show I've seen.
The theme of this production was "The One About TV/Film," following the title format of their podcast, "Sibling Rivalry." With references to iconic media, such as Power Rangers, The Wizard of Oz, RuPaul's Drag Race, and the upcoming Wicked movie, the production had a perfect blend of scripted and non-scripted scenes.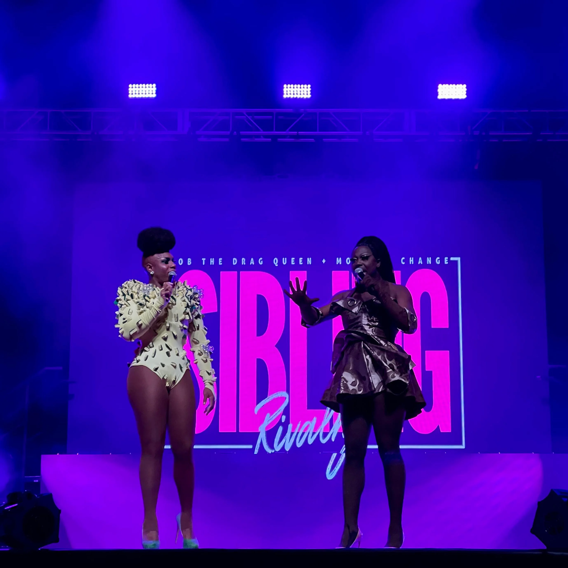 The show started with two of our favorite drag queens, Bob the Drag Queen and Monet X Change, referencing a past look of each of theirs from their time on RuPaul's Drag Race that was considered a failure in a lip sync battle that can go down in history. And while there were enough Drag Race references like this for diehard fans to recognize, I appreciated that the jokes were crafted in such a way that my friend who came with me who hasn't seen the show was still able to find humor in them.
Even though the two were rarely seen together during the first act, the queens turned out live performances with snide comments about the other throughout, which I thought elevated the whole "Sibling Rivalry" aspect. The audience in D.C. also came with enough energy to power the theater for years, which only added to the enthusiasm and success of all of the performers.
While most live shows of this nature have half-naked backup dancers, this production has something so much better: The House of Juicy Couture. You cannot see this show without admiring how captivating the House of Juicy Couture is. I came into this performance not knowing who this group was, but, like many others, left satisfied and a new fan.
Each of the members, famously known for winning season 3 of HBO's Legendary, were able to connect with the audience in different ways and give us a taste of the Kiki Ballroom scene that we normally wouldn't be able to experience. The legendary Kimiyah Prescott served Country (but they didn't use the word "country…") Wizard of Oz fantasy, while Brooklyn Couture was literally throwing herself all over the stage, wowing fans throughout the show. Dyu Couture is a natural performer, with a wide smile plastered onto his face while putting his whole body and soul into his performance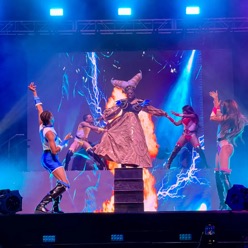 This show quite literally has everything. It has the performances you come to a drag show for, the podcast conversations you strive to hear, and just enough Drag Race and pop culture references for you to feel a connection with the larger community. It shows how versatile, fun, and subversive drag is because the fashion and choreography can be so fierce and then you'll have someone like Bob rhyme "Gaggatron" with a gay slur in a rap about liking butts.
I'm thrilled I got the chance to see these two perform in this hilarious and glamorous production and I highly recommend taking the opportunity to do the same if you get the chance.
The "Sibling Rivalry Live" North American Tour runs through October 6th. 
Grade: A