On this edition of THE INTERVUE, we will be charting a course through the night sky to Disney on Ice — where every story starts with a wish! Experience the magic of Frozen 2 and celebrate the power of love with Elsa, Anna, Olaf, and Kristoff in a new show called Magic in the Stars!
Our guest today calls the DMV home. Originally from Laurel MD, he fell in love with skating at age 10 and began training at the Columbia Figure Skating Club. With a style that blends acting and dance with skating, his career has been spent with theatre on ice troupes. After performing on the national stage for several years, he was selected to join the company of Disney on Ice in 2022. He is looking forward to making his local debut as a Disney entertainer when the show reaches Maryland! 
Let's give a DMV welcome to Samuel Devroye!
I want you to start by talking about your Maryland roots. 
I was born and raised here in Maryland. My dad grew up here as well. My mom grew up in Florida, but they decided to settle down here. Growing up in Maryland was great. I live in Howard County. I went to great schools and the club that I skated with here, the Columbia Figure Skating Club was a great community that really started my love of skating.
And how long have you been skating?
I started pretty late. I started when I was 10 years old. I did competitive gymnastics before that, but my sister was the person that got me into skating. When I saw her, she had a club performance. I think it was "The Wizard of Oz". It just seems so interesting. I was like, "you know what, let's just start the switch" and I've never gone back.
How does it feel to make your debut as a Disney entertainer at your home state of Maryland?
It's great. This is my second year at Disney on Ice, but it is such a dream to be able to play home especially because I spent my entire childhood here. I grew up going to Baltimore when I was younger, I've seen performances at this venue. It was the first venue I ever saw Disney on Ice. To be going back as a part of the cast is incredible.
Do you remember what was the show that you saw at what the arena for the first time?
The show was Mickey's Search Party, back in 2021.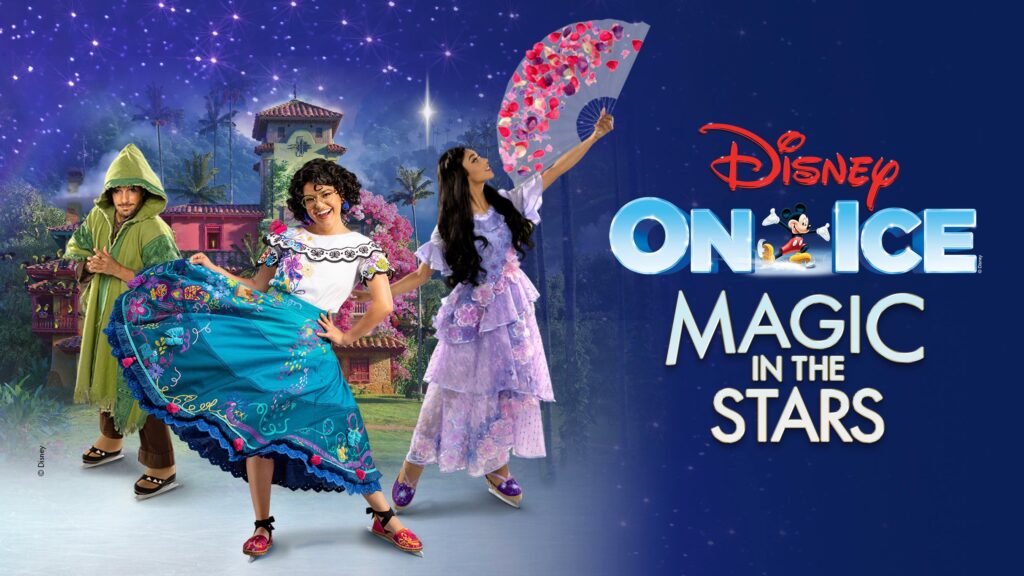 And now, you are part of this brand-new show called "Magic in the Stars". For those who have not heard of magic and stars, can you tell us what it's all about?
Disney on Ice presents Magic in the Stars is a thrilling, magical, honest experience where your favorites Minnie, Mickey, Donald, Daisy & Goofy will go through a journey amongst the stars to uncover twelve of our different stories and including over fifty-five different characters where you can see some of your classic stories such as "Cinderella" and "Snow White" along with some of our newer stories like "Frozen" and "Raya and The Last Dragon".  
And what is the role that you play?
I am an ensemble skater. So that means I get to be in the production numbers throughout the show, such as our high energy opening number that's incredible and sets the tone. I think it really kicks off the high energy that you're going to witness throughout the entire period of the show. I think that's one of the really exciting parts that I look forward to in the show.
That's wonderful. I have to ask, Are you a Disney fan?
Yes, my family are huge Disney fans, and we grew up going to Disney World periodically throughout my childhood. It was a pretty, pretty big deal with my family that I was able to get into a company like this.
What is your favorite Disney film? And your favorite Disney character?
Hmm, that's a good question. I would say my favorite Disney film would probably be Moana. That's my favorite Disney princess for sure. I think my all-time favorite Disney character is Donald Duck.
Why Donald Duck?
I don't know. I just had an attachment to him as a child. I would always shoot for like the Donald Duck stuffed animal or the Donald Duck pajamas when I was a kid. I don't know, it just sort of stuck.
What do you want to say to the families have never experienced Disney on Ice to come out and see the show when it hits CFG Bank Arena starting October 12th?
I would say to definitely come out and give us a visit. The show has so much to offer and is for anyone of all ages and the message that this show entails to really show that we're all stars and we all have wishes that we want to come true. And with the hard work that we put in those wishes will come true. And I think that everybody will have a great time at the show.
Come to Samuel skate into our hearts in Disney on Ice presents Magic in the Stars starting tomorrow, October 12th and running to October 15th at CFG Bank Arena in Baltimore. Tickets are available for families everywhere; you can purchase here at Schedule & Tickets | Disney On Ice