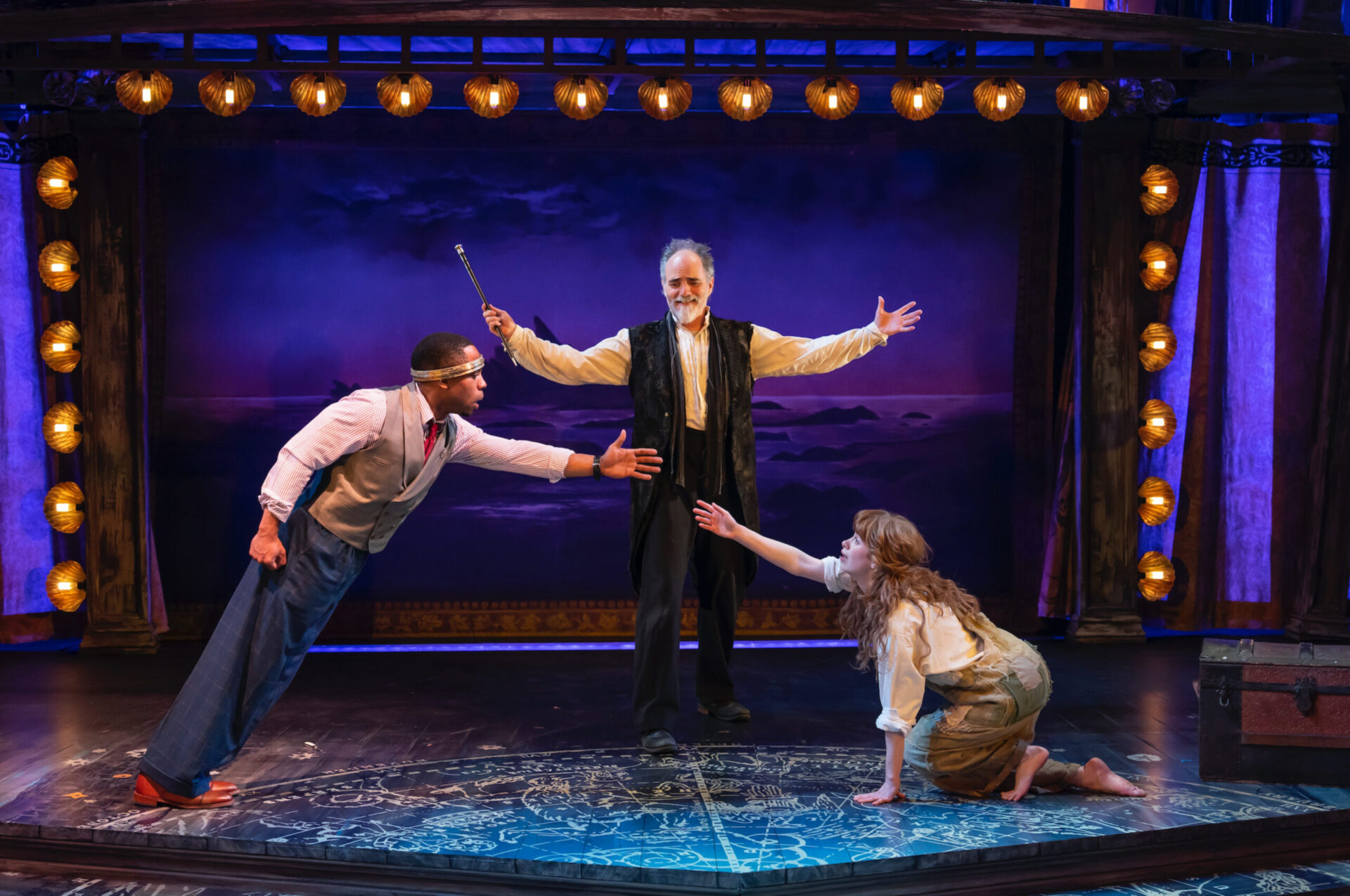 The highly anticipated and reimagined magical staging of William Shakespeare's The Tempest, adapted and directed by Aaron Posner and Teller (of Penn & Teller fame), opens tonight, November 28, at Round House Theatre, and is now extended through January 15 due to overwhelming demand. Tickets for January performances go on sale December 1. Please see below for complete program details and ticket information.



Adapted and directed by Aaron Posner and Teller, this unforgettable reimagining of Shakespeare's most enchanting romance features haunting music from the catalog of iconic songwriter Tom Waits and mind-bending moves from Pilobolus, as well as astonishing feats of magic. Arriving just in time for the holiday season, the dazzling production—a smash hit in Boston, Chicago, and Las Vegas—"awakens in the audience a sense of pleasurable, almost childlike wonder," says The New York Times. "Enormously entertaining," raves the Chicago Tribune.



Co-Director and Adapter Aaron Posner looks forward to sharing this collaborative and accessible production with DC-area audiences. "This is truly Shakespeare for everyone. At our core, Teller and I are both populists, and making art that is accessible to everyone is key for both of us. And this production is truly that. There are so many points of entry for this production. The extraordinary magic of Teller. The amazing music of Tom Waits. The physical wonders of Pilobolus' choreography for our double Caliban. An exceptional cast, and a fairly mind-blowing design that will fill the Round House space to the rafters."



Posner is also thrilled to showcase the magic and illusion embedded throughout the show. "Prospero is a magician. He creates shows. He messes with people's minds. He harnesses forces to astound, befuddle and bewitch his enemies. So many productions of The Tempest deal with his magic as metaphor, and that can be great… but here we deal with his magic… as magic! We put the audience in the same headspace as the characters. Amazed. Astounded. Knocked off balance by witnessing things that can't be happening."



Artistic Director Ryan Rilette is looking forward to Round House bringing Posner and Teller's breathtaking production to life. "This Tempest has been wowing audiences around the country for years, and we are thrilled to finally bring it to the DMV. Aaron and Teller have assembled a phenomenal cast and creative team to help them bring their innovative, magical version of this play to life at Round House. We can't wait for our audience to finally see this project that we have been working on now for years!"



Round House Theatre is the sole producer of The Tempest. Nonetheless, Round House is grateful for the generous collaboration of Folger Theatre on this project, and is pleased to welcome Folger Theatre's subscribers and patrons while their venue is under construction. "We are excited to bring the resources of the Folger Shakespeare Library and Theatre to Round House," says Karen Ann Daniels, Artistic Director of Folger Theatre and Director of Programming at the Folger Shakespeare Library. "It is the best of both worlds to bring the hallmarks of what the Folger offers in arts and humanities into this thriving theatrical community at Round House."



The cast includes Manny Arciniega (We're Gonna Die at Round House Theatre; In the Heights at Gala Hispanic Theatre), Ro Boddie (A Boy and His Soul at Round House Theatre; Socrates at The Public Theater), Nate Dendy (The Tempest at Chicago Shakespeare and American Repertory Theatre; The Fantasticks at Arena Stage and South Coast Repertory), Megan Graves (The Great Society at Arena Stage; A Midsummer Night's Dream at Folger Theatre), Lizzie Hagstedt (Sweeney Todd National Tour; Southern Comfort at Public Theater), Richard R. Henry (Urinetown National Tour; The Marvelous Mrs. Maisel on Amazon Prime Video), Eric Hissom (The Great Leap at Round House Theatre; Arcadia [Helen Hayes award] at Folger Theatre), Naomi Jacobson (Caroline, or Change at Round House Theatre; Born Yesterday at Ford's Theatre), Kevin Mambo (The Color Purple and Fela! on Broadway; Hit & Run on Netflix), Hassiem Muhammad (The Three Musketeers at Cleveland Play House; Shoebox Picnic: Route 1 at Alabama Shakespeare Festival), Cody Nickell (Oslo and "We declare you a terrorist…" at Round House Theatre), Kate Eastwood Norris (A Midsummer Night's Dream [Helen Hayes award] at Folger Theatre; and She Stoops to Comedy [Helen Hayes award] at Woolly Mammoth Theatre Company ), Ian Riggs (No Place to Go [Obie award recipient] at Public Theater; Mean Girls on Broadway), KenYatta Rogers (Gem of the Ocean at Round House Theatre; Our Town at Baltimore Center Stage), Ryan Sellers (A Midsummer Night's Dream [Helen Hayes award] at Synetic Theater; Five Little Monkeys National Tour with Adventure Theatre MTC), and Kanysha Williams (American Prophet at Arena Stage; Acoustic Rooster at The Kennedy Center). Understudies for this production include Patrick Donoughe, Jordan Essex, Nick Gerwitz, Joshua Cole Lucas, Cody Nickell, Ryan Phillips, Emma Abigail Wallach, and Jacqueline Youm.

Tickets may be purchased by calling 240.644.1100 or ordering online at RoundHouseTheatre.org. Round House Theatre is located at 4545 East-West Highway, one block from Wisconsin Avenue and the Bethesda station on Metro's Red Line.