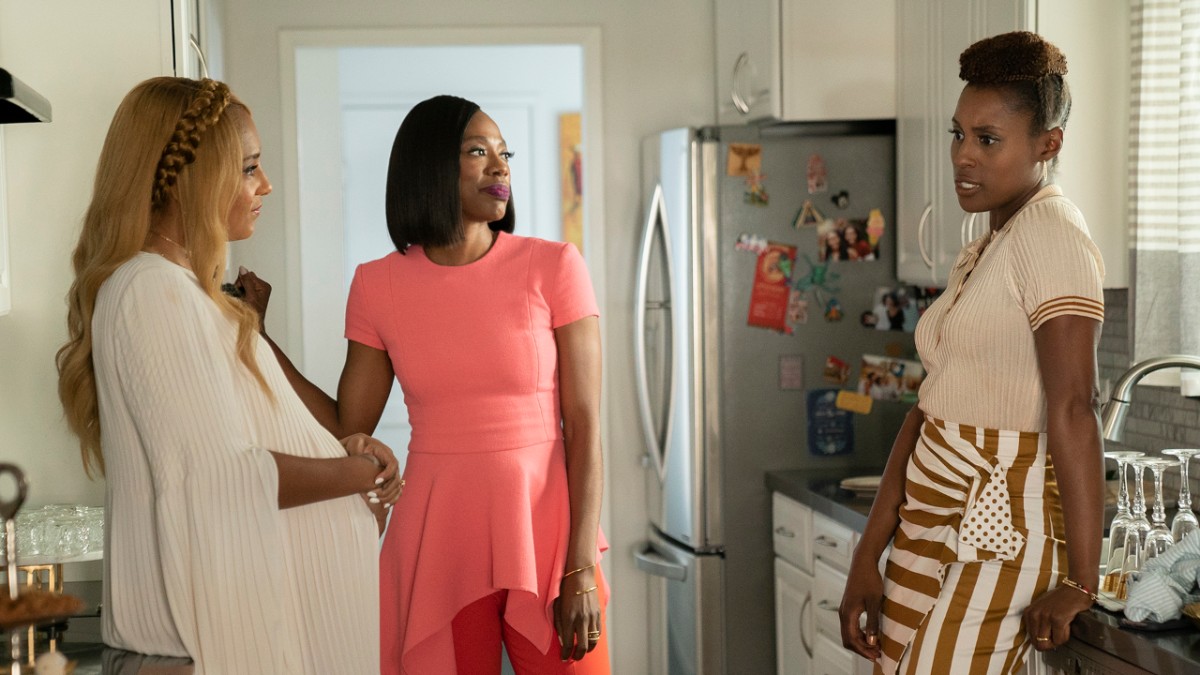 As a #teamlawrence member, I wasn't mad at all to see the latest episode of "Insecure" open up with a few saucy sex scenes, Lawrence (Jay Ellis) sexy chocolate self, Lawrence has been waxing some asses! Lucky ladies! But…. the dick downs have not come without ramifications; Lawrence now has chlamydia. Insecure has been receiving some backlash for not showing condom use in the most of the steamy sex scenes throughout the past few seasons of Insecure, I applaud Issa for showing the youth and us reminding us grownups that casual sex can be fun, feel damn good, but your ass better wrap it up or STD infection can occur and as we all know all are not curable.

The episode revolves mainly around Tiffany's (Amanda Seales) baby shower before we go there let's talk about what's in the backdrop. Issa is trying to plan a block party in her Inglewood neighborhood, which serves a sort of a kick off to the non-profit she wants of her own, loving the heart of service sis! Healing our communities through creative work, whilst she is trying to balance starting her own business, driving for Lyft, and be a property manager she also has a new love by the name of Nathan (Kendrick Sampson) whom she met in a previous episode in an altercation in her Lyft which we start to see the ramification of that ordeal a bit in this episode too.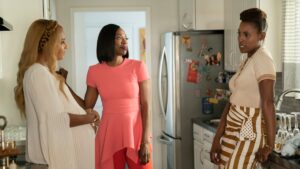 They have an interesting pillow talk scene where Issa is focused on her non-profit ideas and he is focused on the "Where are we taking this thing" plight.  They both admit to feeling something real and commence to making love once more. Meanwhile Molly's (Yvonne Orji) fierce astute hard-charging attorney self is buried in work and trying to ignore singlehood, the handsome Asian guy she kicked it with at #Beychella  has been trying to return her jacket and finally gets  whole of her and as she runs outside to grab it he asked her on a date, she turns him down with the usual excuse work is super busy and I'll get back at cha sort of deal, meanwhile later that day she talks to her girls about how she would prefer to exclusively date Black men and an Asian man would probably be unrelatable, huh? Molly this is 2018 boo, we are going to need you to open that mind and that heart and let love flow! Ok.
As we start to get ready for Tiffany's baby shower we have another dynamic going on, the relationship with Tiffany and the girls is changing, Tiffany is starting to feel like she can't relate to the "turn up" anymore so she starts to ostracize her real friends and put herself around cheeky, bubbly, women who are clearly not as authentic as Issa, Molly, and Kelly. We as black women love hard when it comes to our friendships and crave loyalty so I found it incorrigible for her to show the challenges black sisters have as we navigate life together as close friends. Tiffany particularly alienating Kelly the most whom is her best friend and we can see the obvious hurt and damage it's causing to their friendship.
So we are up to the Baby shower, Tiffany being dismissive to her crew and letting the "valley girl crew" take over, how sway? No new friends right? Issa having to confront Lawrence, and Molly having to confront Dro the past haunting them all once again so they both choose to take it in stride, Issa approaches Lawrence for them both to find that they are out here smashing goals, Molly approaches Dre just for him to be rude and basically ignore her, then to add insult to injury Candace (Gabrielle Dennis) shows up.
The party comes to an end, Kelly (Natasha Rothwell) has left the party early for obvious reasons, Molly and Issa are washing up a few dishes for Tiffany because that's what real sisters do for each other in spite of Tiffany less than charming behavior at the party. As they chat Tiffany drops a bomb on Molly, (summarized) "Y'all didn't tell me Dro (Sarunas J. Jackson) and Candace were having a baby?? I felt that gut-punch for Molly I wanted to go put on a Mary J Blige song for her, like "Not gon cry" again we are seeing the ramifications of casual sex and the high emotional risk.
The show closes with Lyft calling her telling her they reached Nathan whom Issa was trying to get a whole of to chat about the open investigation from the altercation in her Lyft between Nathan and another patron, she can't get in touch all episode long after she got the initial call from Lyft that the investigation had commenced. She even tried to use Molly's phone. Lyft got in touch but he refuses to call her all day? Nathan you shady, which is what revelation Issa is coming to as her facial expression as the credits role show us that she is thinking twice about Nathan's fine ass, another ramification of casual sex, sexing and texting but is Nathan really still just a stranger? um yeah.
FINAL GRADE: A+