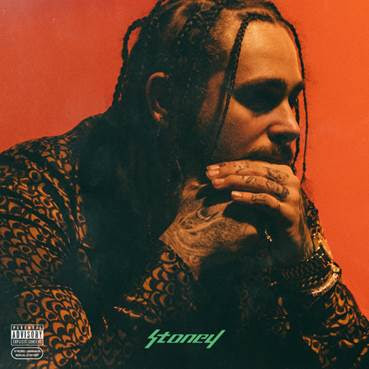 Post Malone's critically acclaimed full-length debut album, Stoney [Republic Records], triumphs as the Best Hip-Hop Album Debut of 2016. Bowing at #6 on the Billboard Top 200, the record moved over 58K copies first-week. The multiplatinum Dallas, TX artist closes out the year as one of its most significant success stories with sights set on an even bigger and bolder 2017.
Get it HERE.

Tastemakers continue to praise Post. Los Angeles Times wrote, "Stoney may be the year's most vulnerable-sounding rap album," while Complex claimed, "Stoney proves he's the real deal." HotNewHipHop states, "Trap folk's founding father flourishes." and UPROXX called it, "Everything he promised it would be." Meanwhile, he commemorated the record's release with a sold-out Stoney Album Release Party show at Irving Plaza in New York City, NY last week—the culmination of his highly successful fall headline tour.
As a testament to Post's power, Stoney actually crossed the US Gold 500K album equivalent threshold prior to arriving at retailers with the triple-platinum certification for "White Iverson," gold certification for "Go Flex," and "Too Young." 
Hip-hop's hottest new trailblazer is here with Stoney.
Post Malone has spent 2016 blazing towards superstardom. His breakout single "White Iverson" earned RIAA triple-platinum status, while its follow-up single "Go Flex" went Gold racked up over 46 million Spotify streams and counting. In addition to tearing up stages supporting Justin Bieber on the sold out global Purpose Tour and Fetty Wap on the Welcome to the Zoo Tour, he delivered a show-stopping performance on ABC's Jimmy Kimmel LIVE! His August 26 mixtape landed to critical applause. Both Kanye West and 50 Cent have sought him out for high-profile collaborations, following the explosion of "White Iverson." He will undoubtedly cement his place amongst music's upper echelon with his full-length debut, STONEY.
TRACKLIST
Broken Whiskey Glass
Big Lie
Déjà Vu (Feat. Justin Bieber)
No Option
Cold
White Iverson
I Fall Apart
Patient
Go Flex
Feel (Feat. Kehlani)
Too Young
Congratulations (Feat. Quavo)
Up There
Yours Truly, Austin Post
Deluxe
Leave
Hit This Hard
Money Made Me Do It (Feat. 2 Chainz)
Feeling Whitney
POST MALONE SOCIAL LINKS:
http://www.postmalone.com/
https://postmaloneshop.com/
twitter.com/PostMalone
http://www.facebook.com/postmaloneofficial
www.instagram.com/postmalone
http://www.vevo.com/artist/post-malone