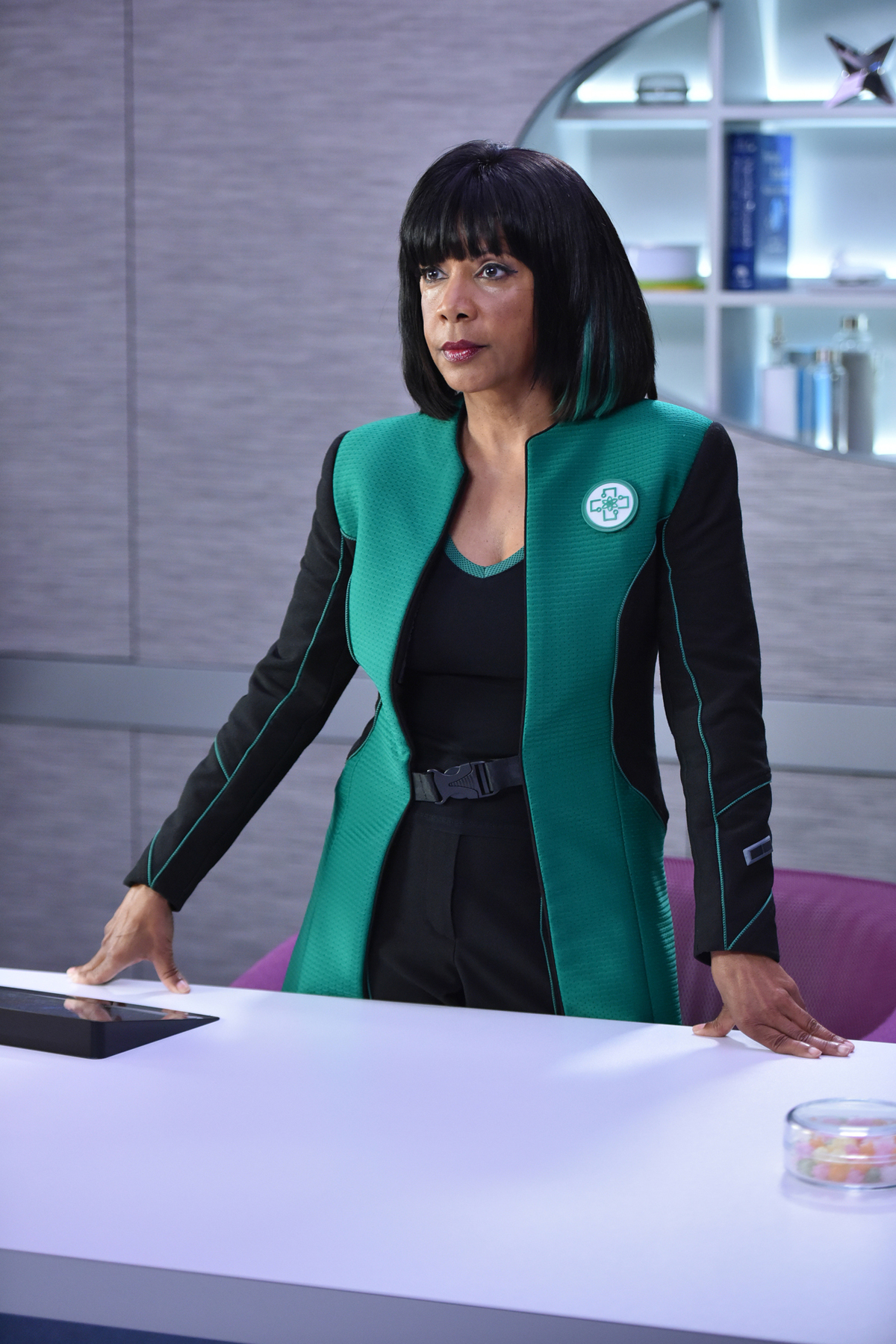 Friends across the galaxy welcome to THE INTERVUE, where we get the inside scoop of our favorite people in the world of entertainment. As we all know that Farpoint is coming up with its 27th Annual Fun-filled convention next week in Hunt Valley, MD and our guest today has also risen through the ranks. From the halls of Juilliard to be a freight Captain on Deep Space Nine to being Police Captain Victoria "Iron" Gates" on Castle. For the past two years, she has played Dr. Claire Finn on the hit sci-fi series "The Orville", one of my personal favorites. Let's give ready for some doctorly advice from Baltimore's own, Penny Johnson Jerald!
Penny, welcome to the INTERVUE. It's nice to have you here with us. 
Thank you so much. What a great introduction. I'm going to take you everywhere I go now.
Awww, well thank you. If you give me a tour of The Orville, that would be just fine. (laughs) You are one of the three honored guests for this year's Farpoint convention next week and it's not too far from your hometown. How does it feel to come back to your hometown? 
Well, first of all, I'm terribly excited because I will be within arm's reach from my family. I'm a true family girl. Im just a little disappoint that I won't have time to really spend with them. I'm working the day before and the day after the convention. There's no time allotted for that but I'm certainly looking forward to touching bases with those who that I've already know, who are either flying in, who are already there living in Baltimore and meeting some new fans. People who have no idea that I am from Baltimore.
I am so glad that you are from Baltimore since in Season 2, your character mentions that she's from Baltimore. It's like you are showing your Maryland pride. I was happy to hear about that. I got to know what is the one thing you have to do, asides from seeing your family, when you come back to Baltimore?
Well first of all, if I don't have a crab cake and a Caesar's salad, then I really haven't been from Baltimore. That's number one. I have to make sure that I have my pack of Old Bay Seasoning that I get to take back. And I do like to take back a lump of crabmeat. As you can tell, it's really all about the crab for me.  
Ohh yes!
It's also my stepfather's birthday that weekend. So I would like to give a shout out.
I still don't really have the inclement of experience with fans who are maybe new to The Orville. They are just being reeled in because they know my work from Star Trek: Deep Space Nine and they have just been introduced to the Orville world. I am telling you, it is action-packed this season. We are shooting these mini movies and I'm very excited to introduced the Orville to those who know nothing about it.
Well I can speak that we are so glad to have you here. It's wonderful especially since I met you long ago at another con almost twenty years ago when you were Sherry Palmer in "24"
So let me know what's exciting what you said twenty years ago. I loved doing 24 and we are very fortunate that our idea friend John Kassar, who was a director on 24. He has joined us here on the Orville. The one thing I love about Seth McFarlane is that he takes people he knows who's been around and they know their jobs well. John Kassar has added some beautiful techniques here, at the Orville. So, I don't feel like it's been twenty years ago, I feel like it was yesterday. Maybe that's because John and I are teaming up once again.
You have had an amazing career on being on TV Shows which such ensemble casts like Castle, The Larry Sanders Show, 24, DS9. What is your secret of getting on to these amazing shows?
Well it truly is but each show lends itself that is unique and different and because I am on the Orville I love to say that for the thirty-something years that I been doing this and Oh my gosh it's been that long, you're quick to say that "oh, we're family and whatever." But we're a little more than family because sometimes with family you don't like the people but they are still your family so your kind of seeing them.
We're close friends on the Orville. I rather be with a group of people who work together and then we hang out constantly, consistently and we are not tired of each other. We just feed off of one another. We're funny together. We dance, I mean people who really don't know how to dance, they dance together as a group. We're dancers. Together as a group, we are singers. We are a group of fun people! I like fun. The endorphins when you feel such joy. That's the beauty of The Orville.
It is indeed. When I see you at Farpoint, I may have to ask you about the dancing that your crew has done.  (We both laugh)
Well I love dancing. I love starting the day with a dance because you know it's an old acting exercise when you're in the theatre you're doing the shaking. Then I thought that I am not doing theatre, I am doing television so let's just up this game. Let's turn that shaking into a dance. Let's get rid of any kind of anxiety that exist. Let's be joyful that we have a job and start on a positive note!
Thank you Penny, we cannot wait to welcome you back to Baltimore for Farpoint 27, the convention starts FRIDAY February 21 and runs through the 23rd! Tickets are available and can be purchased at the door Friday, Saturday and Sunday. ALL WEEKEND 3-day TICKETS includes 1 complimentary celebrity signature both Saturday & Sunday (2 total) on an item from attendee's personal collection or con program book. If you are attending Saturday or Sunday only, you will receive 1 complimentary signature the day you attend.