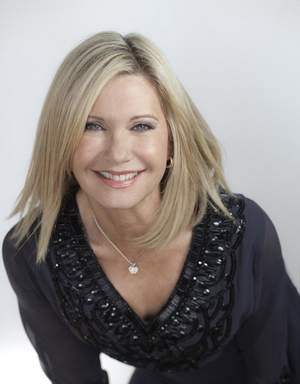 Very few chances and opportunities come around to see not only one of the most celebrated actresses but also singers of our time, talent like that is rare. That person of course is Olivia Newton-John. Fans might call her the greatest singer ever. I know just about everybody is familiar with her work. Cult classics like "You're the One That I Want" and "Summer Nights" from the movie soundtrack "Grease" to chart toppers like "Physical". With this in mind I was extremely excited to see her perform last night at The Music Center at Strathmore. How would she perform? Who cares! It's Olivia Newton-John!
I mean I don't want to come across like as if I was so caught up in the moment I couldn't properly diagnose the sound, but it wasn't just the sound that made the experience. It was the anticipation, the atmosphere, the aurora. Everybody in the Music Center had a giant smile on their face and it lasted the entire evening. There wasn't a dull moment from the second Olivia Newton-John took stage. She is as vibrant, cheerful and motivated as anybody I have ever seen perform. Her voice was amazing! She can carry a high note, take it an octave higher and just when you think she's done take it an additional octave higher. I call it the "Olivia Triple Wow".
She covered some great country songs like John Denver's "Take Me Home, Country Roads." It was one of my favorite songs of the evening. Another favorite song would have to be "Physical". Olivia would actually start doing jumping jacks on stage in five inch heels while singing. I couldn't tell you from personal experience but I know that wasn't easy. The concert was really engaging you couldn't help but to clap your hands in rhythm and sing. I mean it's not like you didn't know the words especially when they played the songs from "Grease".
I entitled this story Olivia Newton-John rocks the house because that's exactly what she did. She came in full of energy and that's the same way she went out. It was a loud concert. Between Olivia's voice the mic'd up flute and electric guitar the decibels were at a high. Not completely what I expected but fun. I said I was excited to see the show. That excitement was justified, and the performance exceeded my expectations for a concert I already had high expectations for. If you ever have the opportunity to see this Olivia Newton-John I would take full advantage and impatiently await the show date. She's worth it, I hope she continues to tour, she is an excellent performer and you've got to see her.