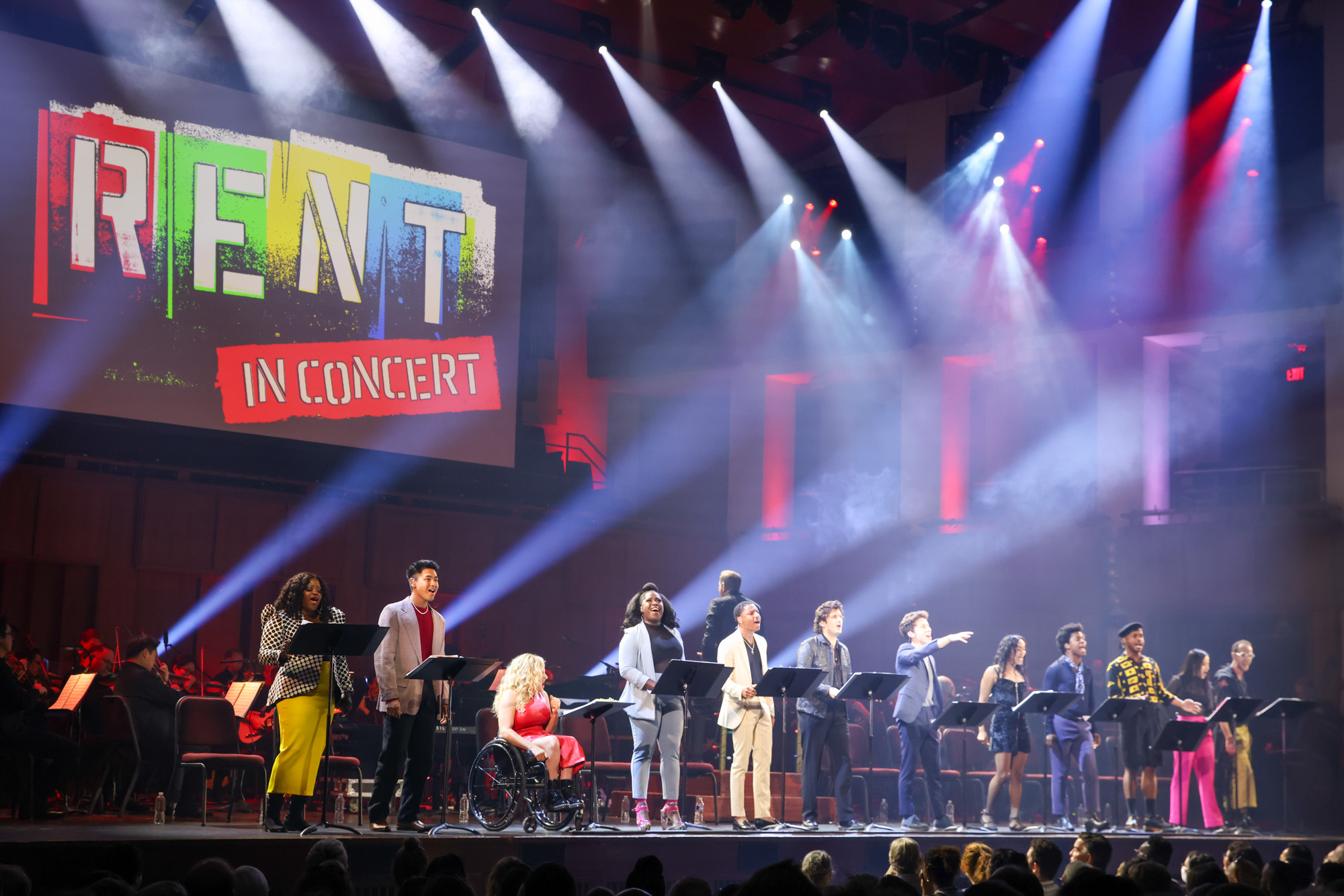 All photos provided by Nick Piacente
The symphonic world premiere of 'RENT in Concert' with the National Symphony Orchestra (NSO) was supremely satisfying for this RENThead!
I can remember it vividly… 1996. Homeroom. My high school thespian classmates exuberantly quoting lines from Jonathan Larson's "RENT". It was hard not to pick them up. I remember how giddy we all were singing the lyrics to the now iconic songs "Seasons of Love," "Over the Moon," "Light My Candle," "Tango: Maureen," "La Vie Boheme," and "Without You" to ad nauseam to those around us not as inclined to musicals.
I also remember watching the "terrifically talented ensemble from Jonathan Larsen's RENT" – as Nathan Lane, host of the 50th Annual Tony Awards, introduced them back in 1996 on that Majestic Theatre stage in New York City – perform "Seasons of Love" in the living room of my childhood home with my mom and sister. Our eyes were transfixed to the screen as we danced and dramatized the songs' lyrics. It was then that I became a bona fide RENThead.
RENT not only forever changed Broadway. It changed me too and so many other Xennials. Songs from RENT are core to so many of our coming-of-age soundtracks, mine included.
So, it's no surprise my 27-year love affair with all things RENT without a doubt led me to experience the world premiere of the symphonic rendition of RENT at the John F. Kennedy Center for the Performing Arts in Washington, DC opening night. And it did not disappoint!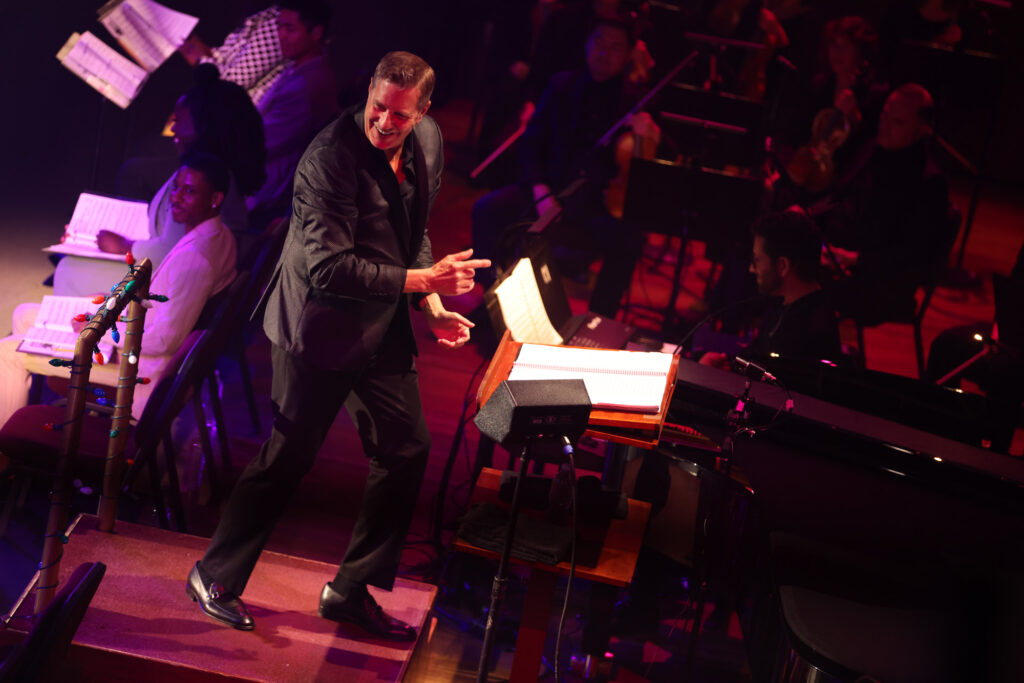 This newly created symphonic concert version of the acclaimed musical was performed with a live star-studded cast and the full power of the National Symphony Orchestra. The orchestrations by Sean O'Loughlin paired with the lively conducting style of Steven Reineke were stellar and kept my attention for all 120 minutes. The entire cast and creative team are nothing short of amazing.
Standout vocalists were America's Got Talent star Jimmie Herrod ("Angel Dumott Schunard"), Tony Award-nominated Lorna Courtney ("Mimi Marquez"), Tony Award-winning actress Ali Stroker ("Maureen Johnson"), and Washington, DC's Signature Theatre favorite Awa Sal Secka ("Joanne Jefferson"). Their vocals were flawless and garnered prolonged standing ovations in the KenCen's Concert Hall.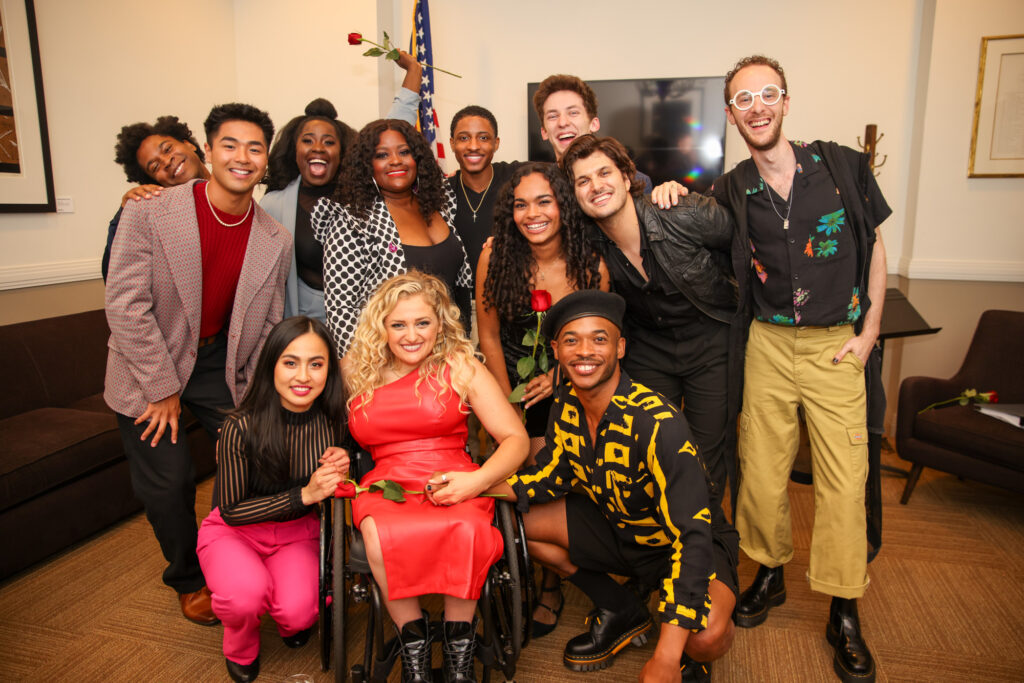 Performances by Bowie State's own Myles Frost ("Benjamin "Benny" Coffin III"), Alex Boniello ("Roger Davis"), Terrance Johnson ("Tom Collins"), and Andrew Barth Feldman ("Mark Cohen") were true to form. The ensemble members – Ted Guzman, Zach Fike Hodgers, Quynh-My Luu, and Nova Payton – rounded out the cast and delivered beautiful harmonies. Casting selections by Ally Kiley were so on point. The lighting team also did a superb job.
As the NSO winds down its 2022-2023 season and gears up for its 93rd season, I am pleased to say they are closing out this 92nd on a high note. The NSO partnering with AMP Worldwide to create and produce RENT in Concert was a gift to all theater-goers in the DMV. I look forward to seeing them bring even more legendary musicals in concert with expanded symphonic scores and live casts to the Kennedy Center's Concert Hall stage.
For more, visit NSO Pops: RENT in Concert.
Final Grade: A