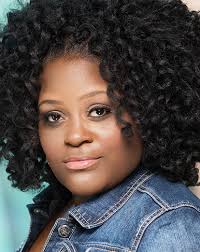 On this edition of THE INTERVUE, we salute one of our hometown phenoms! Nova Y. Payton has an amazing career in the world of theatre! She sang back-up for Roberta Flack. She has been in numerous plays in and around the DMV. She has roles in Smokey Joe's Cafe, Hairspray at the Signature, How to Succeed in Business Without Even Trying and most recently The Watsons Go to Birmingham 1963 at Kennedy Center! This month, she is returning to Arena Stage for the first time in five years to be in the Disney musical based on the hit movie, Newsies! Ladies and gents, we have the supernova of the DMV Theatre… Nova Y. Payton!
The last time you were at Arena Stage was Smokey Joe's Cafe in 2014. How does it feel to come back to Newsies? 
It has, it's been five years. And actually, you know that show was a concert review, and it was directed by Randy Johnson, who wrote and directed A Night with Janis Joplin.
Wow!
And actually, the thing at Arena now, I'm actually working with the artistic director, Ms. Molly Smith. This is my first time working with her and I'm learning from her, which is so good. It's exciting to be back at Arena and getting ready to do this fabulous production. Y'all are not ready, but you better get ready.
(laughs)
Because it is so good, it is so good! The amount of talent that is in this production is ridiculous, it's satisfying and also tells a great story and it's directed by this phenomenal lady, Ms. Molly Smith. She's great.
Absolutely, I have definitely seen a lot of plays that Molly has brought to Arena Stage in the last few years, so she's definitely a phenom to work with. What's the process of taking on the role of Nun in a musical that is loved by so many, especially since it was a movie almost twenty-five years ago.
You know, the great thing about this process at this time that we're doing the show is because this show has been done before. As you said, the movie was released twenty-five years or so in theaters. What Molly has allowed us to do is come up with our own journey and put them in the character. So it is fresh and new because it has been done before. So it's more of trusting and being able to create what you want to bring to it so the collaboration is really, really good, because it's fresh, it's new.
That's great to hear.
So, were you a fan of the movie and did you take on to see the movie to prepare for the role?
I did see the movie to prepare for the role. My mom is a musical-movie buff, so I grew up watching a lot of Effie White and anything that had to do with musicals. I know that I've seen—I don't remember though, unfortunately, the movie version of Newsies, but I did get a chance to see this new one that was really amazing that I was really able to get an idea of what the show was, of course, and then also see Aisha De Haas and how she plays Medda Larkin.
That's brilliant! Now, I've read through your bio, and the role that I see you've played the most was Effie White of Dreamgirls. You've played her three times so far. What is it about that role that brings you back again that phenomenal role?
Whenever you're able to revisit a role, I find myself lucky. And I say that, because each time that I've been able to play Effie, I did it in a different space of my life. Whether that's career-wise or so. I'm now a mother of two. And as far as when I first did it, I had no children. So, Eppie talks about her daughter. and then at the time I only had a son, now I have a daughter! You know what I mean?
So, when I revisited it again, it would be totally different, but each time that I've done it, I've found something that I didn't either realize or I feel differently about it now, for then when I was able to recreate the role. So, it's never been the same, that's for sure. Which is great, because I feel if you go in playing something the same way you did it before, there's no growth, you know? So, it's always challenging to find the newness in something, that story was written back in the'80s, you know? So, being able to find something new and reinvent her and make her fresh and also it motivates you in the process because each time you find a different way to bring meaning to her.
Absolutely, and it's great that you were able to grow within the role at every step of the stage; every process that you played her. That's amazing. I've never heard that before. You grew up in Northwest Washington, D.C., so you're a D.C. native like myself. I want to know what is the process of you—you realize 'this is what I want to do for the rest of my life?'
I started dancing at a very early age. My mom put me in dance at like, three, and my mom would say I was singing before I talk, which now, being a mother of two, I understand that about my daughter. She's singing before she can actually understand clearly what she's saying. So in doing that, in my dance school, it wasn't the regular recital that you would put on for winter or regular recitals that you would put on for the end of the semester.
We actually would put on full productions through the D.C. Parks and Recreation Centers. And those productions would be at Howard University, the Cramton Auditorium, or it would be in the Blackburn building. So it just depended on the season, and it would be full-on productions with the costumes, and things and I'm like, "oh, my goodness! I want to do this!" That was my first taste of being able to dance and sing in a show.
From then, I mean, my mom is a singer and performer, and I think the first thing that caught my eye because I really wanted to be a dancer at the time like the one in A Chorus Line, the movie.
I remember coming home one summer from Greenville, S.C., where my family is originally from; my mom and my grandmother. So, we came home and on HBO was A Chorus Line, the movie.
And I was like, "oh! They are doing it! I want to do that. I want to do that!" So, I always knew I wanted to be a performer. My mom joked and said I would always say, "Mommy, introduce me! Introduce me!" And I would come from behind a wall and then I would say, "Introducing Nova!" and I would do some song and dance I made up at that time. But yea, I started at a very early age. I knew that's what I wanted to do, and I told my mother told me that I felt like I didn't want to do anything else, (?) live, breathe, and eat it, and she really supported me and was like, "that's what you need to do." You do what you love and that way, it doesn't seem like work and it doesn't!
I've been fortunate enough and blessed enough to do that. I've traveled the world singing background with Roberta Flack, so that was a huge thing for me as well, career-wise, before I actually settled into my musical theater career that I have now. But yeah, so I've been able to do a couple of things, but it all started at like three years old.
That is amazing. I'm glad you were able to recognize the dream, pursued it and you kept it going. Who can ask for anything more? Wow. So, as I said moments earlier in the conversation, I've seen you in How to Succeed at the Eisenhower; I've seen you at The Watsons Go to Birmingham; I'm about to see you at Newsies. I have to know, what is your go-to song? What is the song when you hear it on the radio or you feel like singing it?
My go-to song would be…I have a few, but one would be God Bless the Child.
Why that one?
God Bless the Child is my favorite song. I'll stop there because I have so many. I have so many, and I credit musical theater.
Excellent! Is there a role out there that you would love to play someday? 
Somebody just asked me that the other day, and I would love to do—I wouldn't mind doing Elphaba.
I would love to do her. And if I could pick another one, I would do Funny Girl.
Fanny Brice, nice!
Yes. Funny Girl, Barbara Streisand.
With those two picks, I am definitely willing to see you there someday. I can see you in both of those roles. Why should people see Newsies?
I would say, first of all, the story is a great story. Also, the talent that's onstage with the dancing and singing is especially awesome! We did our first stage run-through the other day. And literally, I was speechless. (laughs) It was so good, the only thing that I could do was laugh and my cheeks hurt from smiling so much. And the story, it's a good story. Yeah, people talk about "you know, it's Disney," and all of that, but it still has the heart and the hurt and all of those special things that we go through daily, because of the people, the characters and the true story.
True things that happened. So yeah, to see something like that and to see what we have put in it to perform, this production—I can't wait to (unclear) because that's what's next. I'm excited about that, and its a really great show.  Everyone is so good
So you've been performing in the DMV for many years. What is the one piece of advice you would give to an upcoming artist, whether they wanted to go into acting, whether they wanted to go into singing, whether they wanted to play an instrument or they want to be a phenom and do a triple threat?
I would say make sure that you really, really work hard at your craft. There's never a time when you stop learning, and you learn from each other. The competition, as long as it's healthy, it's great. It's funny, because my friend, who I get a chance to work with, we love working with each other because of what we learn from each other and through each other in the process of the production when we work with each other. I was just speaking to a colleague about that not too long ago–because the last show that we did together was Xanadu at Signature Theater, and just to think, she is a phenomenal actress and singer and dancer as you will see, and just to see all that dedication and just the work ethic is so great.
And I think that's what's most important. People will love to work with you if your work ethic is great. Talent is great as well, but if you're difficult to work with, that's a thing that will follow you throughout your career. Be on top of your stuff and work well with others. Make sure that you're bringing to your environment a safe and healthy loving environment so everyone can create.
True words, definitely true words. Well Nova, where can we find you on social media if people want to get more information and follow you?
Social media? I'm on Facebook, I'm at Nova. Just Nova. And on Instagram, @IamSimplyNova, and I have a website which I'm not good at keeping up, but it's simply-nova.com. Those are where I can be found on social media.
See DC's very own Nova Y. Payton return to Arena Stage in the Disney hit musical Newsies now playing at the Fichandler Stage until Dec 22, 2019. Tickets are available at https://www.arenastage.org/ at the Box Office or via phone at 202-488-3300