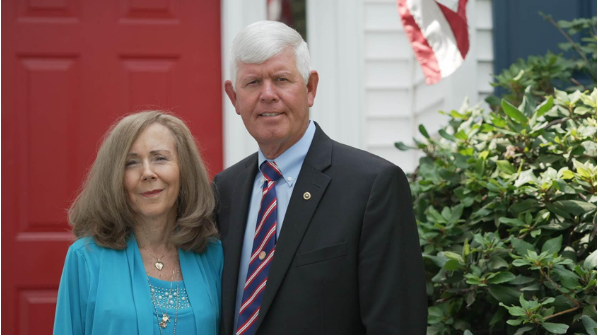 Good evening all and welcome to a special edition of THE INTERVUE. For today's edition, the National Memorial Day is coming up this Sunday and part of the program every year is the touching stories that we get to hear throughout the program. Our honored guests today suffered the loss of their two sons in under eight months: 2LT Jeff Graham, killed in Iraq by an IED blast and Senior ROTC Cadet Kevin Graham, who lost his battle with depression. Their sons died fighting different battles, but both dedicated their lives to serving the nation. Their story shares their journey through grief, healing and their decision to spend their lives helping others receive mental health and other critical support.
Our guests today are Maj. General Mark Graham, USA (Ret.) and his wife Carol Graham.
Let's say it's an honor, especially when I read your story, it really moved me and it made me cry a little bit, especially what what happened, but I'm glad that you have turned your tragedy, and made a path to helping others receive mental health and other critical support. My first question I want to ask you both is what made you decide to share your story with the National Memorial Day Concert that we're going to see this Sunday?
MGEN Mark Graham, USA (Ret.) MG: Well thanks, Dean, and they asked us to staff us to be a part of the concert this year. Caroline lost both of our sons and our daughter Melanie's loss of brothers 2003 in June, and our son Kevin was an Army ROTC Senior Cadet studying to be an Army doctor, struggled with depression, was keeping a secret and took his own life. Eight months later, his older brother Jeff was a Second Lieutenant, and was deployed to Iraq and was killed by a IED in Iraq with his platoon. So our story is one that we think represents so many in our nation who have lost a loved one serving our country.
And the PBS team asked us if we would share our story. We certainly are doing that. Because our goal was to help anyone out there who might be struggling, it would come forward and get help because there's stuff out there. And there's hope and Memorial Day after day that Goldstar families and families have fallen, live every day. But this is an opportunity each year to have a a day in a concert and a time to remember all those who served our nation and died while serving our country.
I also read that you both established the Jeffrey C. and Kevin D. Graham Memorial Fund to provide "Question, Persuade, Refer" Suicide Prevention Program at the University of Kentucky. I want you to tell us a little bit more about that program.
Carol Graham (CG): We decided, in memory of Kevin we had to do something to try to save somebody in his memory. we believing in the head of the mental health department, they're at University of Kentucky had a program where it's "Question, Persuade, Refer" just to ask the question if you know somebody's struggling, and then persuade them to get help, and then refer them for care symptoms to walk with them. I think that's what we didn't know, we knew our son would say, and we just didn't know he could die from being too sad. And we in their memory, we wanted to do something to try to save somebody else.
I've read that one of the most touching things for the both of you, you saw a banner that was mapped on the graves of your sons to Kentucky, which board the phrase that user Major General continue to use when you close every presentation you make "Land of the Free because of the Brave." I want you to tell us what does that phrase speak to you personally?
MG: Well, the banner was at the graveside after we buried Jeffrey and Kevin & Jeffery are buried next to each other. So after the funeral, that night, Carol and I of course couldn't sleep and we got up very, very early the next morning went to the gravesite and someone had played the small simple cloth ban or Britain and magic marker, landed the free because of the break. And when I saw the word because it it really had I had a real reaction to that because I've never, you know, we always say "Land of the Free, Home of the Brave", but it is the land of the free because of the brave. Those men and women who are willing to stand up and raise your hand. It's served our nation and potentially even die for our country. And it just struck me the word to cause? Clearly, because I feel it's true. This is the land of the free because of the brave.
Now, Carol, my next question is to you. What advice would you have for other Goldstar family members that are going to have a difficult time, this Memorial Day, celebrating without their loved ones?
CG: It's all about knowing their spirit is still with us. I believe that spirits of their loved one, I think when we love somebody, they're always still with us. And we hold tight to the memory and for them to know that their loved one day for something bigger than themselves, and that our nation is coming together just for this reason to honor them, so that they know that this is the whole nation, we're divided on so many things that not Memorial Day, it's a town we all come together.
And we are grateful, because if we didn't have these did volunteer and come forward and say I am willing to put myself in danger to say so that we can live free. I think they just need to know that, that their loved one was a hero and that we honored them. And anybody that knows a family, this was somebody I think reach out to them hug them. If you see a soldier, sailor, airman, marine, give him or her a hug, say thank you shake their hand, you know, I'm alone, but they hug and kiss and just, I don't think we can do enough to show our gratitude to those that are willing to lay down their lives for our country.
You're absolutely right. I definitely agree with you. Now, Major General Graham, you mentioned in an interview that the Army and the other branches of the military are making efforts to change the culture that make soldiers avoid seeking help for mental health issues. Has there been any changes?
MG: have been some changes. Have there ever been enough changes, I don't think so. I think there's more work to be done but I know there are efforts to do so. And I think one of the key things we need to do is be consistent across our military services. No matter what branch of service you're in, no matter where you're serving, that is consistent, that is a sign of strength, not weakness to come forward, get help. And then there's resources.
We can't just say go get help, we've got to make sure there's help available, whether that's on the installation, or if it's in the civilian community, we've got to make sure because there is hope and there is help for those that are struggling. We've got to we've got to continue to speak and talk about it do the research, because the stigma is still out there. And if we made this improvement in our nation, I think we have that. And we're still isn't to me to suicide. And we haven't, we haven't done enough. But I think there's a lot of good work going on to try to stop that.
I think the key is, programs like yours, raising awareness and Memorial Day and raising awareness to those services, and struggling, that there's help out there. And we just need to continue to make change and don't get complacent, continue to move forward and make a difference in people's lives because everyone is everyone is an individual. No one is replaced by no one. You know, everyone is so important to us.
And my last question, for all the readers out there, what can we do as a society to help our loved ones who are going through a mental health crisis?
MG: Help not judge. I think the key is, don't judge someone. You know if this is real mental illness is real. I mean, it needs to be healthcare, not just physical or mental health care needs to be health care. Don't judge someone else because you don't know invisible wounds and invisible illnesses are so much harder. I've heard people say they'd rather lose a limb and have an invisible wound because at least that way someone could see visibly that they're hurting.
I think we need to be careful not to judge someone else. We've not walked in their shoes, we've not lived their life. I think it's important that we that we are compassionate, and that we understand that everyone is going through something and there is help out there. So, if you talk to someone who's struggling to seems like something's not right, ask them the question "Are you doing okay? You're having thoughts? Have you seen a therapist or something?"  and help get them there, help them, help them whatever you can do but help them get an appointment help, whatever you can do, but be there for them.
We will see and listen to the Grahams' story this Sunday 8pm during the National Memorial Day Concert on our local PBS stations.