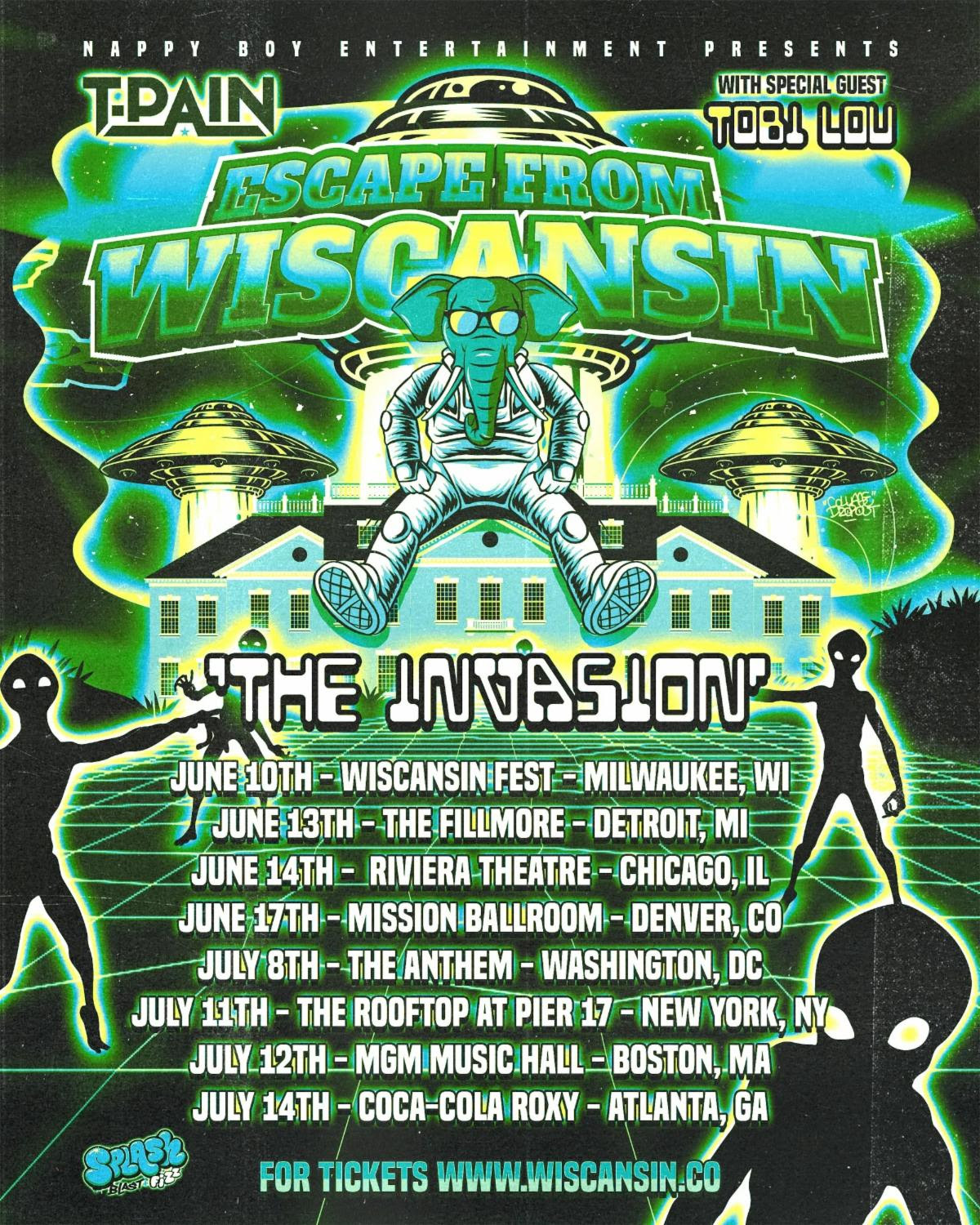 St. Louis rapper and Nappy Boy Entertainment signee NandoSTL is supporting Nappy Boy Entertainment label-head, T-Pain on his 'Escape From Wiscansin: The Invasion' Tour, beginning June 8th in Decatur, IL. Joined by Chicago rhymesmith Tobi Lou, the 'Escape From Wiscansin: The Invasion' Tour' will wrap up in Atlanta, GA on July 14th. Tickets available HERE.
The tour will stop at The Anthem in DC on July 8th
On June 10th, Nando will perform as part of T- Pain's second annual 'Wiscansin Fest' at The Rave / Eagles Club in Milwaukee. With sixteen acts performing across three stages, Nando and T-Pain are joined by Chance The Rapper, Chlöe Bailey, Larussell, Ambré, Tobi Lou, Taylor Bennett, Seddy Hendrinx, and more. More info on 'Wiscansin Fest' HERE.
The announcement of his support on the 'Escape From Wiscansin: The Invasion' Tour comes behind the release of Nando's debut project 'Y.O.T.A' or 'Year of the Ape' via Nappy Boy Entertainment (5.19). The 10-track body of work, almost entirely produced by PDUB (Da Baby, Tory Lanez, John Legend, Kirk Franklin), features guest appearances by Nappy Boy label-head T-Pain, STL legend Nelly, and was mastered by Darwin at Chicago's Classik Studios. Recently released singles "Weakdays", "Loud" and the title track "Y.O.T.A" featuring T-Pain and Young Cash, are all found on the release. 'Y.O.T.A' is available everywhere now.
With Y.O.T.A., Nando is cementing his spot among hip-hop's new regime of newcomers. "This year I wanted to do something totally different than what I've ever done as an artist," said NandoSTL. With his new label home and forthcoming body of work, NandoSTL is poised to be a 2023 'Artist To Watch'.