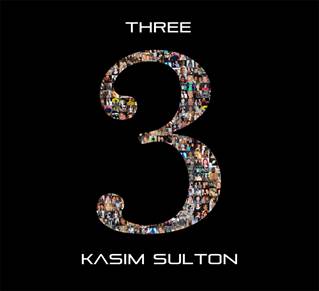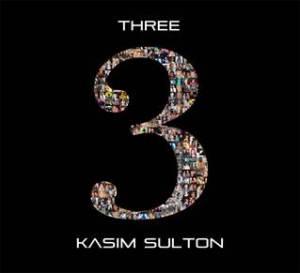 Kasim Sulton releases new album "3" October 28th, On Tour with Todd Rundgren Oct. 26 through Nov. 26
It's no coincidence that "Clocks All Stopped," the leadoff single from the virtuosic multi-instrumentalist and vocalist Kasim Sulton's new album 3, sounds uncannily like a lost track from Utopia, Todd Rundgren's legendary band from the '70s and '80s. Sulton was a core member of Utopia for many years and, for this great new track from his third solo album, he invited Todd and the band's keyboardist Roger Powell to help recreate that fondly remembered band's sound.
"I was determined to write a song for this record that paid tribute to the band that started my professional career," Sulton writes in 3's liner notes. "The music was the easy part. I never had a problem coming up with a few chord changes reminiscent of Utopia." Sulton fine-tuned the music and lyrics for "Clocks All Stopped" for more than two years, working in tandem with British songwriter Phil Thornalley, and when he felt it was finally ready for prime time, he invited his old friends to help him out with it: Todd contributes guitar and background vocals; Roger plays organ. Says Sulton, "As much as this is another track on the record, it's also a brave attempt to offer a song that sounds like something you would hear on a Utopia record, if Utopia were still making records."
Although "Clocks All Stopped" is unquestionably one of the highlights of 3, it quickly becomes evident that each of the 11 tracks is a highlight in its own right, from the opener, "Fell In Love For the Last Time," which brings to mind the peak era of classic rock, through "Fade Away," the brilliant closing track, which Kasim started while he was on tour with Meat Loaf. As with "Clocks All Stopped," Sulton chiseled away at "Fade Away" until it finally took shape, giving an ideal framework to this timeless story of, as Sulton puts it, "mistakes made, damage done and the feeling that the relationship is all but over—but then, by some divine intervention you get a second last chance." Clothed in layers of rich, orchestral keyboards and guitars and sung with pure conviction by Kasim, "Fade Away" is another gem.
That perception is repeated throughout 3—the recording substantiates that, despite a list of sideman and guest artist credits as long as your arm, and his history with Utopia, Kasim Sulton is arguably at his most potent when he's delivering Kasim Sulton music. Recorded primarily at his own home studio over the course of several years, 3 is both a reintroduction and a reaffirmation—a reminder that Sulton has, for more than three decades, been both a consistent asset to other artists and, under his own name, a creator of music that is instantly gratifying and continues to deliver with each successive play.
The album serves as something of a guided tour of Sulton's myriad talents—he plays guitar, bass, mandolin, piano, organ and other instruments, and of course sings—and represents an inner look at his life and state of mind in 2014. Songs such as "Watching the World Go By" and "The Traveler" speak to Kasim's experiences as an in-demand working musician, while "Shine On" and "15 Minutes" offer glimpse of his inner thoughts and emotions. On the latter, co-written with his friend Bob Burger, Sulton says in his liner notes, "As much as it's a simple pop lyric it's also somewhat of a social commentary. In the '60s Andy Warhol made the famous prediction, 'In the future, everyone will be famous for 15 minutes.' Consider reality TV (which isn't at all real), YouTube, Twitter, Facebook, Instagram, Vine, etc. Apparently that statement couldn't be truer. You don't have to do anything in particular or have any specific talent to be famous these days. All you need is a p.r. person worthy of Paris Hilton, The Real Housewives of ________ (fill in the blank) or the Kardashians and you're on your way to your own reality show, fame and fortune."
Another personal statement comes in the form of "God of Low," for which Sulton recorded all of the instruments himself. "Sometimes working with others can be extremely rewarding," he says. "Other times it can be the biggest pain in the ass one could ever imagine. It's the hard times that force you to find that happy place you can retreat to on a daily basis and pray for the storm to pass. Then one day you wake up and say, 'Enough already, time to move on.' That's what this song is about."
In addition to Sulton's own compositions, 3 also includes a couple of well-chosen covers that he instantly transforms into his own. "Too Much On Her Mind" was penned by Bill Spooner, a co-founder of the legendary Bay Area band the Tubes, and was tweaked by Sulton, who added more instrumentation—including Utopia drummer John "Willie Wilcox and former Cars keyboardist Greg Hawkes—than his friend's version contained. And then there's Kasim's absolutely stunning solo piano rendition of "Someone to Watch Over Me," the oft-recorded standard by the Gershwin brothers dating back more than 80 years. "While I'm not a musicologist, I do appreciate classics like this one. I wrote 'Love Alone,'" he says, referring to the great track on 1980's Adventures in Utopia album, "while thinking of that golden era of songwriting. So whenever I heard this song, I always thought how great it would be to do a version myself."
Kasim Sulton will be on tour with Blue Oyster Cult through October and with Todd Rundgren October 26 through November 12.
Todd Rundgren Unpredictable Tour
 Sun Oct 26 Robinsonville, MS – Horseshoe Tunica Casino
Tue Oct 28  Alexandria, VA – Birchmere
Wed Oct 29 Glenside, PA – Keswick Theatre
Fri Oct 31 Westbury, NY – Theatre at Westbury
Nov 2 – 3 New York, NY – B.B. Kings Club & Grill
Tue Nov 4 Lebanon, NH – Lebanon Opera House
Thu Nov 6 North Salisbury Beach, MA – Blue Ocean Music Hall
Fri Nov 7 Peekskill, NY – Paramount Hudson Valley
Sun Nov 9 York, PA – The Pullo Center
Mon Nov 10 Columbus, OH – The LC Pavillion
Wed Nov 12 Kent, OH – The Kent Stage
Thu Nov 13 Chicago, IL – Park West
Sat Nov 15 Peoria, IL – Limelight
Sun Nov 16 Minneapolis, MN – Mill City Live
Tue Nov 18 Denver, CO – Bluebird Theatre
Wed Nov 19 Salt Lake City, UT – The State Room
Fri Nov 21 Las Vegas, NV – Vinyl @ The Joint
Sat Nov 22 Scottsdale, AZ – Talking Stick Resort
Mon Nov 24 San Francisco, CA – The Fillmore
Tue Nov 25 San Juan Capistrano, CA – The Coach House
Wed Nov 26 Beverly Hills, CA – Saban Theater