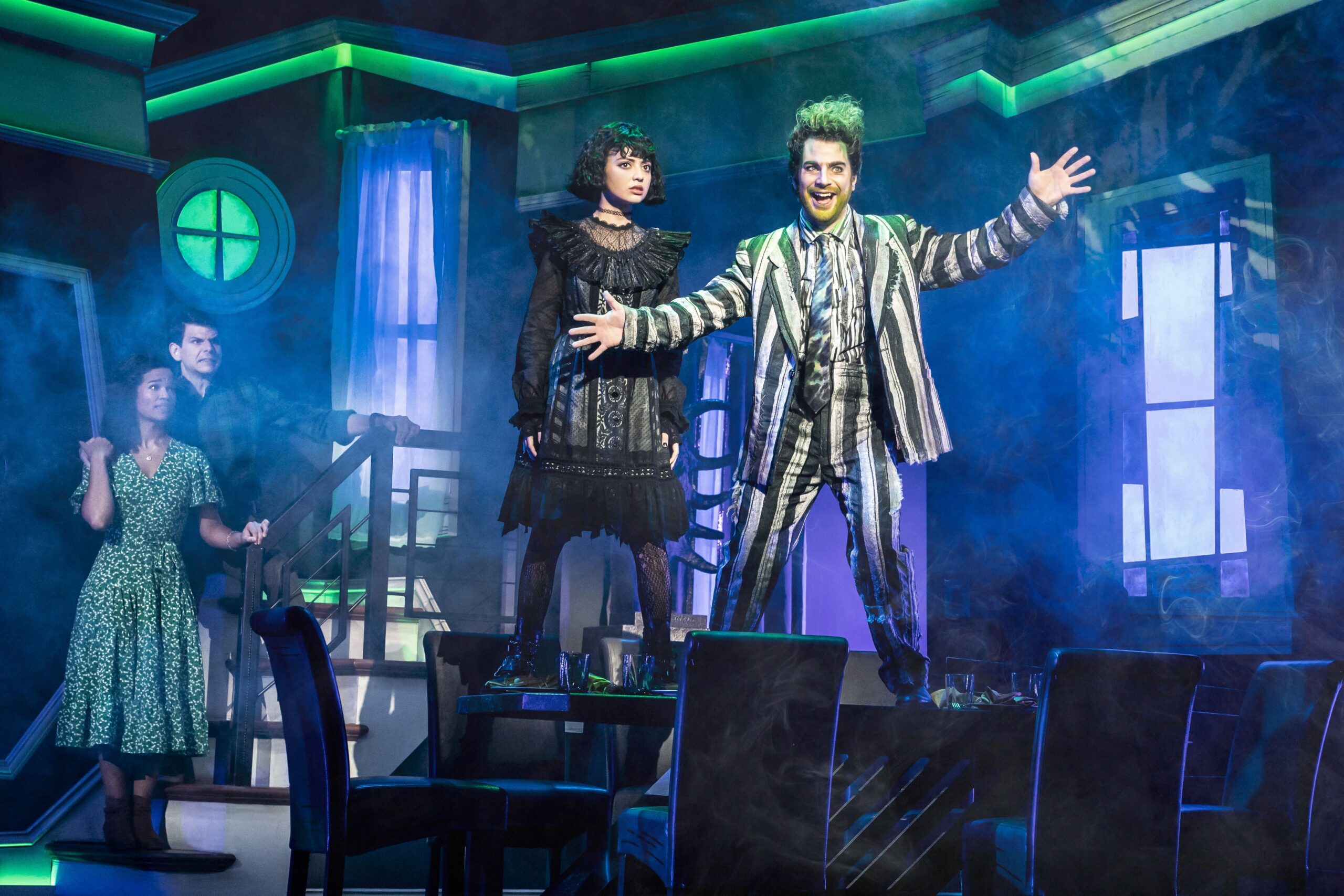 Photos by Matthew Murphy
You shouldn't say "Beetlejuice" three times, unless you are prepared for some frightening fun! "Beetlejuice" descends upon DC May 16-May 28, 2023 at the National Theatre. The show opens literally with a bang, and the excitement builds throughout the show as ghostly Beetlejuice tries to worm his way into the lives of those living and recently deceased in an old Victorian home.

The show focuses on the life of Lydia, played by Isabella Esler. Who has recently lost her mother. She has become obsessed with death, as she deals with her life without her mother. Even in her saddest stage moments, this actress is a joy to watch. She has amazing energy. She also has a stunning voice. Her lovely singing is only enhanced by the lovely duet, of "No Reason" she sings with her life-coach, Delia, played by Kate Marilley, who also has a gorgeous voice.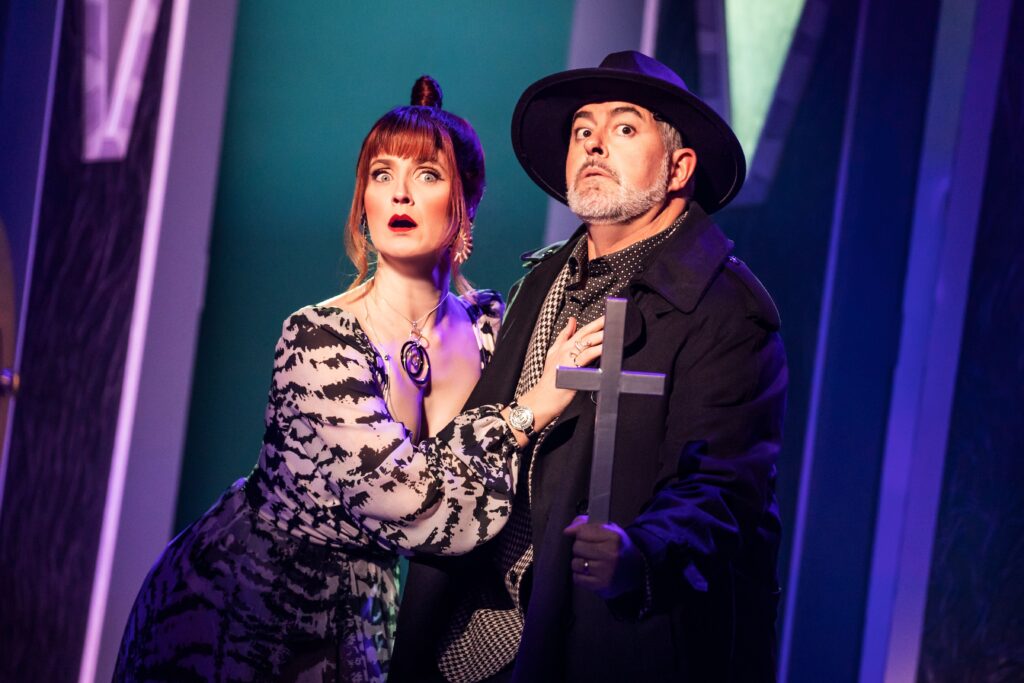 Delia was hired by Lydia's father to help her move on with her life after the death of Lydia's mother. The hilarious antics of Delia are only broadened by the humorous facial expressions, body movements and blocking of Kate Marilley. She absolutely steals any scene she is in, causing the audience to cheer whenever she appears.

Barbara and Adam (Britney Coleman & Will Burton) are also ghosts. As they are recently departed, Beetlejuice claims to be Barbara and Adams guide to the netherworld. In reality, he has an agenda all his own. He tries to teach them how to scare everyone out of their old house. But, instead, kooky hilarity ensues. Beetlejuice humorously tries to manipulate everyone into doing his bidding. Some of his deranged antics work. But, most of his plans ludicrously go awry.

The zany, absurd, tomfoolery leads to a wildly fun and entertaining evening. Beetlejuice, played by Justin Collette, can duplicate himself, possess people, and make people float in mid air. Justin does a fabulous job in the role, and deserves kudos for his high energy and singing in that gruff ghostly voice all night. He can definitely light up the room with his humorous antics.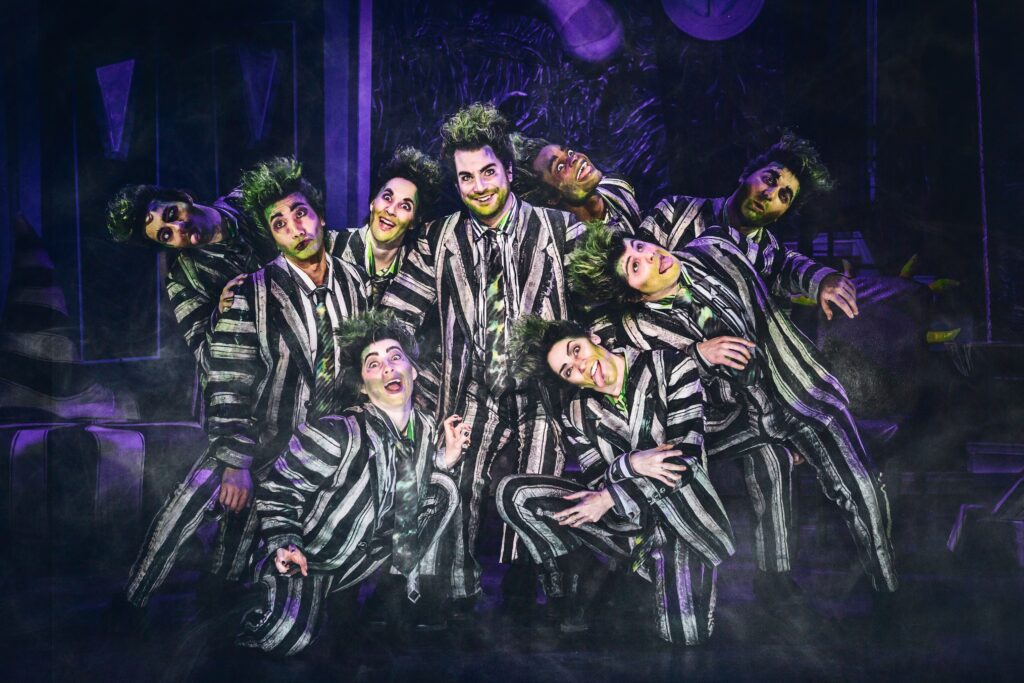 The room itself is a lovely thing. The versatile house set changes from Victorian, to modern, to downright spooky decor utilizing awesome lighting techniques. Projections on the curtain add to the spooky themes.
The stage comes to life as the ensemble easily changes characters, from cheerleaders, to possessed house guests, to ghosts. The ensemble dance scenes were fabulously energetic and fun. The best of these ensemble numbers was "What I Know Now" where all the ghosts in the Netherworld sing an awesome song together. Another favorite of mine was "Creepy Old Guy." The cast really looked like they were having a great time! The audience had a great time too. Many folks even adorned the audience in their finest Beetlejuice-like attire. This is a must-see show! Beetlejuice is fabulous and fun!

FINAL GRADE: A
Beetlejuice is playing at National Theatre now through May 28th with a run time of 2 hours 30 minutes with one intermission. The show contains strong language, mature references and a lot of crazy, inappropriate stuff you would expect from a deranged demon. 
Tickets for Beetlejuice are currently available online at BroadwayAtTheNational.com or in person at the box office Monday through Friday 12:00 – 6:00p