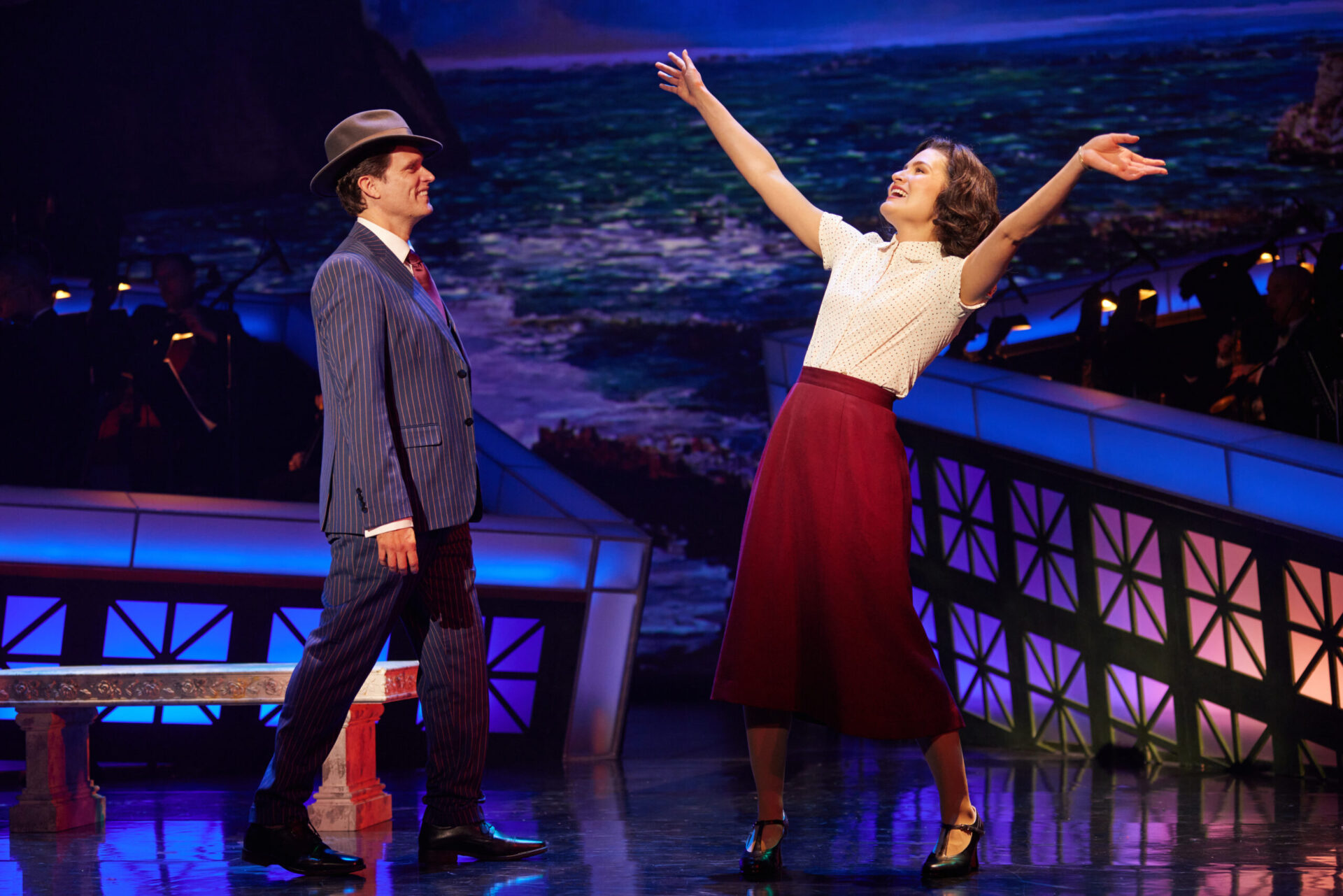 If you're looking for one of those shows where the whole audience emerges smiling and humming in unison, check out "Guys and Dolls"—playing a very brief run at the Kennedy Center through October 16th. The star-studded cast makes a somewhat antiquated plot about New York gangsters searching for a place to run an illegal dice game while "guys" and "dolls" contemplate love feel strangely nostalgic.
The set design for this show is fairly minimalist, with elaborate images of New York and Havana projected around the perimeters of the stage. This leaves plenty of room for the orchestra—which is seated in two open-topped, angled cubes protruding from the stage—and for dance numbers like the lively and impressively acrobatic "The Crapshooters Dance".
The chemistry is palpable between Steven Pasquale (who plays Sky Masterson, the charming gangster with odds that seem to be ever in his favor) and his real-life wife Phillipa Soo (who plays the God-fearing Sarah Brown, hell-bent on cleansing New York City of all its sinners), and that energy is perhaps most obvious in their delightful "I've Never Been in Love Before" duet.
Jessie Mueller plays the intrepid Adelaide, who spends her days trying to get her fiancé of fourteen years, Nathan Detroit (played by James Monroe Iglehart), to quit running dice games and pick a marriage date, and her nights dancing at the Hot Box with her gaggle of Hot Box dancers. Behind the high pitched and nasal voice Mueller tries on (the trademarks of Adelaide's character) are powerhouse vocals, matched richly by Iglehart—who previously starred in Broadway's Hamilton, as did Phillipa Soo.
Other standout performances include former Saturday Night Live cast member Rachel Dratch (whose comedic timing as the ironically named Big Jule is pure gold), as well as what one could call a nicely done rendition of "Sit down, You're Rockin' the Boat" by Kevin Chamberlin (who plays Nicely-Nicely Johnson). In truth, that number was the show-stopper of the night.
Despite an abbreviated rehearsal schedule in which to put this show together (which perhaps accounts for the very brief technical difficulties in the second half of the performance), this talented cast and crew has put together a memorable and extremely entertaining show that is not to be missed.
FINAL GRADE: A
Guys and Dolls is running at the Kennedy Center's Eisenhower Theatre for ten performances only through October 16th. Runtime of 2 hours, 30 minutes with an intermission. Tickets are currently available via the Kennedy Center website or by calling 202-467-4600.