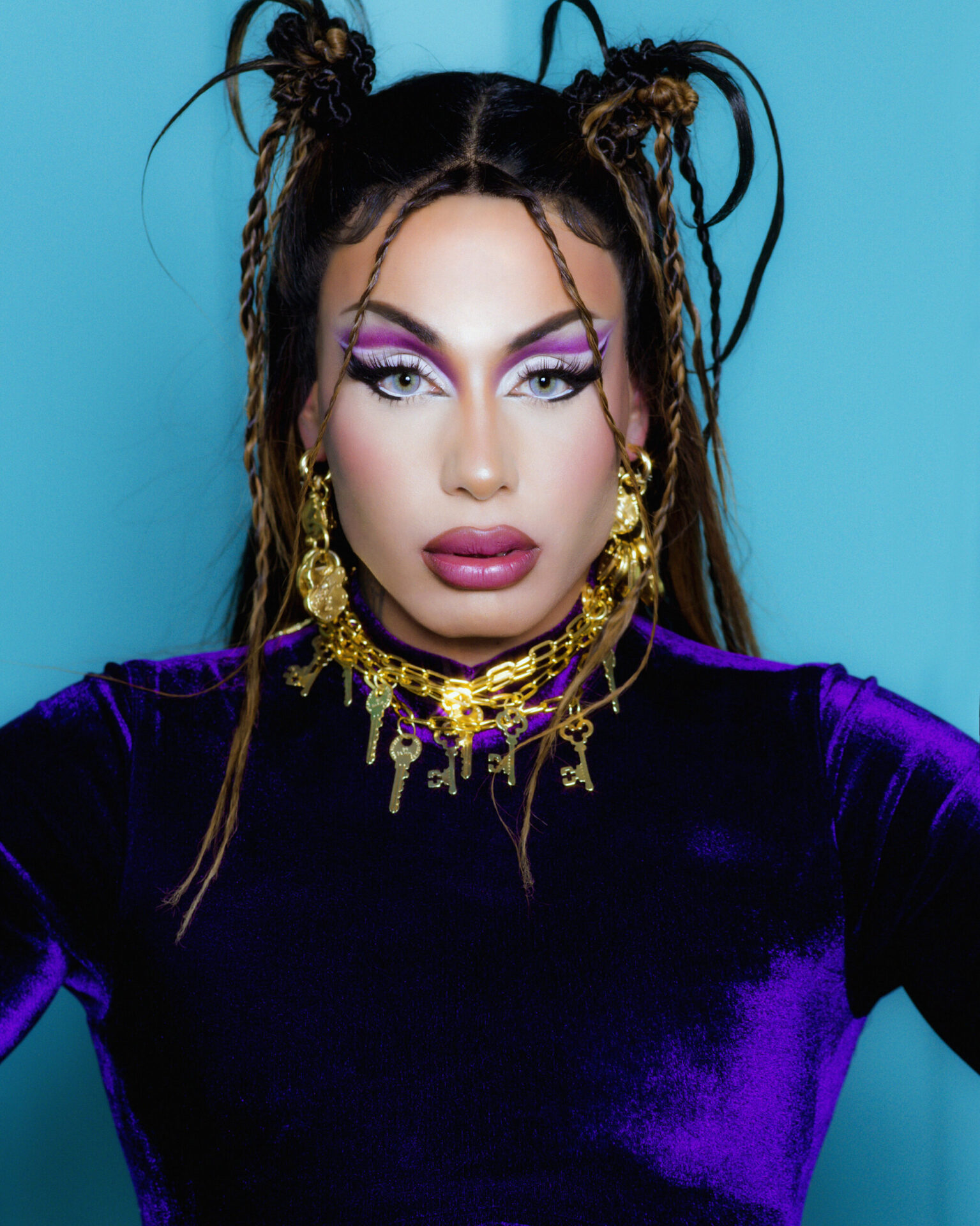 Welcome to the latest edition of THE INTERVUE, the place where we talk to the people make the entertainment world go round. On today's edition, if you have seen Queen of the Universe on Paramount +, then you truly know our next guest.
She was crowned the inaugural winner of that contest. She's a Brazilian singer who had Wowed the crowd with Rise Up and Girls Just Want to Have Fun. Now she's going to continue to release music. And she's even coming to my hometown of Washington DC on June 22. At the Loft at City Winery DC and tickets are available. Ladies and gentlemen, we must bow down to the Queen our drag queen, Grag Queen!
Grag Queen, welcome to THE INTERVUE
Girl, this introducing, oh, I want to record that and glue on my forehead. This is amazing, thank you so much. I felt amazing!
Well, I'm so glad to have you since you were the first winner of Queen of the Universe and just happened on Paramount+ not too long ago. How did you hear about the contest and who encouraged you to enter it?
Everything was falling apart at the moment, we're talking about like Brazil in the middle of COVID trying to fight for our vaccine. And we're talking about like me extremely frustrated with my work. With no passport, no English at all. And they said, "Okay, we're gonna do a contest that's gonna need a drag queen and a singer. You really have to have certain looks and vocals and I said, "Okay, I know, everything's telling me no, but this gig is for me, this gig was made for me." And I said, "It doesn't matter how I was confirmed on the cast." In fact, I was one of the last ones to be confirmed to the cast. Because we're trying to get to understand the journey on the plane because like we didn't have flights straight to the UK from Brazil, because of the COVID. We were like very bad, because our president sucks a lot. And that's it. I never believed that it wasn't gonna happen. I didn't even have time to be nervous about it. I was like, just running like I had 15 days to put out the looks and songs and hair, and nails like together. And it's crazy!
I bet it was and here you are. You're now the first queen, you have set the bar high. And you have used you have used your platform to raise awareness of the anti LGBTQ discrimination and violence in your country of Brazil. What do you feel that the present administration needs to do to move things forward into the right direction?
I think we're going somewhere with lots of artists with political art and just like for the fact that we exist on our bodies. We are just like taking places that get so much light and so much voice power. So, I think it's amazing! I think the community itself got a be together more. We got to take a little bit like rest of the shady side, the beachy side because we really got to stick together and got to do something.
I really get very frustrated when I see people from the community like gay people saying shit about artists and there have some power or visibility and it just breaks my heart a lot. I think we got to start from, from our houses.
I've seen the videos from your Rise Up to Girls Just Wanna Have Fun. It's sensational. I'm so glad that you're putting your voice out there, and you've created such beautiful music. And I want you to tell us more about the Desperata EP that features Bota Fé. I want you to tell us about those songs and your EP.
So that songs were made when it was a very hard time for me. I didn't know if she just checks the lyrics or the translation, but it's basically like me, trying to talk to my community, my friends and meet myself. Like, "Move on girl, it doesn't matter. I know, everything is falling apart, but you got to keep going. It doesn't matter if you don't know where you're gonna go. Wake up," you know what I mean?
I wasn't feeling the need to be saying, "Shake your ass and put your drinks up. And let's party every day." On that time, let's understand how amazing we are. I know everything is so crazy, but we still amazing. We're still full of joy full of energy and we got to do something with that. He helped like lots of people, including myself. I love that project.
That's great to hear. And I'm so glad that your music is inspiring people not just in Brazil, but all over the world.  I'm very proud to hear that. By the way, you made a single film, Fim De Tarde…. a beautiful video and the visuals were stunning.  I want you to walk us through the process of creating that video for not only the video was amazing, but the lyrics the music was so sensational.
I really wanted to bring out like "Now the bitches rich. And she really got to spend her money, like doing some art for the children. "You know, I really wanted to show this just like here in Brazil, they are extremely cracked, when they see like, "Oh my god, the girl was in Hollywood. The girl is like from Beverly Hills and palm trees. This is insane for us." This is insane for me when I was like filming that being directed in English. And I was like "Oh my god, Grag, what are you? Look what you did?" Instead, okay, go ahead. I love the result of everything. Like, it was amazing filming that L.A. It was a dream. I really felt like a Hollywood thought.
Well, you definitely look like a Hollywood star to me and I'm glad that you did the video. Now can you tell us about the track that's going to be featured in the Love, Victor soundtrack?
So, it's going to be a song that it's was written me Leland and just St. John. And the position is amazing. The song is amazing. I just received it actually. We're so happy to be launching it like for this series.  I don't know if I can, like say the name of the song, but I'm keeping this but it's like these cold vibes. It's very pop very fresh, very tick tock and stuff like that.  I'm sure like everybody's gonna love it.
I'm definitely sure they will. Now you're very much well aware of how many young people are afraid to come out and be their true selves. For the people who are listening, reading or watching this. What words of wisdom would you give to your fans? Who wants to be their true selves but they are afraid to come out but you want to give them that words of encouragement that they don't have to be afraid you could be now you can be proud you can come out.
I got to say, "Babe. You really got to come out." You really got to come out to you. I don't really think like we got to come out to parents and stuff like this because it puts us on the places of "Do you understand me?" We don't have to be accepted, we got to be respected and we are amazing. We are perfect. We shine like true artists. Look at us! We have drag queens, we have trans people, we have gay people, lesbian girls, I love it. I love if I could be born again, I would love to be LGBTQ again. Because it's amazing. I know, it's a very hard process and that's what makes us extremely strong. And so just don't be afraid. Let your shine Dream Dream Dream Dream, keep dreaming, it doesn't matter. Keep dreaming.
And that's why you're a drag queen, you got those words, and I have a feeling whoever is missing reading or watching. They're gonna say thank you for giving us these words. Yeah, I know, the next couple of weeks, the next couple of months are going to be this for you, you're going to be at the RuPaul's DragCon in LA, L.A. pride into Park Festival in June. And then you're going to be here in Washington DC on June 22nd. Will this be your first time traveling to Washington DC?
Of course, Yes!
Is there anything looking forward to seeing or doing while you're here?
I heard about the guys are very hot over there. I would love to see like all this stuff. Like listen, I'm a Brazilian girl, like with no budget on the past. So, I would love to go, like do tourist stuff and take picture on the things that I used to be to see on the movies. It's so crazy. For me, it's still working with the idea I'm going to work and people are paying to see me on a place I didn't even step foot before. This is crazy. This is insane. I'm so happy about that. And of course, I really want to feel I really want to see my Brazilian people that lives there. They're in touch with me. Like lots of Brazilians are Live in Washington, DC. I'm so happy that's gonna happen. I can't wait
What can fans they expect of the show coming up on June 22nd?
Definitely gonna serve vocals. She's gonna serve looks, she's gonna serve dance, she's gonna serve. You know, She's the queen of the universe. It's raining right now. It's gonna be opulence is gonna be like over, over over shake and over. I'm putting together a show like with very cool songs. And as I'm dropping new songs that's getting into the tour. I'm so excited about that, So excited.
I understand you're still on this wave of exploring the world…. exploring being the queen. How do you remain humble and taking it all in? Since this is a totally new experience.
I got like I'm starting therapy and stuff like this to understand the process like what everything you know, happening because I just came from zero to a million. And it's crazy. I'm extremely happy because it's the results of my job and the thing that I most love in the world…that is my art. We are getting the opportunity to be on a big stage and in studios. And I'm just extra happy. I'm a party girl. So, I'm always celebrating.
I understand take it one day at a time. Oh, yeah. Well, we're approaching the summer season in the States. What's your favorite summer activity?
I like going to the beach, and eating ice cream every day. I love the summer for I'm a Brazilian girl.
Awesome, you mentioned you like ice cream. What's your favorite flavor?
I think it's chocolate.
Oh, yeah, I love chocolate too. What would you like to say to the fans, to thank them for following you on this journey that you are the queen reigns supreme? And that they're gonna continue to follow you through all the Drag Cons, pride parades, your music and other ventures to come?
I really want to want to say thank you. I'm just like waking up every day and breaking a lot just because of you like because you are everything, your reaction how you react to my job. How you give the love that the world didn't give me an all my life. It's just insane. I just love you so much. I respect you so much. I want to be working for you and delivery things for you forever, because it's just amazing.
See Grag Queen live in DC June 22nd. Tickets are available at https://citywinery.com/washingtondc/