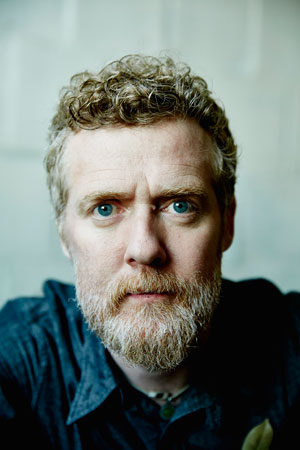 Acclaimed singer songwriter Glen Hansard will embark on a North American tour this fall including stops at Walt Disney Concert Hall in Los Angeles, Chicago Theatre in Chicago, the new Kings Theatre in Brooklyn and the Beacon Theater in New York City. Hansard will perform songs from his second solo outing Didn't He Ramble, due September 18 via Anti- Records. Visit here to purchase tickets.
In addition, the video for the album's single Winning Streak recently premiered as an NPR Music First Watch and can be streamed/shared here: http://bit.ly/1Hbu4Mh. The album is available for pre-order now at Glen Hansard Official and on iTunes.
Didn't He Ramble was produced by Thomas Bartlett (The National, Sufjan Stevens), a frequent collaborator of Hansard's, and Grammy winner and former Frames band-mate David Odlum (Paloma Faith, Tinariwen). The album, which was recorded in New York, Dublin, Chicago and France, is Hansard's most intimate and elegant record since his work in Once and features guest appearances by John Sheahan (Dubliners), Sam Beam (Iron and Wine) and Sam Amidon.
While the journey to finishing the record was a long one, the reward of finally arriving at the end line was well worth it. Hansard explains, "I feel I've really dug deep for these songs, and I've been chasing specific ideas asking myself 'what is it I'm trying to say with this line or idea?' One would hope that through all of this that you find your voice. And, amazingly, you might find it in the smallest gesture of a song."
Glen Hansard is the celebrated principal songwriter and vocalist/guitarist for the influential Irish group The Frames. Whether busking the streets of Dublin, where he got his start, or headlining a gig, Hansard has garnered a reputation as an unparalleled frontman.
Hansard is also one half of the acclaimed duo The Swell Season. In 2007, he and Czech songstress Markéta Irglová took home the Academy Award for Best Original Song for "Falling Slowly" off the Once soundtrack. In 2013, the Broadway adaptation, Once, The Musical, won eight Tony Awards including the top musical prize itself.
As a solo artist he has sold-out shows worldwide and performed on Late Night with Jimmy Fallon, The Tonight Show with Jay Leno, Late Show with David Letterman, Tavis Smiley, and has been featured on the Emmy Award-winning program CBS Sunday Morning.
For more information, please contact Mary Moyer, Cami Opere or Carla Sacks at Sacks & Co., 212.741.1000.
GLEN HANSARD LIVE
*supported by Aoife O'Donovan
November 9 /// Los Angeles, CA /// Walt Disney Concert Hall*
November 10 /// San Francisco, CA /// The Masonic*
November 12 /// Vancouver, BC /// Orpheum Theatre*
November 13 /// Portland, OR /// Crystal Ballroom*
November 14 /// Seattle, WA /// Moore Theatre*
November 16 /// Denver, CO /// Paramount Theatre*
November 17 /// Kansas City, MO /// Uptown Theater*
November 19 /// Madison, WI /// Orpheum Theatre*
November 20 /// Minneapolis, MN /// State Theatre*
November 21 /// Chicago, IL /// Chicago Theatre*
November 23 /// St. Louis, MO /// The Pageant*
November 24 /// Cincinnati, OH /// Taft Theatre*
November 25 /// Atlanta, GA /// Buckhead Theatre*
November 27 /// Durham, NC /// Durham Performing Arts Center
November 28 /// Washington, DC /// DAR Constitution Hall
November 30 /// Brooklyn, NY /// Kings Theatre
December 1 /// New York, NY /// Beacon Theatre