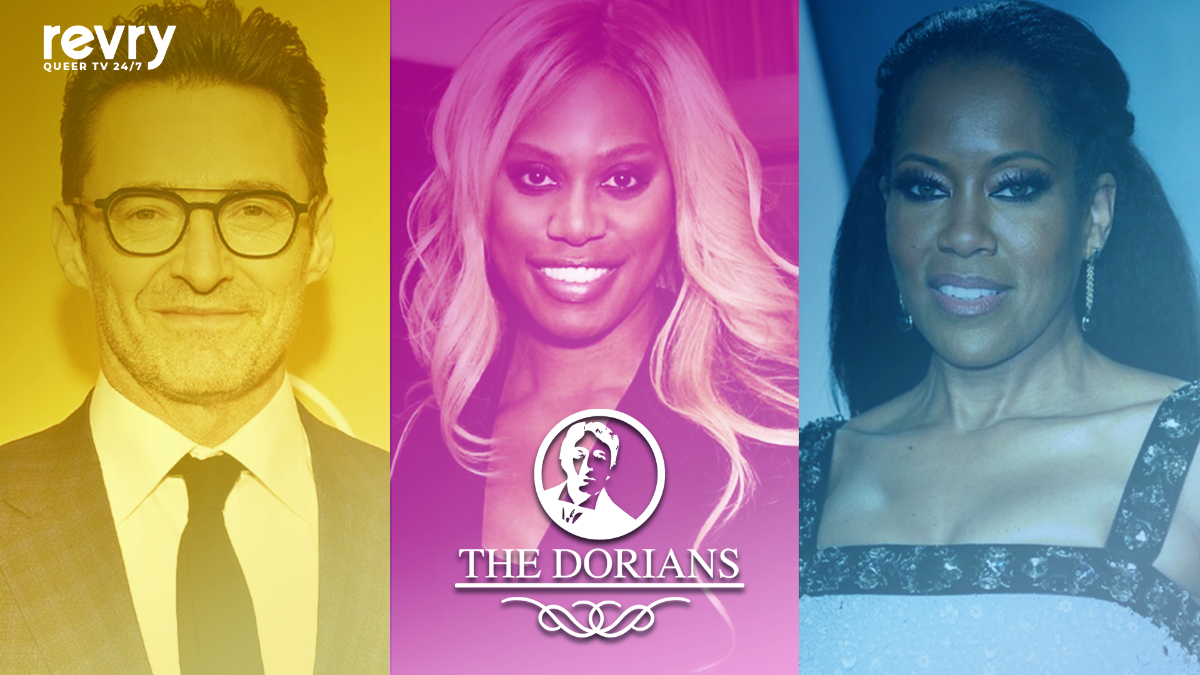 Hugh Jackman, Janelle Monáe, Billy Porter, John Oliver and Schitt's Creek creator-star Dan Levy, plus stars and producers of Killing Eve and Watchmen, offered heartfelt thanks as they virtually accepted awards—and were treated to a symbolic raise of the glass—from GALECA: The Society of LGBTQ Entertainment Critics during the group's first TV special last night (click 
here
 to watch or rewatch)
The
 Dorians TV Toast 2020
, a recorded two-hour program hosted by opinionated talk radio icon Karel and airing on the LGBTQ+ streaming platform 
Revry
 followed the lead of the group's trademark live Toast honors, a mix of awards and chat/variety shows. The latest Dorians Toast intermingled music, comedy and special segments with lively banter about the nominees and winners from the organization's members—and from presenters like sitcom multihyphenate Josh Thomas (Freeform's Everything'
s Gonna Be Okay), Alex Newell (of NBC's hit Zoey's Extraordinary Playlist), groundbreaking comic actresses Margaret Cho and Lea DeLaria, Hollywood wit Bruce Vilanch and RuPaul's Drag Race All Stars champ Chad Michaels.
Season three of BBC America's psychological thriller Killing Eve, starring best actress nominee Jodie Comer and 2018's category winner Sandra Oh, earned Best TV Drama. Accepting were show costar Fiona Shaw (secret agent Eve/Oh's boss, Carolyn Martens), writer Suzanne Heathcote and executive producer Sally Woodward Gentle, who after thanking GALECA for Eve's award, praised Creek for "filling my heart with joy" amid today's challenging times.
The alternate-universe adventure Watchmen took two awards: Best TV Movie or Limited Series and Most Visually Striking Show. Star Regina King, a nominee for the miniseries and a previous Dorian film award winner for If Beale Street Could Talk, was upbeat in thanking the Society for "not one but two Dorian Awards. Love it, Love it!"
King told the Society's members she felt that one of the reasons series creator Damon Lindelof's imagining of the comic book, navigating themes of power, racial conflict and identity, proved so popular is "you. You've written so favorably about the show." She also spoke warmly of Watchmen's writers and cast mates, including TV icon Lou Gossett Jr. (Roots), who in the show played the elder version of—spoiler alert—gay superhero Will Reeves.
Lindelof, though, was more somber in accepting Watchmen's chief award. "I know the Dorians celebrate all kinds of film and TV shows that don't necessarily need to be LGBTQ-themed, but we take particular pride in the fact that there is a queer character at the very center of Watchmen: Will Reeves," said Lindelof. "We started this story by asking a simple question: Why would a superhero need to hide their face? If they were truly fighting for justice, the answer seemed obvious: Because the world wasn't ready to see who they really were. And so Watchman became this story about unmasking, about understanding the pain and trauma caused by ignorance and hate."
Monáe, accepting her joint-win with singer-actor Billy Porter for Best TV Musical Performance for their dazzling duet at the start of last February's Academy Awards, said the experience of performing that night "was a dream" and that, when it came to asking Porter to join her, "There was no other person I could think about sharing that stage with." She added: "I'm just so grateful that we got an opportunity to be ourselves. Our performance was rooted in community and making sure to amplify all of the marginalized voices, specifically our black and queer community. It wasn't just about us. It was about all of us. I'm so honored to be honored by GALECA."
Porter returned the affection. After admiring his Dorian award—"Look at how lovely this is!"—he thanked his stage mate Monáe for "putting her neck out for me and making sure that grampa – I – was there with her."
America's current, seemingly endless string of troubling headlines proved fodder for the Toast's winners, presenters and Society members throughout the show. Referring to the new era of social distancing, "There are people in the Trump administration that've gone to jail and gotten out sooner than we have from our lock-up!" half-joked host Karel from his Las Vegas home, which served as home base for what the boisterous performer called the special's "virtual pub."
Before talk radio favorite Stephanie Miller announced Eve as best drama, she quipped as she ran through the category's nominees. Sample: "Better Call Saul—the story of a fixer that for a change doesn't have Donald Trump as a client." And Vilanch, in presenting Campiest TV Show: "We all know what camp is, or we think that we know what camp is for me. It's failed seriousness. In other words, the Trump administration."
Jackman took Best TV Performance—Actor for his unsettlingly seamless portrayal of a true-life public school embezzler in HBO's Bad Education. In presenting the award, Rafael Casal, who played the star's illicit lover, noted the movie "really tells the story of today's America, a story about a con man using the system to benefit himself and rob the people he's supposed to serve, all while the ceiling is caving in—and he's eventually stopped by teenagers. Thank you, TikTok." Regarding his acting partner, Casal quipped: "He even let me two-step better than him on camera, which I think tells you the kind of class act he is."
Piping in himself, Jackman, in thanking GALECA, his director and costars including Casal, said his Dorian award "really, really means a lot . . . (making Education) was just one of those incredible experiences. This is just icing on the cake."
HBO's Last Week Tonight, starring crusader for truth and culpability John Oliver, triumphed as Best Current Affairs Show, not an easy feat considering the category's "tight competition," said presenter Thomas Roberts. The former groundbreaking MSNBC news anchor, now hosting the syndicated newsmagazine series DailyMailTV, noted that most of the category's nominated programs have tried to inform America about everything "from pandemics to politics, TikTok to over-the-top, fashion news to actually using a pocket square as a face mask."
Oliver, bringing it home—literally—in a video shot at his COVID 19-era TV desk, said, "Thank you so much, GALECA, for this Dorian Award." He added he hoped members "were safe at home and not at a mask-less Jacksonville pool party."
Yet it was the uplifting sixth and final season of Schitt's Creek that scored five Dorians. The scrappy farce, about a once-rich and la-de-da family whose suddenly meager finances make them face reality, won Best TV Comedy and Best LGBTQ TV Show (just as the show did for season four). Creek matriarch Catherine O'Hara grabbed the award for Best TV Performance—Actress, with cast mates Annie Murphy and Levy honored in the supporting categories (Levy's father Eugene Levy was nominated here for best actor). Levy was also bestowed the group's special Wilde Wit accolade, named in honor of Oscar Wilde (the Dorian Award itself counts as an homage to Wilde's only novel, The Picture of Dorian Gray).
Levy, echoing King, told GALECA members he appreciated the Society "for supporting our show from day one . . . It is a great honor to be recognized by all of you, because, let's be honest, you got good taste."
There were other winky moments:
– GALECA's signature Campiest TV Show honor went to Tiger King: Murder, Mayhem and Madness, with director/producer Rebecca Chaiklin accepting with humor (she said the controversial docuseries' now imprisoned star, Joe Exotic—who recently sent a letter to Donald Trump asking to be pardoned for charges of murder for hire and animal abuse—sent his gratitude).
– Vilanch, presenting that Campiest show category, opined of nominee Dolly Parton's Heartstrings, "The title alone! Can Dolly find her heartstrings under all that boob?"
– Presenter Dave Koz whipped out his shiny sax to play a few notes and herald Best Unsung TV Show winner What We Do in the Shadows.
– In accepting on behalf of that vampire comedy, Harvey Guillén, who plays secret and reluctant bloodsucker slayer Guillermo de la Cruz, warbled a spoofy impromptu song to express his excitement over GALECA's pick.
– And RuPaul's Drag Race All Stars winner Chad Michaels, also known for impersonating Cher to perfection, was a novel choice to announce the Most Visually Striking Show category. Quipped Michaels: "I know how much hard work it takes to look visually striking!" Accepting the Visually Striking award were production designer Kristian Milsted and director of photography Gregory Middleton.
"The presenters and winners really outdid themselves with their virtual appearances," said GALECA Executive Director John Griffiths. "I'm still laughing over Josh Thomas' hilarious, must-be-heard insight about life during the pandemic. And our host Karel did an amazing job, especially considering he was flying virtually. He's such genuine, enthusiastic fan, and that makes an awards show much more fun. He also gets how much power TV has in transforming and uplifting lives. That makes the viewing experience more meaningful."
Griffiths added he was "truly giddy" over GALECA's revamped trophy, individual art pieces of the winners inspired by Oscar Wilde's The Picture of Dorian Gray. "Everyone gets a colorful portrait of themselves on a little easel with a velvet drape over it!"
Moreover, the Dorians TV Toast 2020 introduced not one but two theme songs, the Cheers-evocative "Raise a Glass!" and the more rocking "Toast," rockingly performed by Irish-meets-Vegas band The Black Donnellys.
The first recipient of the Society's special career-achievement honor, The "You Deserve an Award!" Award—going to what the group deems "a uniquely talented TV icon we adore"—will be announced at a later date.
Starting under the original banner Gay and Lesbian Entertainment Critics Association, GALECA's Dorian Awards have gone to the best of all of film and TV — not only LGBTQ-themed — since 2010. While this year marks the inaugural Dorian TV Awards, this is actually the 12h go-around for members voting on their best-loved TV programs and stars. Come first-quarter 2021, the Society will add to its choices for the finest in theatrical releases for its first separate Dorian Film Awards.
2019-20 DORIAN TV AWARDS—WINNERS IN BOLD
BEST TV DRAMA
Better Call Saul (AMC)
Killing Eve (BBC America/AMC)
Ozark (Netflix)
The Crown (Netflix)
The Good Fight (CBS All Access)
BEST TV COMEDY
Better Things (FX)
Dead to Me (Netflix)
Insecure (HBO)
Schitt's Creek (Pop)
The Good Place (NBC)
What We Do in the Shadows (FX)
BEST TV MOVIE OR LIMITED SERIES
Bad Education (HBO)
Little Fires Everywhere (Hulu)
Mrs. America (FX/Hulu)
Normal People (Hulu)
Watchmen (HBO)
BEST LGBTQ TV SHOW
Bad Education (HBO)
Hollywood (Netflix)
RuPaul's Drag Race (VH1)
Schitt's Creek (Pop)
Vida (Starz)
We're Here (HBO)
Work in Progress (Showtime)
BEST TV PERFORMANCE – ACTRESS
Christina Applegate, Dead to Me (Netflix)
Cate Blanchett, Mrs. America (FX/Hulu)
Linda Cardellini, Dead to Me (Netflix)
Jodie Comer, Killing Eve (BBC America/AMC)
Regina King, Watchmen (HBO)
Laura Linney, Ozark (Netflix)
Catherine O'Hara, Schitt's Creek (Pop)
BEST TV PERFORMANCE – ACTOR
Hugh Jackman, Bad Education (HBO)
Eugene Levy, Schitt's Creek (Pop)
Paul Mescal, Normal People (Hulu)
Jeremy Pope, Hollywood (Netflix)
Ramy Youssef, Ramy (Hulu)
BEST SUPPORTING TV PERFORMANCE – ACTRESS
Uzo Aduba, Mrs. America (FX/Hulu)
Julia Garner, Ozark (Netflix)
Allison Janney, Bad Education (HBO)
Patti LuPone, Hollywood (Netflix)
Annie Murphy, Schitt's Creek (Pop)
Jean Smart, Watchmen (HBO)
BEST SUPPORTING TV PERFORMANCE – ACTOR
Billy Crudup, The Morning Show (Apple TV+)
Harvey Guillén, What We Do in the Shadows (FX)
Dan Levy, Schitt's Creek (Pop)
Joe Mantello, Hollywood (Netflix)
Josh O'Connor, The Crown (Netflix)
Jim Parsons, Hollywood (Netflix)
BEST TV MUSICAL PERFORMANCE
Cynthia Erivo, "Stand Up," 92nd Academy Awards (ABC)
Jake Gyllenhaal, "Music, Music Everywhere!," John Mulaney & the Sack Lunch Bunch (Netflix)
Jennifer Lopez & Shakira, Halftime Show, Super Bowl LIV (Fox)
Janelle Monáe & Billy Porter, Opening Number, 92nd Academy Awards (ABC)
Noah Reid, "Always Be My Baby," Schitt's Creek (Pop)
BEST CURRENT AFFAIRS PROGRAM
Cheer (Netflix)
The Daily Show With Trevor Noah (Comedy Central)
Full Frontal with Samantha Bee (TBS)
Last Week Tonight with John Oliver (HBO)
The Rachel Maddow Show (MSNBC)
Visible: Out on Television (Apple TV+)
BEST UNSUNG TV SHOW
Everything's Gonna Be Okay (Freeform)
Gentefied (Netflix)
The Good Fight (CBS All Access)
Mrs. Fletcher (HBO)
One Day at a Time (Pop)
Vida (Starz)
What We Do in the Shadows (FX)
Work in Progress (Showtime)
MOST VISUALLY STRIKING SHOW
Hollywood (Netflix)
The Crown (Netflix)
The Mandalorian (Disney+)
Watchmen (HBO)
Westworld (HBO)
CAMPIEST TV SHOW
AJ and the Queen (Netflix)
Dolly Parton's Heartstrings (Netflix)
The Great (Hulu)
RuPaul's Drag Race (VH1)
Tiger King: Murder, Mayhem and Madness (Netflix)
WILDE WIT AWARD
(Honoring a performer, writer or commentator whose observations both challenge and amuse)
Cate Blanchett
Hannah Gadsby
Dan Levy
Trevor Noah
Randy Rainbow