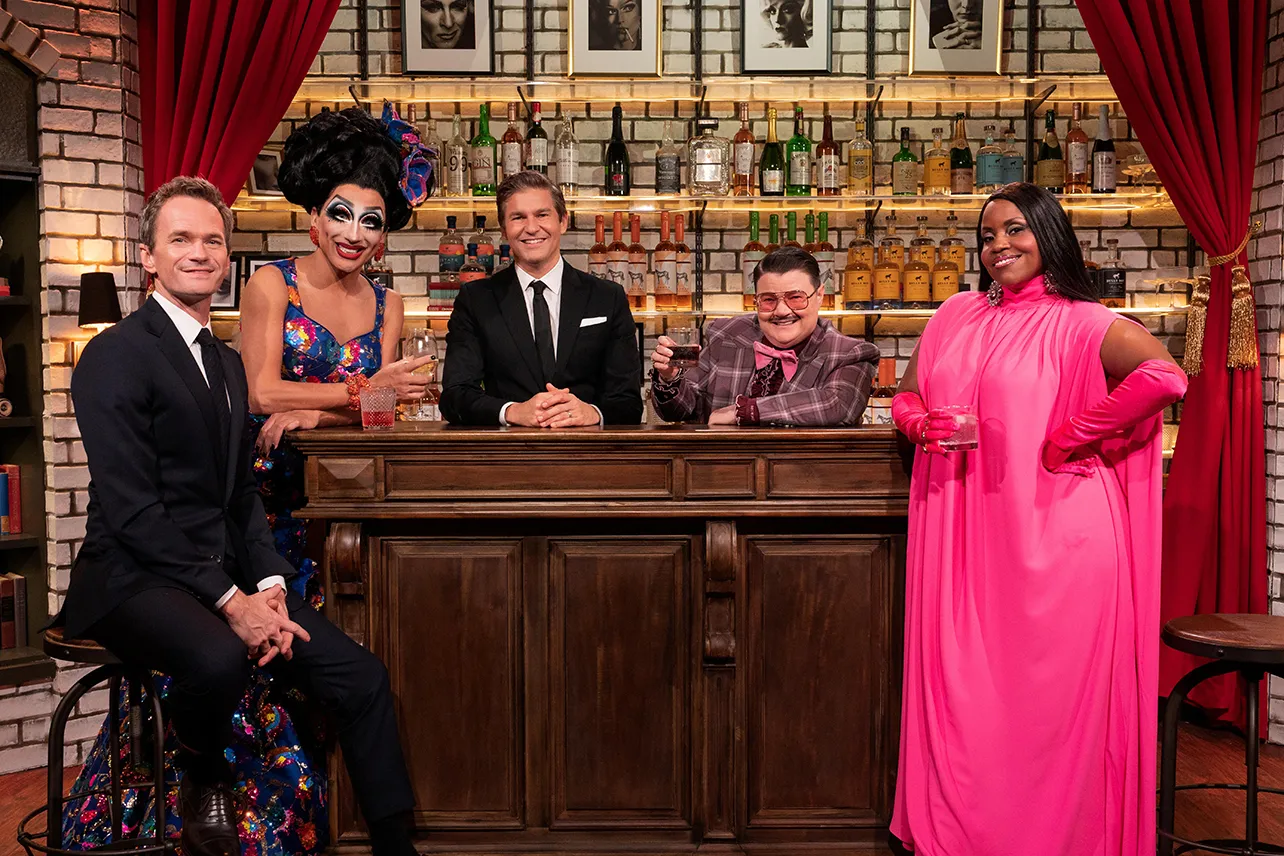 On this delicious edition of THE INTERVUE, Dean on the Scene is about to serve a main course of a delightful interview with three people who will judge and host some of our favorite drag queens in the new Hulu series, Drag Me to Dinner!
Drag Me To Dinner is a riotous, format-busting, fourth-wall-breaking,  unapologetic sendup of traditional reality competition shows! In each episode, two teams of successful drag queens go head-to-head to throw the most fabulous, awe-inspiring, drag-tastical dinner parties of all time, and be crowned champion by our three judgers: the multi-talented Neil Patrick Harris, drag superstar Bianca Del Rio, and the funny and fabulous Haneefah Wood.
Hosted by the hardest-working middle-aged man in show business: dapper NYC legend Murray Hill, each episode has its own unique theme, as revealed by resident expert, life of the party, and show producer David Burtka. Teams will focus on multiple criteria: Food & Drink, Design & Decor, and Entertainment & Overall Vibe ­– let the comedic culinary costumed chaos commence!
To help Dean with this delicious dish are three of the amazing stars: NYC legend Murray Hill, drag superstar Bianca Del Rio, and DMV's own Haneefah Wood!
Before the fun began, I had to give a shout-out to our own PG County native….
Well, before we begin, Haneefah, I want to tell you that I'm a fellow PG County native.
Haneefah Wood – HW (judge) Really? Yeah. Well, I'm born and raised in Washington, DC, but I went to high school in Greenbelt, Maryland.
Yeah, I went to high school for Washington, Maryland. So, we got something in common here. Well, the question I want to ask all three of you is what makes "Drag Me to Dinner" unique compared to other shows that we have seen in the past?
Murray Hill – MW (host): All right, let me answer this one quick, guys, because then you can flourish it up. All right, this show is 100%. On scripted, right. There's no canned jokes. There's not producer saying, "Okay, you to stand here and throw, you know, an egg on somebody else." There was no script. No director & no directions.
Bianca Del Rio – BDR (judge): It was literally it was literally flying without a net with flying without a net and going up there and having a blast. And that and the best part is Nobody cries and every episode for drag queens go home. What a treat, what a treat!
HW: And they might not have cried, but I cried in my dressing room a lot. I think also, like Hulu has done such a terrific job of this show being none of this metamorphosis of inclusion with all of us doing the show together and having a great time. I think that this show, to me, might be someone's favorite show, right? Because we think you're not worried about politics. You're just in it to laugh and you're in it to have a good time.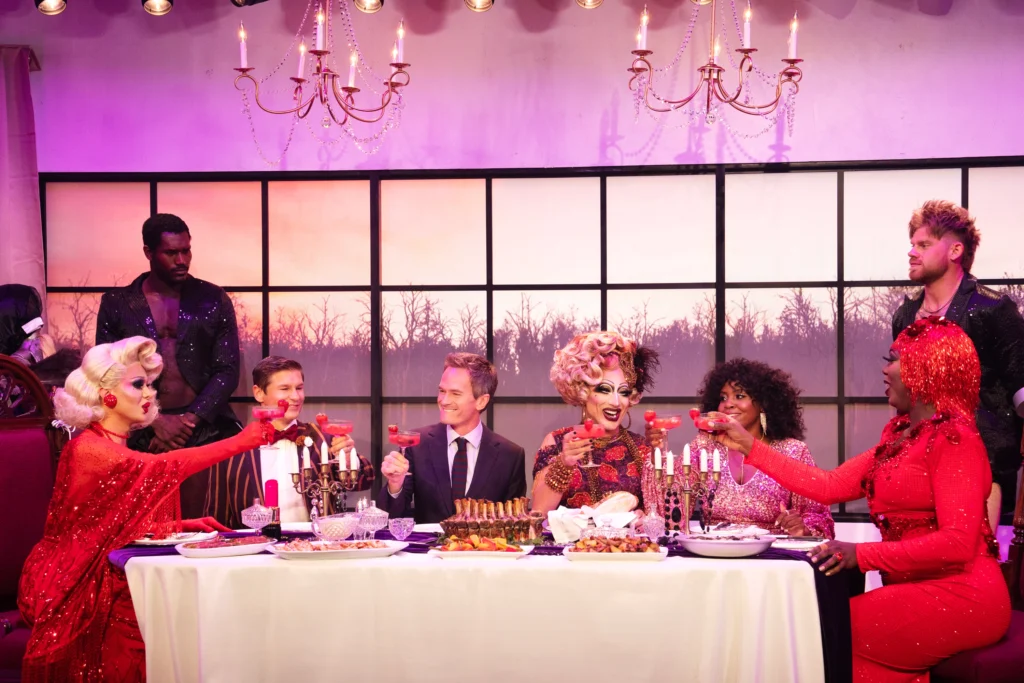 Absolutely, in fact, is has become one of my favorite shows. I thank all three of you for being a part of it. Now, as we know, throughout the 10 episodes, there are different themes if you have to pick a theme for this show. Which theme which you have picked?
MH: You have an Italian theme night. Pizza, Pasta, you know, that.
HW: Oh, that'd be good. It would be so good.
BDR: I'm from New Orleans so I would like a New Orleans theme. That food is very specific. And I just back from New Orleans. So I've had my fill of it, but I think it's important.
MH: Yeah, we can see it on you.
HW: Okay, because I heard Bianca say New Orleans, I'm gonna say like a soul food theme. Soul food theme in the South.
Now, if there was a second season of the series coming out, would you three love to participate Instead of judging or hosting?
HW: No, judge! The things that they had to go through things that they came up with on the spot? Maybe I would be able to do something like that but I prefer my role as a judge for sure.
BDR: I agree with Haneefah. I agree with Haneefah. Sit back watch and pass judgment.
MH: Yes, eat. Dean, are you trying to get a job on the show? Is that what that question was?
No, I just wanted to know…. Okay, well, maybe a little bit. Wow. So, my final question is, what is it like to work with Neil Patrick Harris and David Burtka on this wonderful series that we're about to see?
HW: There's some of the sweetest people you will ever meet me. They literally got us all together, which I think they're pretty brilliant to put Bianca, Murray & I I together with them. And I think they just wanted us to spread our wings and to do what we do best and perform in the manner that we felt like we wanted to perform. So, I think they're pretty special people really special and thanks because all my checks cleared.
MH: And Dean, what I loved about working with them is first of all, they included a drag king in the show which has not been done before. They also you know, they went out of their way to make sure that we honored and included the old school drag performers who aren't on the other TV shows. I think that shows a lot about their character and that they wanted to be inclusive within our community, so I think that's pretty cool showbiz.
BDR: I mean also for being you know, fabulous producers they were also very generous performers you know, because their level they didn't have to bother with people like us, but they were absolutely lovely to work with on set open to all ideas except one where I insisted that they fire Murray, but we did what we had to do to get through it.
Well, it's been a great show. I love it so much, and it's a great to the summer season. And thank you three so much for participating. I hope there is a second season coming up.
Check out Drag Me to Dinner with Murray Hill, Haneefah Wood and Bianca Del Rio with ten episodes,  STREAMING TOMORROW May 31st on Hulu