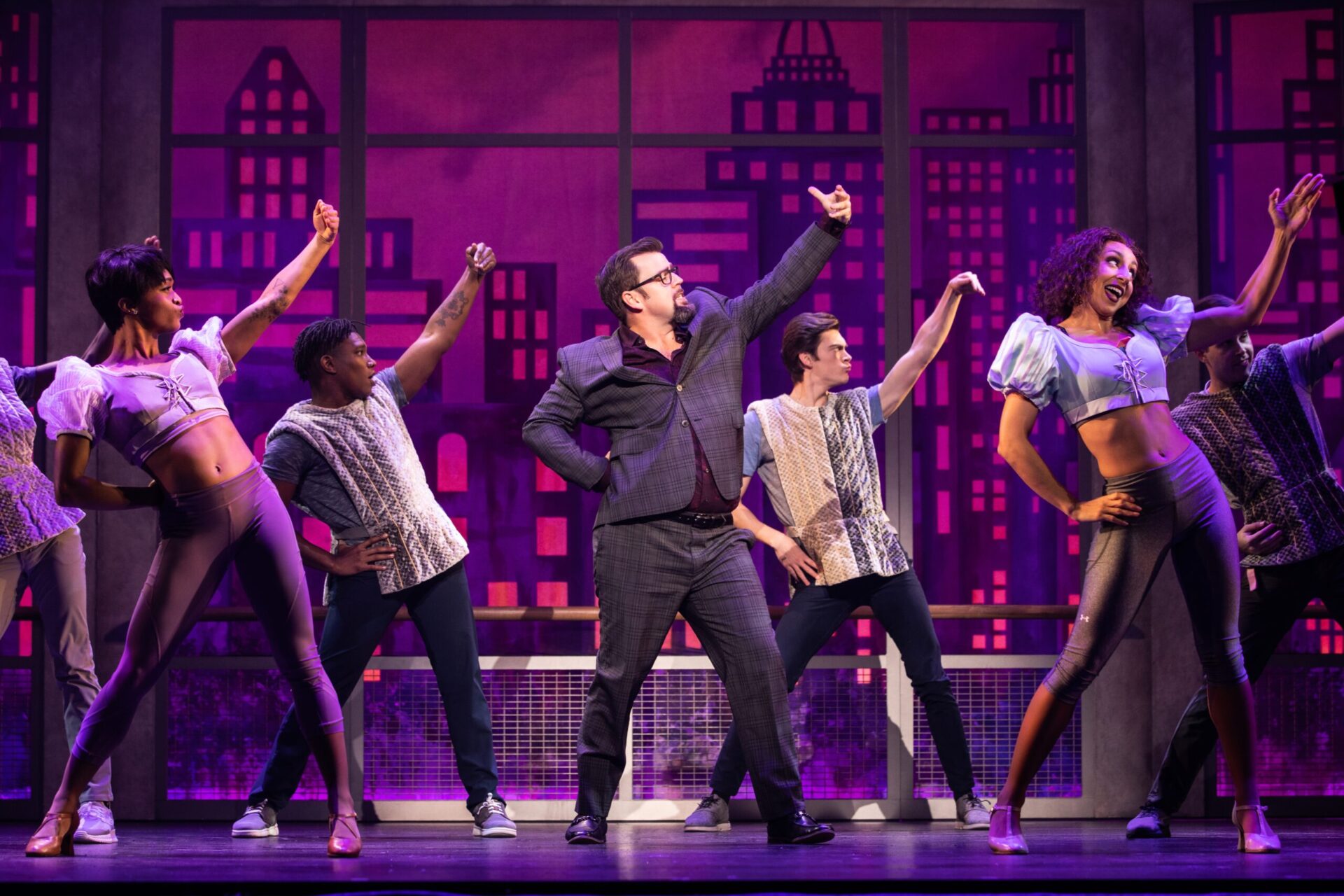 "Tootsie" is a Tony Award winning musical for Best Book of a Musical. The book was written by Robert Horn. One might also recall a 1982 motion picture of the same title starring Dustin Hoffman. However,  David Yazbek has written distinctively offbeat witty music and lyrics that will have audiences bursting with laughter. The humorous tale unfolds as an out of work actor is so desperate for work that he impersonates a woman to get an acting job.
Once wouldn't expect Michael Dorsey (Drew Becker) to be referred to as "Tootsie," precious, honey, or or any other such name. He is a not well-liked actor. People find him difficult to work with because he is brash and arrogant. "People are intimidated by the truth" Michael tells his friend Jeff (Jared David Michael Grant). Of course, this is Michael's opinion. The chorus begins singing his back story, as Michael is rejected from multiple auditions. The writing for these choral numbers throughout the show is comical, witty and full of innuendoes and double entendres. Each song seems funnier than the next as the show progresses.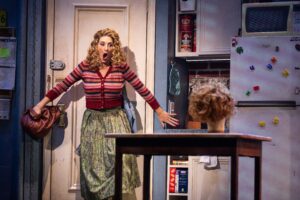 Michael, determined to act, auditions for a female role he learns of from his friend Sandy (Payton Reilly). Any scene Sandy is in, is sure to amuse. Payton Reilly is a natural comedienne. Her facial expressions and zany antics were side-splitting. Her lovely voice beautifully delivered her signature tune, "What's Gonna Happen" as she lyrically sang her negative predictions of how her auditions would turn out. She had the audience bursting with laughter.
Michael's audition as Dorothy Michaels also had the audience in uproarious laughter. During Dorothy's audition, she candidly asked for a chance. "I am an actress. I can play the part any way you want" she states. "I Won't Let You Down," Dorothy sings in a beautiful falsetto voice. Needless to say, Dorothy got the part.
Hilarity ensues, as Dorothy joins the cast of a poorly re-written "Romeo and Juliet" type story. Jeff tries to point out that taking the female role is an insult to women, but Michael insists he is an actor selling a character. Jeff, definitely sells his "straight man" part. The audience chuckled any time he was on stage, as his comedic timing and funny reactions were a delight to watch. "You look difficult to abduct" Jeff replied when Michael asked about Dorothy's appearance.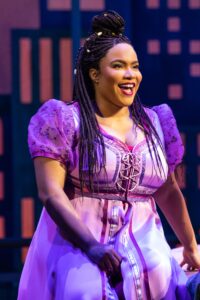 As Michael falls further down the "rabbit hole," he is tangled in a web of deception. He and the melodically gifted, Julie (Ashley Alexandra) plot to revamp the play to give women a vision. The plot thickens, much like an old Shakespearean play, as Michael falls in love with Julie, while she believes him to be a woman, and Max (Lukas James Miller) falls in love with Dorothy. Subsequent events lead to riotous explosive hilarity.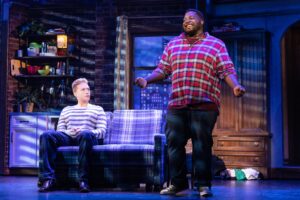 The fabulous quick changes of the costumes from Renaissance to the 50's and the set changes from Michael's apartment to a cityscape is magical. Dorothy's jewel toned costumes complimented her red hair. The choreography is lively, comical and entertaining. The mesmerizing energetic flips are balanced with humorous upbeat dance poses with names such as, "take a selfie," "brain freeze" and "happy bunny." Anyone seeking a good laugh will be delighted by "Tootsie."
FINAL GRADE: A
Tootsie is currently playing at National Theatre until June 12th
Running time: 2 hours and 35 minutes, which includes an intermission.
National Theater's COVID Safety Protocols
We will be requiring all audience members over the age of 12 to provide proof of vaccination against Covid-19. (For children under the age of 12 we require a negative Covid-19 test result OR proof of first dose of vaccine received at least 14 days prior to performance). You can read more about our new health and safety guidelines by visiting our Covid-19 Info Center.