Disney On Ice: Lets Celebrate! Arrives at the Capital One Arena in Washington, DC February 17th – 21st. The opening night celebration led excited fans, old and young alike to flock to the arena. Enthusiastic fans sat dressed in their finest Disney costumes, as these little princesses and princes wielded assorted blinking light wands and cheered as their favorite characters emerged to perform.
Crowd anticipation mounted as show favorites, Mickey Mouse, Minnie Mouse, Donald Duck and Goofy arrived waving to the audience. They announced that they would be making a movie starring all of all their friends. Their friends, of course included Disney fan favorite cartoon characters such as Pinocchio, Cinderella, Belle, Snow White, Rapunzel and Tiana, who gracefully glided and whirled about the ice to bring the characters to life.
Various characters tales unfolded as each story was told through song, dance and skating. Amazing props and costumes brought memorable childhood favorites to life. Early in the show, Dory, Marlon and Nemo delighted audiences performing "Turtle Rock". Skaters came out in beautiful flowing blue costumes imitating flowing water. Then a larger than life, lovable Crush the turtle rolled out, surrounded by several adorable skaters dressed in little turtle costumes. I could hear nearby children exclaiming how cute they were. Their frenzied skate dance had audiences snapping to the fun beat.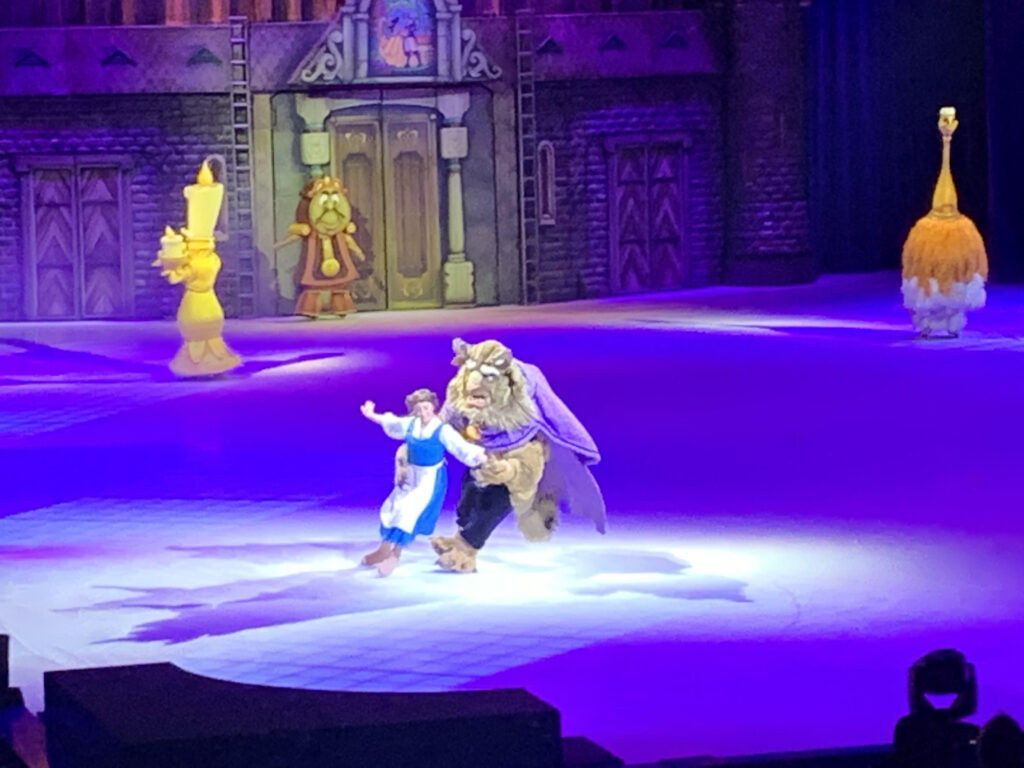 Another mentionable vignette was when Beauty and the Beast characters performed. Audiences clapped and cheered at seeing the delightful Cogsworth the Clock, Lumiere the Candlestick, and his girlfriend, the feather duster, come to life. These costumes were adorable. A grand magical castle backdrop adorned the stage for many of the sets. Pyrotechnics sometimes jolted from the castle to accentuate the magic. Once the beast transformed into the Prince, he and Belle performed some amazing lifts and spins while flying on skates across the ice.
Characters came magically to life, as a parade of majestic princesses and princes skated while performing spellbinding flips, lifts and spins. Cinderella and Prince Charming did phenomenal lifts, Princess Ariel and Prince Eric showed off an amazing trick, as she was spun from her legs. Rapunzel and Snow White also dazzled the audience as their partners gracefully lifted and spun them at top speeds, while thrillingly gliding across the ice. Simba and Nala especially did some amazing jaw-dropping flips.
Other favorite characters from Toy Story, including Woody, Jessie, Buzz Lightyear, and Forky brought the audience laughs with their goofy antics. One of my favorite stories highlighted was Mulan, whose tale included skaters performing a delightful ribbon dance. The exciting finale of that tale introduced an amazing menacing brightly colored orange giant dancing dragon to glide across the ice.
There were so many notable favorite characters to delight. Frozen characters, Anna, Elsa, and Kristoff told their captivating tale, gliding across the rink, as the enchanted kingdom of Arendelle was brought to life. The mystified audience sang along to "Let It Go" and were enamored as they watched glistening snow fall from the ceiling of the arena. This scene was quite enchanting. Then lovable Olaf the snowman performed "In Summer" while adorable skaters adorned the ice in beautiful brightly colored bee, flower and butterfly costumes.
My favorite sketch was when Aladdin and Jasmine emerged on the ice. The Genie performed "Friend Like Me" while humorously flipping Aladdin around the ice. The audience chuckled as a chorus line of genies appeared dancing like the Rockettes and whirling around the ice, it was spellbinding.
I highly recommend seeing this show. I enjoyed some great laughs, some fun childhood nostalgia, some lively magical special effects and some graceful, breath taking and mesmerizing ice skating.
Final Grade: A++