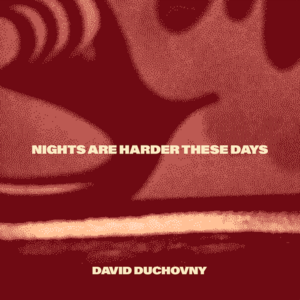 David Duchovny unveils 'Nights Are Harder These Days' available on all streaming services today. The song is the second single from the forthcoming album Gestureland. This is the third full length from Duchovny and will be released August 20th (GMG/Western Kyd).
Talking about 'Nights Are Harder These Days' Duchovny says: "Turn this one up in the car. If you don't have a car, just turn it up."
[embedyt] https://www.youtube.com/watch?v=3jlZWNxAmgM[/embedyt]
Gestureland is the follow-up to Every Third Thought (2018.) "The album represents three years of song writing over which time I think we developed into a band so there's a stronger element of deep collaboration here. The songs are obviously inspired by present day life and problems but we hope to make them universal. We also stretch our sound a little ——getting both heavier and lighter at different times.
You want to know which songs are about me. None of them. They're about you."  – David Duchovny
Recording for the album started in February of last year at Outlier Studio in update New York and was finalized after a long pause due to Covid earlier this year at The Birdhouse in New York City. Joining Duchovny once again on the album is Colin Lee (Keys), Pat McCusker (Guitars, Synths), Mitchell Stewart (Bass), Keenan O'Meara (Guitars) and Davis Rowan (Drums.) McCusker talks about finishing the album "Shortly after our time at Outlier, the pandemic hit. After a month or so of being in full lockdown mode, we started recording overdubs and vocals at our studio in Long Island City. To have our own space to be able to finish Gestureland safely throughout 2020 was a blessing. The more we've all worked together, the more we're all taking risks and tapping into new influences."