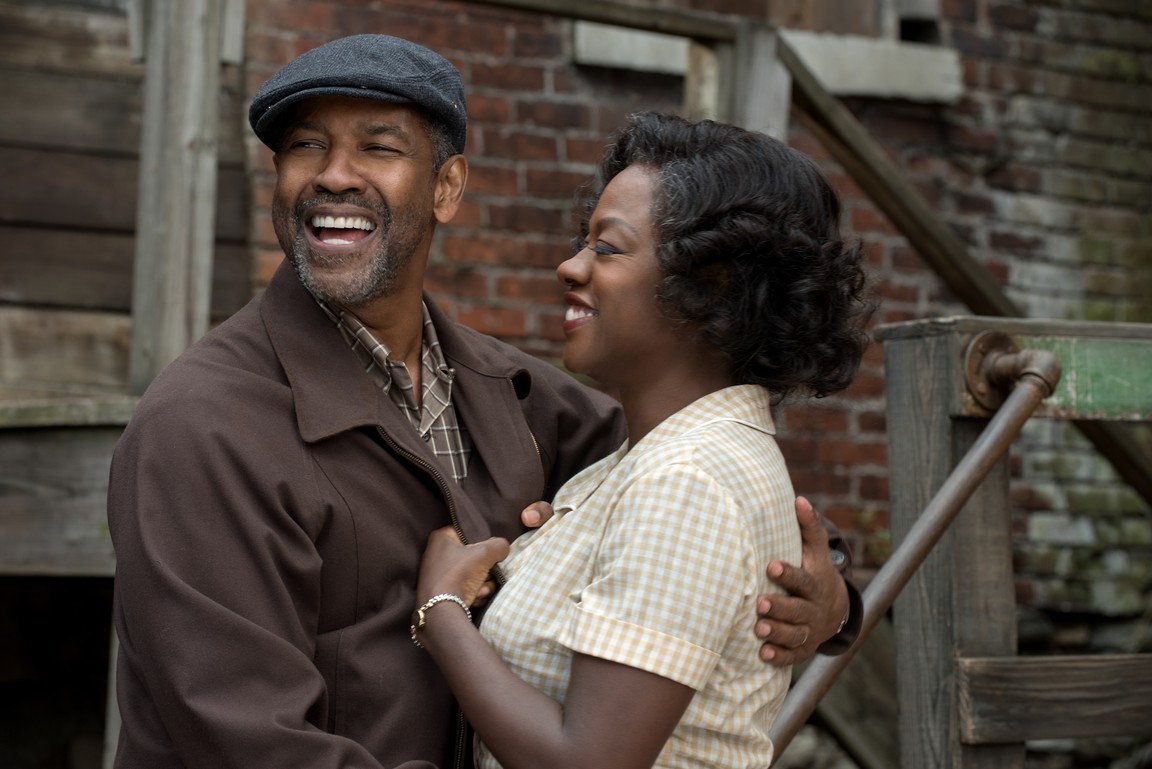 August Wilson's Tony-award winning play makes it to the screen Christmas Day with some compelling performances from its amazing cast.
"Fences" was written back in 1983 by the late August Wilson. It premiered on Broadway in March 1987 with a cast that featured that talents of James Earl Jones, Mary Alice and Courtney B. Vance. It was revived in April 2010 with a limited engagement and starred Denzel Washington and Viola Davis. the revival won three Tony Awards with Best Actor & Actress for Mr. Washington & Ms. Davis. Now, nearly the entire 2010 Broadway cast reprise their roles for the 2016 film adaptation.
"Fences" tells the tale of Troy Maxson, a former Negro League home run king who became too old for the majors. He now makes his living as a sanitation worker in the Hill District of Pittsburgh in the late 1950's. Troy is angered by the racial discrimination that continues to runs his life, in his case – the caste system of the sanitation department in which white drives the garbage trucks while the blacks collect it.
Troy holds court in the backyard of the home he shares with his wife of eighteen years Rose (Davis) and their son Cory (Adepo). Listening to Troy's view of the world and sharing a bottle of gin is his long-time best friend Bono (Henderson) and his eldest son Lyons (Hornsby) who comes in every week to borrow money from Troy. As the day wore on, we meet Gabriel (Williamson), Troy's brother who was shell shocked by the war. Gabriel recently moved away from the Maxson's home for his independence.
The acting is all-around impressive. At the moment Troy's selfishness is fully revealed, Viola Davis delivers a monologue of agonizing pain that shows you one woman's entire reality breaking down. For a few shattering moments in the movie, when Rose talks about her family of half-brothers and half-sisters, it draws the aftermath from America's racist past right into the harsh reality of the present. Rose has the deepest of love for her husband and does so much point out his misdeeds. The clip that we watched in the trailer is much longer in the movie and even more destructive. It's so painful yet you feel captive in the performance. Yet a powerful drama like "Fences" should build in strength, and after a while it begins to disappear into thin air.
There's a resonance to Washington's performance as a man who has tried to stand up to injustices in his younger days, only to not only betraying his own family but himself in the process.
Rounding out the cast, Stephen McKinley Henderson has shown extended range of emotional stability and humor while Bowie State Alum Jovan Adepo (feature film debut) is convincing as a contemplative teenager who can't wait to proclaim his own will — even if it comes at the expense of his father's vulnerable dignity and power. Russell Hornsby and Mykelti Williamson have smaller roles as Lyles (Troy's elder son) and Gabriel (Troy's brother), but they're crucial to the film's overall delivery.
The film, as a whole, has shown the gravitas of a worthy Oscar-contender. As you look at this film, there's no hesitation that the character's lives are significant but you're also aware of how much the award-winning play turned movie wants to matter in today's times.
FINAL GRADE: A