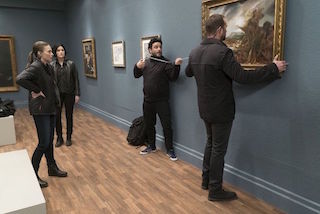 Weller and Jane team up with an unlikely person to find a major underworld player, Jane meets Weller's dad, personal issues arise, and someone thought dead returns….
I have to say that this was a fun and interesting episode. It was obvious that Rich was manipulating everything, but his end goal was not entirely what I expected. The thing is that every step of the way, he made himself invaluable to the FBI. First, he offered up a major banker for terrorist organizations. Then, only he knew how to get the paintings that person wanted and where they were. Third, he knew a forger who could fix the painting quickly. And last, only he knew what the banker supposedly looked like, so he had to go to the party with Jane. His ability to play everyone like a violin was absolutely masterful. I would be careful if I was Boston (the forger), because Rich may just be playing with him. I sort of hope not, because they made for an amusing couple, but you never know.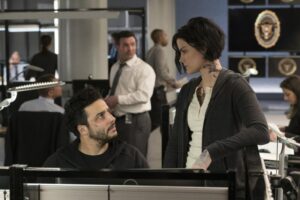 Jane and Weller's glances have not gone unnoticed by people. Weller's girlfriend noted it and was not amused. In fact, she was so unamused that she broke up with him. Find it hard to blame her there because it has been rather obvious that he and Jane have feelings for each other. She seems to be trying to resist them in part because she has feelings for Oscar and in part because she doesn't want to be used to betray Weller. Weller has also been resisting it, I suspect mostly because he knows (on some level) that Jane is hiding stuff from him. I don't think he is consciously aware of it, but he does seem to be holding back a bit with her.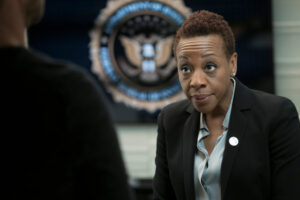 Watching Jane with Weller's dad was sort of sad. I'm not sure if she made up remembering things to make Weller and his dad feel better or if she really is trying to advance the plan Oscar laid out. I suspect that there might be elements of both, particularly because Oscar has threatened Weller's life if Jane doesn't go along with the plans they made together. Weller seemed to realize that Jane was making it up at first, but he also seemed to buy into her memory returning story really easily. I was hoping he'd see through it. It's possible that he did and that he just isn't showing it in order to see what she's up to, but I doubt it. I honestly think that his feelings for her and his memories of her as a child are blinding him to certain aspects of her.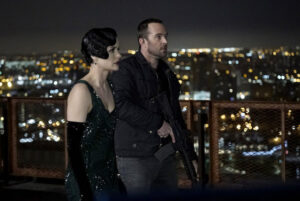 Things sort of sucked this week for Mayfair. First, rich plays the entire team for suckers. Then, just as she is getting to know a beautiful woman, her ex (long thought dead) shows up in her car. Inquiring minds want to know what the heck is going on? Why did she pretend to be dead? Was she hiding because of Carter? If so, why didn't she come forward earlier? So many questions. Oh, and Mayfair better hope that giving that drive with the images on it to her friend to send to the guy he knows doesn't come back to bite her on the ass.
Until next week!