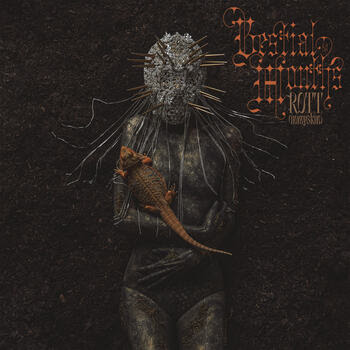 Bestial Mouths will release their new album titled R.O.T.T. (inmyskin) August 11th via Negative Gain Productions (Bandcamp Pre Order Here). The set was produced by Juno Award Winning producer Rhys Fulber (Front Line Assembly, Delerium) and is the band's sixth studio album following the 2020 release of Resurrectedinblack. While Bestial Mouths has seen a few line-up changes in their nearly decade long existence, Lynette Cerezo has remained consistently at the helm of the project as the voice and spirit. The INSHROUDSS EP from 2019 was the first Bestial Mouths release to be entirely written and conceived by Cerezo as a channel to explore deeply personal lyrics of self-stagnation and trauma – an objective she has continued to explore with all of her work that has followed.


The new LP is the culmination of Cerezo's entire path thus far, from Bestial's reimagining in 2019 through the Plague Era, a sound forged through a looped cycle of pattern and repetition, of start/stop hopes only to be trapped in the same patterns. R.O.T.T. (inmyskinn) explores more minimalistic aspects of the broad palette of pop, peeling back the rawness to reveal polished, gleaming bone. The result is a resonant work that cries out for the dance floor. Lynette Cerezo talks about the album: "The path to R.O.T.T. (inmyskin) has been as tumultuous as the music itself; always afflicted by doubts, it was honestly surprising to me to finally reach the sonic realm where I feel Bestial Mouths resides. Rhys Fulber's sterling production really opened up the feel of the album. I wanted to express these same traumas, these looped cycles and patterns, yet peel back some of the rot to show an inner strength, unbreakable. A fury polished by repetition, to send desecration amongst pathetic bullies. To dance with your death, and still find humor and joy amongst the ruin."

From their inception in 2009, Bestial Mouths has combined Cerezo's voice with a myriad of genre influences across the spectrum of goth, industrial, post-punk, New Wave, noise, and metal. With a history in fashion design and gender activism, Cerezo's visual and social aesthetics are interwoven deeply into Bestial Mouth's presentation, building outward into captivating theatrical live performances featuring live and acoustic instrumentation combined with electronic drums and analog synthesizers.
Tour Dates:
Aug. 26th – New Orleans, LA – NGP Presents Destination – House of Blues
Sep. 2nd – New York, NY – A Murder of Crows Festival – Bowery Ballroom 

FALL TOUR 2023
Oct. 26th – Chicago, IL – Sanctum Fest – Thalia Hall 
Oct. 27th – Detroit, MI – TBA
Oct. 28th – Philadelphia, PA  – Dracula's Ball  – Underground Arts 
Oct. 29th – Washington, DC – The Runaway
 Nov. 2nd – Montreal, QC – Casa Del Popolo
Nov. 3rd – Toronto, ON – The Garrison 
Nov. 10th Los Angeles, CA – Substance – The Globe Theater