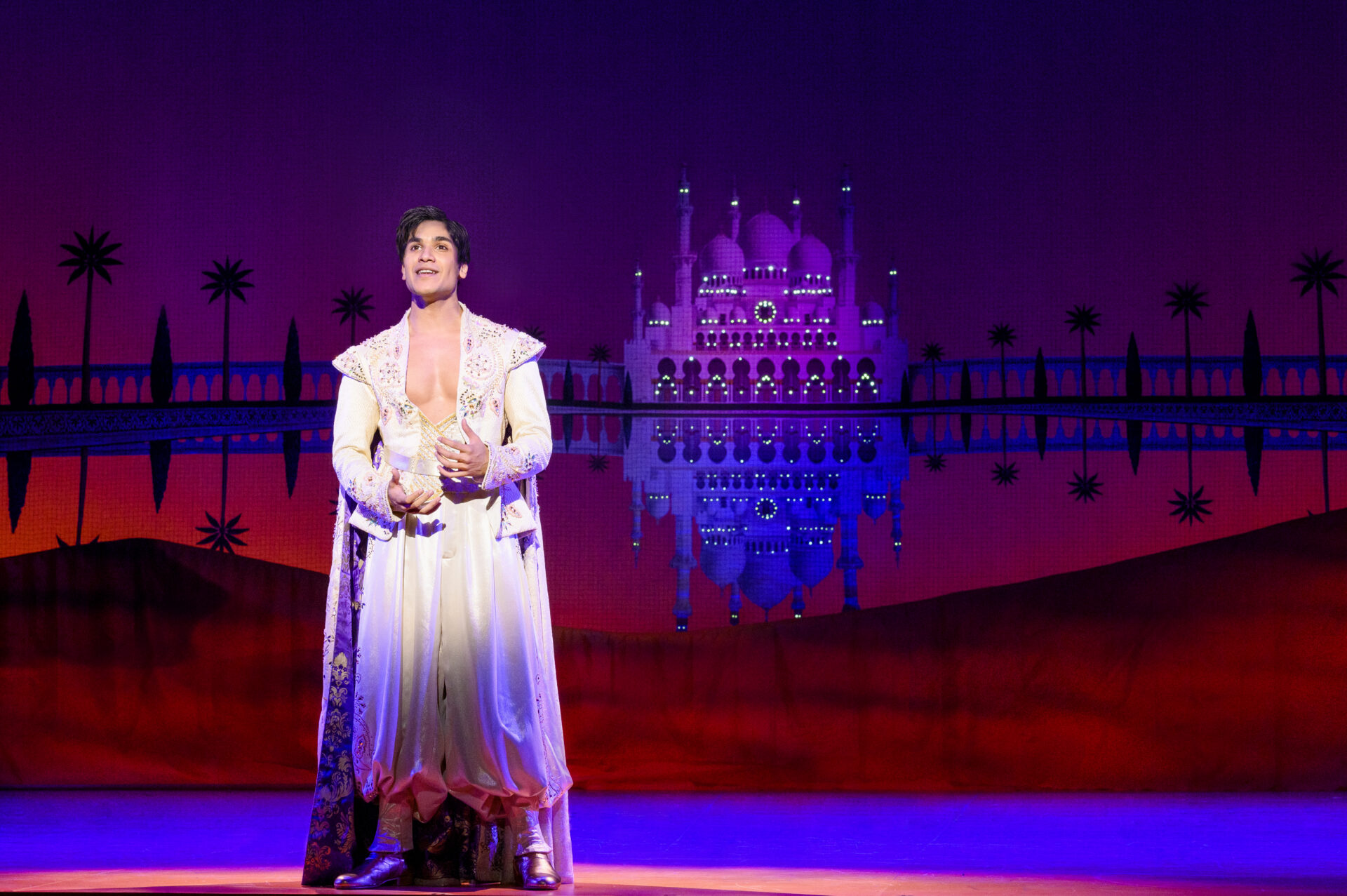 The feeling of enchantment filled the air in anticipation of the curtain rising for Disney's Aladdin at the National Theatre April 19. Children of all ages (including grown-ups) stared at the elaborate beautiful curtain made of Arabian carpets, which set the tone for the opening marketplace scene in the fictional Middle Eastern city of Agrabah. The curtain opened to reveal a lavishly dressed Genie (Marcus M. Martin) appearing in glittering blue velvet. He sang "Arabian Nights" beautifully, as the Ensemble entered dancing in brightly colored outfits.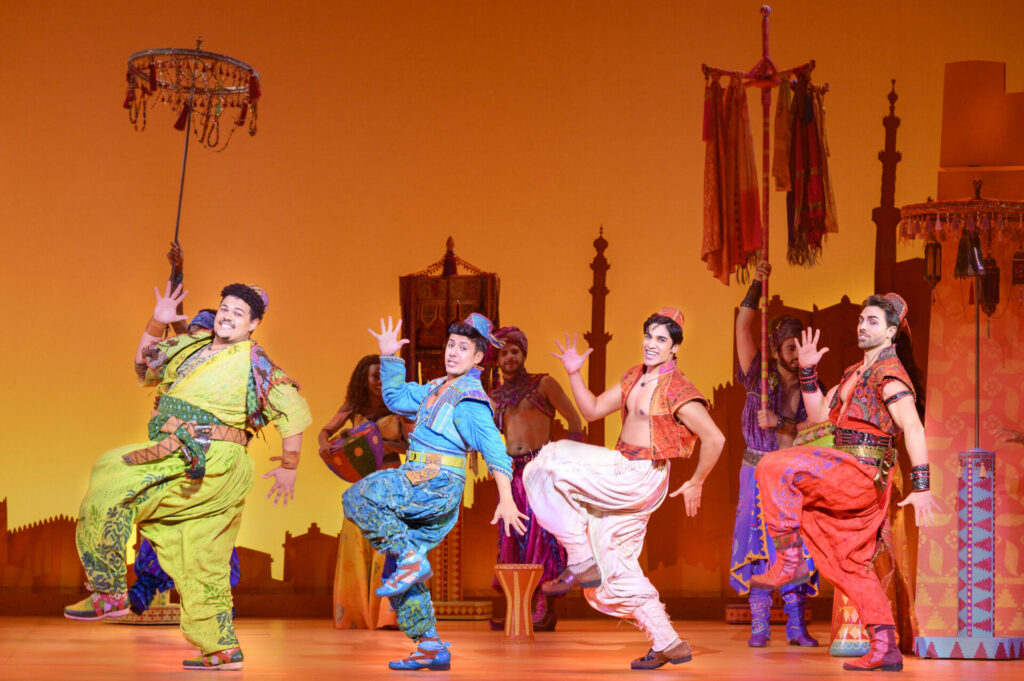 We are then introduced to our hero, Aladdin (Adi Roy). He is found stealing food to survive, along with his three friends Babkak (Cameron Sirian), Omar (Ben Chavez) and Kassim (Colt Prattes). This team was hilarious throughout the show. The swashbuckling sword fights are uproarious. The dance moves, antics, charm, facial expressions, and diverse personalities of these buddies thoroughly drew the crowd in. The quartets singing was also fabulous. Any scene with Aladdin's pals was sure to delight. As if these scenes weren't spellbinding enough, bad guys Jafar (Anand Nagraj) and Iago (Aaron Choi) conjure up some evil schemes to lure Aladdin into helping them obtain a magic lamp with a Genie living inside. Jafar is determined to become Sultan. He believes that keeping Princess Jasmine (Senzel Ahmady) single and obtaining the lamp will secure his goal. Choi was hilarious with his antics and facial expressions. Nagraj had an amazing vocal range. Both actors were bewitching to watch.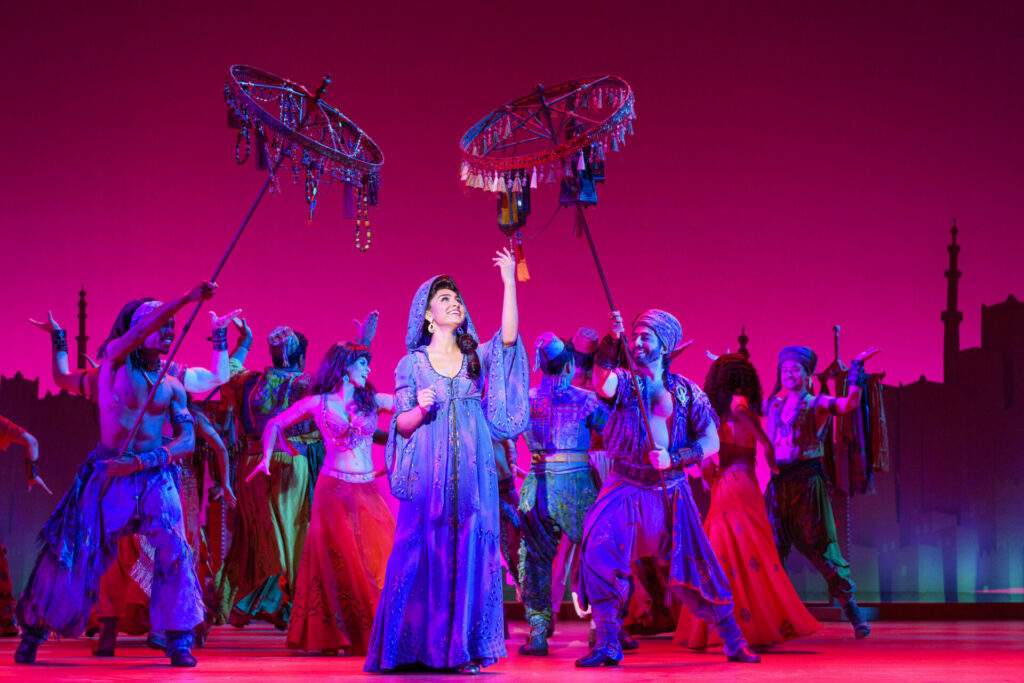 Jasmine and Aladdin are destined to meet. While Aladdin sings "So Much More to Me", believing that he is going to become somebody someday. Jasmine similarly sings "These Palace Walls" as she describes that "they don't know me." Audience members can relate to these young characters, as they both want to see the world and accomplish things in their futures. Both Roy and Ahmady have lovely singing voices. Their duet "A Million Miles Away" was captivatingly gorgeous. It was pure joy to listen to them sing each and every song.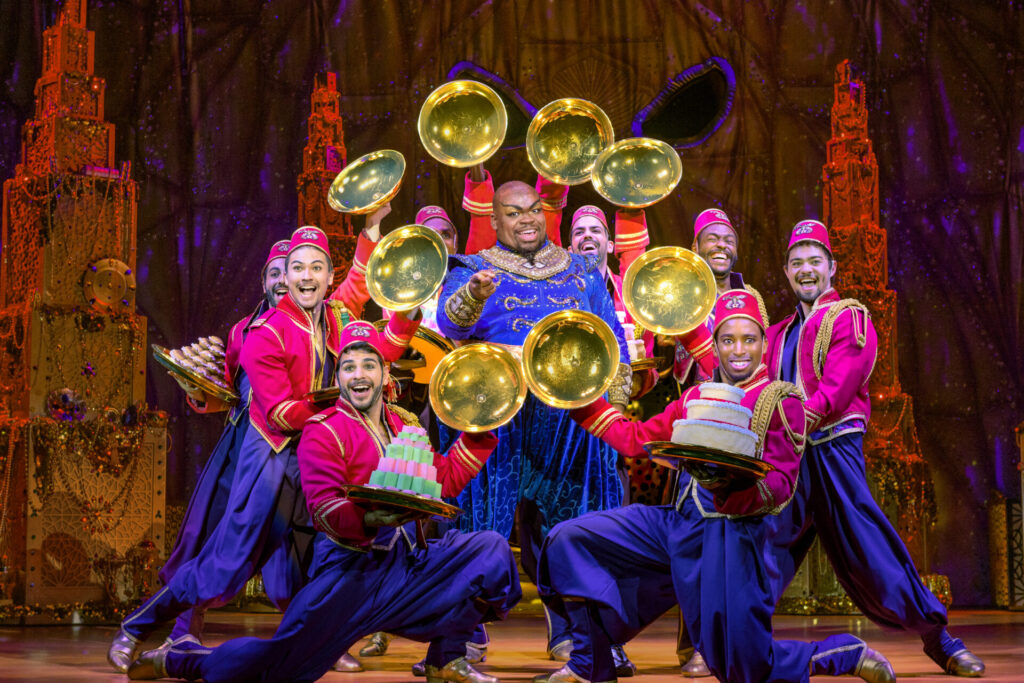 Another splendid voice of note was Marcus M. Martin, who played the Genie. The Genie appears in a puff of smoke and flashing lights when Aladdin is lured to the Cave of Wonders by Jafar, because he believes him to be the "diamond in the rough" who can obtain the lamp for him. Instead, Aladdin rubs the lamp. This scene was amazing. Genie's vivacious personality greeting the DC audience brought huge cheers. Martin sang "Friend Like Me" to great applause.

The Cave of Wonders scene was amazing. In addition to a beautiful cave set with sparking piles of gold, the cast joined in the fun dancing in beautiful gold shimmering outfits. The fabulous Disney spectacular extravaganza concluded with more cheers from the audience as gold streamers shot from the ceiling.

The sets in this show were amazing. There was a fabulous use of curtains to create doorways and windows. Projections on the curtains allowed for magical moments. The flying carpet was stupendous. Costumes were elegant. Jasmines three attendants had lovely pastel blue, pink and lavender gowns. Aladdin's costume, (as well as that of his entourage) when he posed as a wealthy prince, to woo Jasmine, sparkled with elaborate gold material and sequins. Chorus girls donned feathery yellow and purple dresses, and Genie sported a handsome pinstripe suit. But the absolute bests part of these costumes was the magical costume changes that were pulled off in the blink of an eye. Costume changes were astonishing.

In phenomenal Disney style, the show ended in a gleeful celebration. The bad guys were stopped. The lovebirds came together. The Genie took a much-deserved vacation. Accordingly, the ensemble danced and sang, to an awesome finale, as streamers exploded from the ceiling. This show performs through April 30, 2023 at the National Theatre. It is a must-see hit show!

I give it an A+ rating.
Disney's Aladdin is playing at the National Theatre now until April 30th. Tickets are on sale and can be purchased through Ticketmaster, at the Box Office during business hours or by calling (202) 628-6161 and don't forget to read our interview with Colt Prattes & Angelina Mullins!