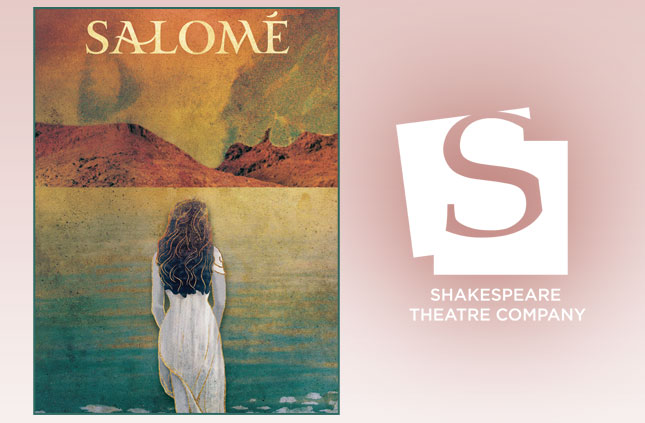 Turning away from what she calls Oscar Wilde's "Dance of Death" and instead creating a "Dance of Life," internationally acclaimed adaptor-director Yaël Farber has reinterpreted the biblical figure known as Salomé as an agent of revolution whose mysterious act—demanding the head of John the Baptist—changed the course of history. The world premiere of Salomé opens the Shakespeare Theatre Company's 2015–2016 Mainstage Season and marks the Company's entry in the Women's Voices Theater Festival. The production runs October 6–November 8, 2015, at the Lansburgh Theatre (450 7th Street NW).
Using Wilde's Salomé as the premise, Farber has radically adapted this narrative and included ancient Arabic, Hebraic and Babylonian texts, and crafted the production with a cast assembled from around the world. The result is an urgently relevant exploration of the woman's voice in history, oppressed people's power over their own bodies, and the explosive connections between religious and political uprising.
"I'm interested in telling a story that awakens the feminine narrative, that asks the questions: At what point do we own the possibility of political action? And why is feminine political agency so often written out?" says Farber, a multiple-award-winning director and playwright whose production of Mies Julie—a hard-hitting adaptation of Strindberg's Miss Julie set in post-Apartheid South Africa—earned a Helen Hayes Award nomination for Outstanding Visiting Production after the Shakespeare Theatre Company (STC) presented it during the 2013–2014 Season. "I want to create the possibility that this woman, living under an occupying regime, came to a deep understanding of her selfhood, one that allowed her to drive forward a political agenda."
"After witnessing how audiences were riveted by Mies Julie, I knew that the Company had to find an opportunity for Yaël to create a production in Washington," says STC Artistic Director Michael Kahn. "Salomé promises to be another powerful theatrical experience, and as one of the originating theatres of the Women's Voices Theater Festival, we are exceptionally proud that both Yaël's and Salomé's voices are being heard on our stage at this time."
To purchase tickets, call the Box Office at 202.547.1122 or visit ShakespeareTheatre.org.