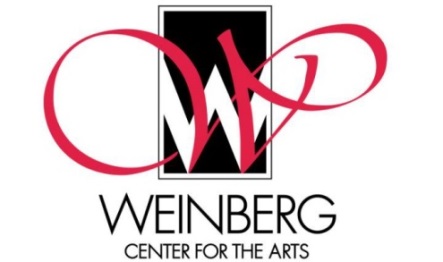 The Weinberg Center for the Arts has announced the line-up for its 41st season of live comedy, music, dance, family programming, and film, continuing its commitment to presenting diverse, affordable entertainment to the Frederick community. The season kicks off September 17 with the family show Peppa Pig Live! Peppa Pig's Adventure!
Tickets go on sale to Weinberg Center members starting Thursday, August 8 at 10:00 AM and to the public Thursday, August 15 at 10:00 AM. Tickets and memberships can be purchased online at WeinbergCenter.org, by calling the Box Office at 301-600-2828, or in person at 20 W. Patrick Street, Frederick, MD. Tickets for those performances previously announced, Peppa Pig Live! Peppa Pig's Adventure! and The Russian Ballet Theatre's Swan Lake, are already on sale to the public.
2019-2020 Live Series performances include:
· MANHATTANonPATRICK – September 27, 2019
· 2019 Maryland Folk Festival – September 28, 2019
· The Wailers – September 29, 2019
· Four Bitchin' Babes – October 4, 2019
· The Steel Wheels – October 5, 2019
· Craig Ferguson: Hobo Fabulous Tour – October 9, 2019
· The Baltimore Consort – The Food of Love: Songs, Dances & Fancies for Shakespeare – October 13, 2019
· The Office! A Musical Parody – October 15, 2019
· An Evening with Kathy Mattea – October 19, 2019
· The Doo Wop Project – October 25, 2019
· Steep Canyon Rangers – November 1, 2019
· Russian Ballet Theatre's Swan Lake – November 8, 2019
· Ronnie Milsap – November 16, 2019
· Nobuntu – November 17, 2019
· Classic Albums Live performs The Doors – LA Woman – November 23, 2019
· Mandolin Orange – November 24, 2019
· Eric Byrd Trio performs A Charlie Brown Christmas Live! – November 29, 2019
· A John Denver Christmas with Chris Collins & Boulder Canyon – December 6, 2019
· Deanna Bogart – December 28, 2019
· 1964 The Tribute – January 10, 2020
· Classic Albums Live performs David Bowie – Ziggy Stardust – January 24, 2020
· United States Navy Concert Band – January 25, 2020
· The Messenger Legacy – Art Blakely Centennial Celebration – February 7, 2020
· We Banjo 3 – February 29, 2020
· Teelin Irish Dance Company Showcase – March 7, 2020
· Neil Berg's 50 Years of Rock n' Roll 2 – March 27, 2020
· The Frederick Symphony Orchestra – Strings & Things – April 4, 2020
· Classic Albums Live performs Tom Petty and the Heartbreakers Damn the Torpedoes – May 2, 2020
The Weinberg Center will once again host the Frederick Speaker Series, now in its 8th season of bringing world-class leaders into the community. As previously announced, the 2020 line-up features Doris Kearns Goodwin, Dr. Mae Jemison, P.J. O'Rourke, and Michael Pollan.
The 2019-2020 Family Series will feature familiar and new characters alike in performances appropriate for all ages. In addition to Peppa Pig Live, shows will include, Lightwire Theatre: A Very Electric Christmas (returning for the 3rd year in a row due to popular demand), Erth's Prehistoric Aquarium Adventure, Theaterworks USA brand new production of Dogman the Musical, and annual holiday favorites, The Nutcracker and A Christmas Carol.
The Weinberg Center will continue to showcase emerging artists in its pay-what-you-want Tivoli Discovery Series. The 2019-2020 line-up includes Roanoke, Kittel & Co, Emily Wolfe, Huntertones, Arielle and Wylder.
Honoring its roots as the former Tivoli movie palace, the Weinberg Center will continue to present its Silent Film Series, featuring live accompaniment on its Wurlitzer organ. The series begins October 27th with the 1923 classic The Hunchback of Notre Dame starring Lon Chaney. The popular Flying Dog Film Series starts its season September 25th with The Matrix and includes such classic film favorites as The Big Lebowski, Gladiator and O Brother, Where Art Thou?
A cornerstone of the Frederick arts community, the Weinberg Center has offered high-quality live entertainment in a landmark venue since 1978. "The 2019-20 Season brings a few changes to the Weinberg Center for the Arts as we expand our movie offerings and young artists programs," said John Healey, Executive Theater Manager. "There are still familiar names this season, but quite a few new folks that will broaden our horizons."
A complete listing of artists and performers scheduled for the 2019-2020 season can be found at WeinbergCenter.org.