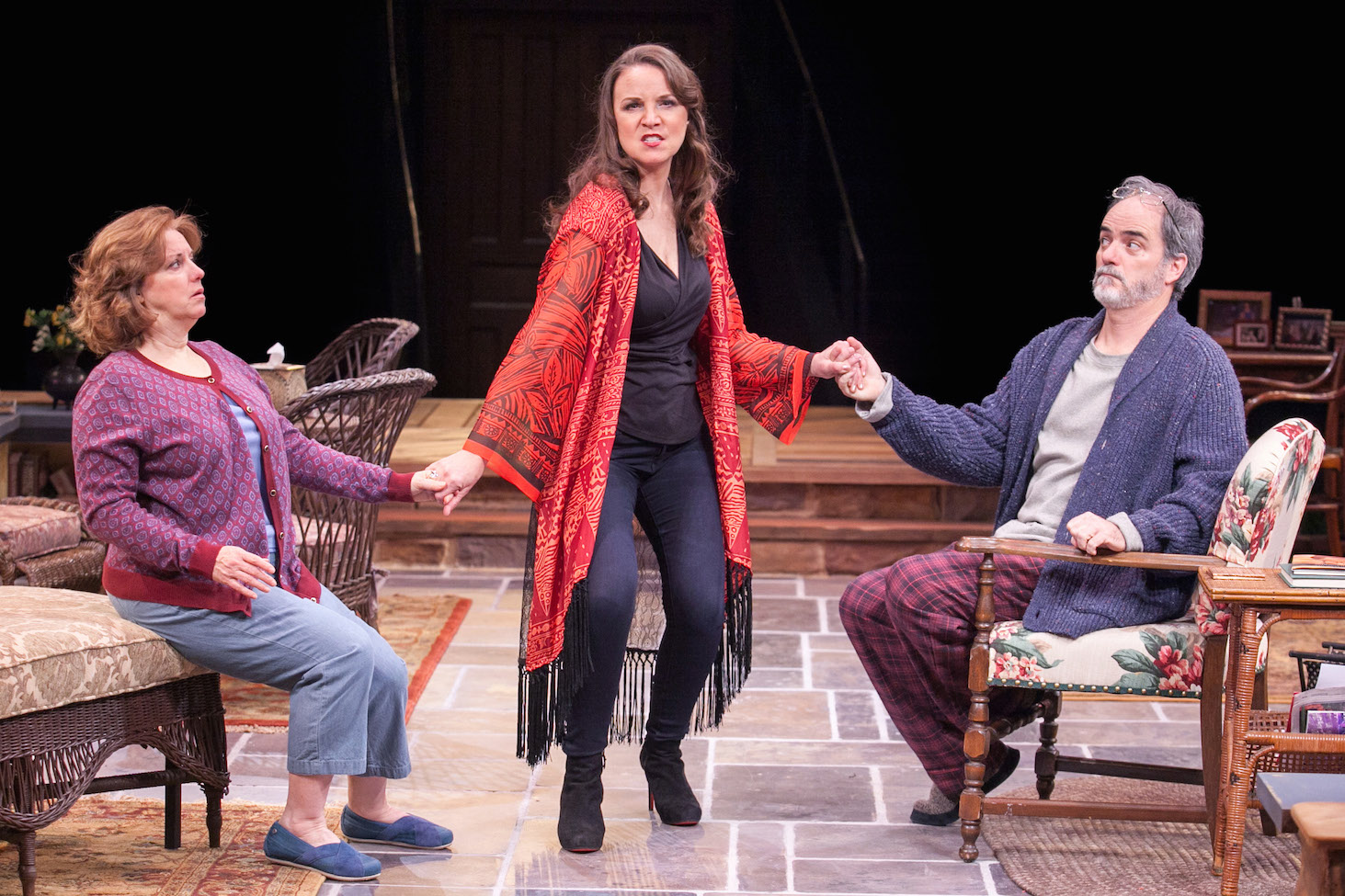 "Vanya and Sonia and Masha and Spike" has taken up residence at the Fichlander Theatre through May 3rd. Christopher Durang's 2013 Tony winner is sure to tickle your funny bone and tug at your heartstrings.
Without giving the full Wikipedia synopsis, the show is a poignant look at brother, sister, and sister interaction. It's also a thought provoking piece about women's consciousness's and/or lack thereof and the generational divide of people. Durang writes characters that we grow to love and genuinely care about their wellbeing. What I love about his work, as evidenced in this play, is his ability to write great characters for women! Obviously, from the title, you can gather that there are at least two in this cast, though there are actually four. All of who are dynamic, complex and exquisitely portrayed in Arena's production.
All of the characters are well executed. No joke was missed; no high or low was glanced over. An ensemble of fine actors, pulled tightly together by Director, Aaron Posner.
Actor Eric Hissom starts the show and gives an insightful performance throughout. His depth of character is superb. In Act II he delivers a well-constructed, lengthy monologue. Durang's words flow so naturally, with the right timing and versatility to rise and fall and not let it get boring or drawn out.
Sherri L. Edelen embodies being kooky and just wanting to be seen, heard, and loved. As her character (Sonia) Edelen is a whirling dervish, bundle of nerves and the audience loves her for it. We feel for her plights and applaud the strides she makes throughout the show.
Jessica France's Dukes…my, my, oh my! What a force to be reckoned with!! Her delivery of a performance is nothing short of spectacular! This character (again) is well written, but the entire "extra" is all Dukes! She fills the theatre with her presence. Again, on timing being spot on, she delivers quite the experience of watching an actor at their best!
Grace Gonglewski! I cannot say enough about this lady! With the smolder of a young Kathleen Turner and acting prowess of Meryl Streep, wowza! She battles it out with Duke's Cassandra and there is nothing to do, but call it a draw. From the moment Gonglewski enters, it is ON! Her character portrayal is dynamic, spirited, feisty, and just glowing!
Masha has some great lines and Gonglewski delivers them with flair.
Every character is master crafted, but with Spike, this could easily just be depicted as the male equivalent of a bimbo. Jefferson Farber, not only looks great as the eye candy, but also truly fills out this character.
The wistful Nina, is a willowy, ethereal type…modern day hippie, if you will and Rachel Esther Tate plays right into what this girl should be. Sweet and loving, a tad dangerously sexy, but still young and idealistic. Tate really delivers this character and even wraps her with a bow. Nina is another character, which, in a lesser production could easily make less of an impact. However, Tate does such a sublime job of holding her own in this cast, that she will not be forgotten.
Go. See. This. Show.
For tickets, go to www.arenastage.org