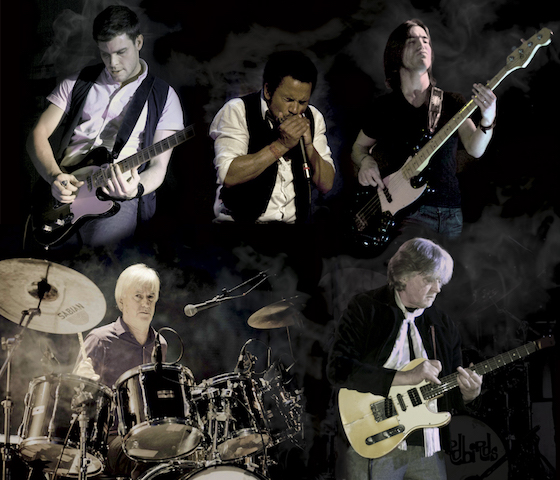 Wednesday November 18th 8 p.m. – The Yardbirds are pioneers of rock n roll. The group helped spawn the careers of some of the greatest electric guitarist of all time. Eric Clapton, Jimmy Page (Led Zeppelin) and Jeff beck are all former Yardbirds guitarist. In the 1960s lead by Jim McCarty The Yardbirds helped mold heavy rock and distortion into what we know it as today. They performed at the brand new AMP music venue in North Bethesda.
The Yardbirds line-up included original founding member and Rock and Roll Hall of Fame inductee Jim McCarty, guitarist/singer John Idan, guitarist Johnny A (Peter Wolf), bassist Kenny Aaronson (Bob Dylan, Billy Idol), and singer/blues harmonicist/percussionist Myke Scavone. It's great seeing classic rock bands even if it's not the original line-up. It's actually extremely rare that any band keep the same musicians throughout the years. With The Yardbirds it was like putting together an all-star group of talent, although Jimmy Page, Eric Clapton and Jeff beck are some pretty hard shoes to fill. Johnny A and John Idan filled in great! They have mastered performing psychedelic blues.
The Yardbirds have a unique sound. It sounds a lot like Led Zeppelin. You can hear the resemblance immediately! Led Zeppelin used to be called The New Yardbirds. It was fantastic to hear this style of music. It's about as close as your going to get to hearing Led Zeppelin live (unless you happen to catch a reunion performance in London or cover act) but the fact that there is a direct correlation between the two bands makes this concert stand out. As a finale piece The Yardbirds performed Led Zeppelin's "Dazed and Confused." It sounded fantastic!
It has been a staple of The Yardbirds to have great guitarist. Well with Kenny Aaronson The Yardbirds are starting a tradition of great bassist too. He seriously shredded some really awesome bass solos. He made the bass sound like a guitar oh, wait, it is a guitar! Kenny Aaronson reminds me of a mix between John Entwistle and Cliff Burton. He has really precise technique and loves to go loud.
Vocalist and guitarist John Idan was awesome at performing the New York style of blues. They performed a song called "New York Blues." It was really up-tempo and the vocals really stood out. It was a great song! John Idan really shouted out those lyrics and the rhythm was really appealing. A great toe tapper.
The Yardbirds actual sound is a stark contrast to the popularized sound of "For Your Love." The Yardbirds biggest hit from the mid-1960s. (I actually thought that was The Beatles when I was younger.)  I really enjoyed hearing that song, it just sounds so much different from the rest of their set. I liked the bands direction to play a more heavier psychedelic blues sound.
My favorite Yardbird hit played all night was "Heart Full of Soul." That song is so distinct to the sixties. I could only imagine how exciting it must had been to hear that for the first time. Hearing it live was like hearing it for the first time. It was immensely enjoyable!
It was great to catch this band. They really mesh well and have a great sound. I didn't even mention how good Myke Scavone sounded on harmonica. It was just awesome! This is a great team of musicians and AMP was a great place to see them. The sound and acoustics were great! I would recommend just grabbing a couple of Bohemians and enjoy the show