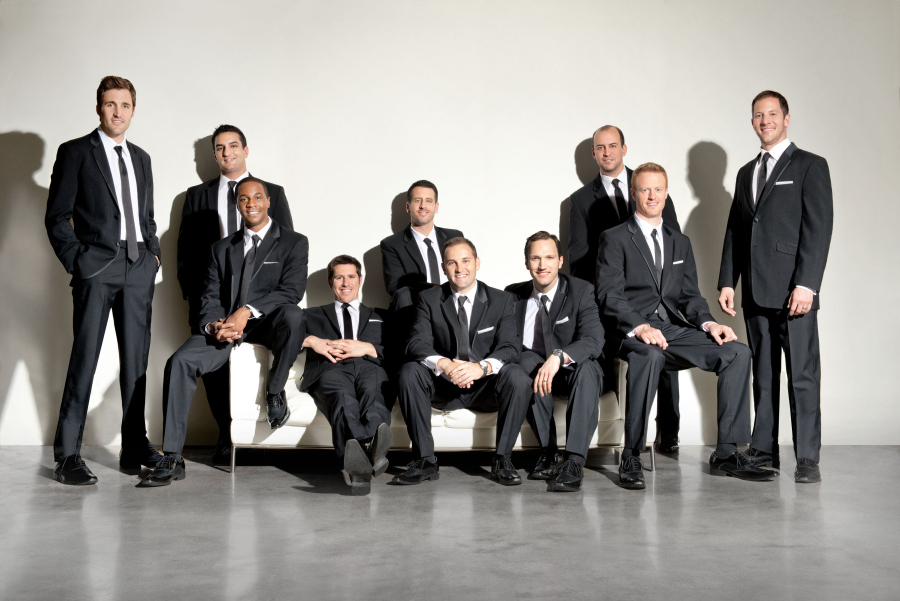 Acapella sensations, Straight No Chaser, filled the night air with glorious sound. Before there was "Pitch Perfect", there was "The Sing-Off". Before "The Sing-Off" was "Glee", but before "Glee" there was Straight No Chaser. The group was formed at Indiana University in the 90's. Yes, the 1990's! These ten men are majorly talented and touring the country to the delight of many fans, old and new.
The stage at The Filene Center is large and the venue seats roughly 7,000 people. For ten guys to be onstage with no real set, and just their voices to entertain the mass of people, they have to be talented….but talent doesn't even begin to describe what they do and how they do it! "Talent" isn't a big enough word to encompass what they share with the audience. They are singers, vocalists, basically audio masters.
The thing that makes them unique is that every member has a great voice, so when you put them together the sound is epic! Don Nottingham, for example, has a fantastic singing voice, but kills at keeping in time with a mean beat box.
He is not the only one. Charlie Mechling, has a smooth bass that melts women…well, me! I am SURE that there are others too! Tyler Trepp is another master, with percussion and Tenor I duties. Literally all of the men are standouts in their own way. Jerome Collins is a big fan favorite, with his brilliant runs that hit every note and really add to each song, instead of just showing off. One of the special things about these guys is the additive of charm. Their personalities and silly antics onstage make this a fun, upbeat show.
They remind me of Groban…wildly talented singers, but the jokes and quick wit, really sell it. Seggie Isho, is like a standup comic, aside from amazing vocalist. All in all Straight No Chaser is definitely worth seeing live, you never know who they'll make fun of, but you can be sure that you will hear flawless vocals and unreal arrangements. Even performing Frankie Valli tunes, every man has a part to sing, though there are four seasons, the ten men onstage added his own sound to enhance each song. I loved their rendition of, "Let It Go", which proved that over-vocalization and belt aren't necessary to make the song have meaning and depth.
My favorite moments of the night have to be the, "Africa" cover and their own "Movie Medley" complete with made-up lyrics to famous movie themes. Steve Morgan singing Prince's, "Kiss" was the best though. Not only does he hit those high notes, but every word was like I had never heard it sung before. In a genius move, their encore was their famous, "Twelve Days of Christmas"….genius because they will be coming back to our area and I am sure visiting others with their glorious Christmas Concert, of which I will be making sure to get tickets, as you should! I highly recommend indulging in one of their concerts.
Straight No Chaser is now how I take it!
For tour dates, and all information on SNC, go to www.sncmusic.com
For the remainder of the Wolf Trap Summer schedule, go to www.wolftrap.org