Salute to Vienna Waltzes Into Bethesda
3 min read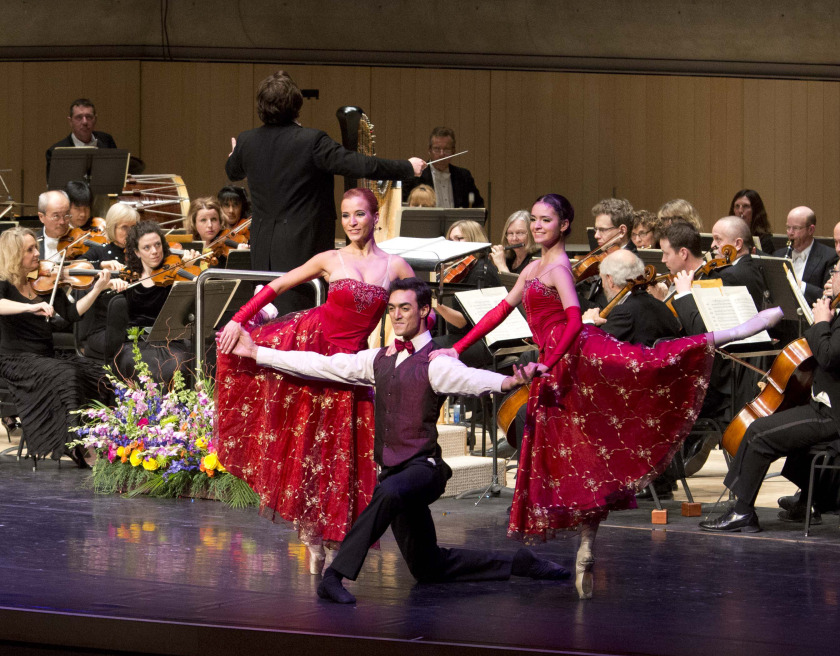 TRR Revue By: Alan Duckworth
As the old year narrows, the new year brings celebration. On Sunday afternoon, Salute To Vienna waltzed into The Music Center at Strathmore for it's 20th anniversary season. It included the Strauss Symphony of America conducted by Christian Schulz with soloist Monika Rebholz and Brian Cheney. The program also included performances from the Europaballett of St.Pölten and International Champion Ballroom Dancers. It's the tradition of New Year's!

Included in the program were scores from Franz von Suppé, Emmerich Kálmán, Josef Strauss, Franz Lehár, Carl Micheal Ziehrer, Jacques Offenbach and the Waltz King – Johann Strauss. Johann Strauss has composed some of the most beautiful waltz compositions in the history of music. His scores are ingrained into almost every artistic medium imaginable, from film and animation to theater and dance. There was anticipation as we awaited the appearance of the dancers. You can't help but look forward to hearing one of Strauss's infamous waltzes accompanied with live choreographed dancing in elegant attire. It's like a live oil painting!
They opened up with a Franz von Suppé number, Overture to The Light Cavalry. This piece was splendid! A fantastic opening instrumental! The violins were incredible! It was like a group of horse-drawn carriages dropping guests off at a ball. A fine piece for any gala. This score along with the finale Jacques Offenbach's Can Can were superb! The orchestra was amazing! The program was amazing! Some of the most famous classical works known related to film and animation.
The program was a roundabout of dancers, soloist and performers. It wasn't an overly sophisticated affair; this is polka after all. Throughout the show audience members were encouraged to partake in the celebration through singing and clapping. Conductor Christian Schulz even joking encouraged us to get up and start waltzing ourselves. I admired the manner in which Christian Schulz conducted throughout the performance. It was very precise; pronounced and fluent! You, as an audience member, could follow his gestures and anticipate the next sound; excellent!
Monika Rebholz's performance of Höre Ich Zigeunergeigen had an abundance of character! This is Viennese operetta! She had personality, charm, stage presence and an excellent singing technique; I'd say almost vaudevillian, an amazing singer! She playfully clapped and danced along. I had never seen a opera soloist move quite like her.
Another soloist was tenor Brian Cheney. His voice was comforting. You could just sense his enjoyment for singing. His face lit up with a gigantic smile and it was contagious; it really lifted the atmosphere. Both Brian and Monika teamed up for two duets, Mein lieber Schatz and Lippen schweigen. They are a great pairing; there voices harmonize magnificently!
What made this occasion so special, not that the music wasn't enough; was the dancing! The courtly flowing movements of the Europaballett of St.Pölten were gracious. It fit the sound so well. The ballet was playful and entertaining.The International Champion Ballroom Dancers added the type charm that you only see in the movies. They wore elegant gowns and waltzed amiably. There movements were so smooth it was almost as if they were ice skating.
This was a excellent show. No wonder its been around for twenty years, its a traditon of traditions. You need to experience it to fully understand. You can keep up with anything Salute To Vienna at salutetovienna.com