Mental Health is back in the spotlight with ALL THE FEELS
4 min read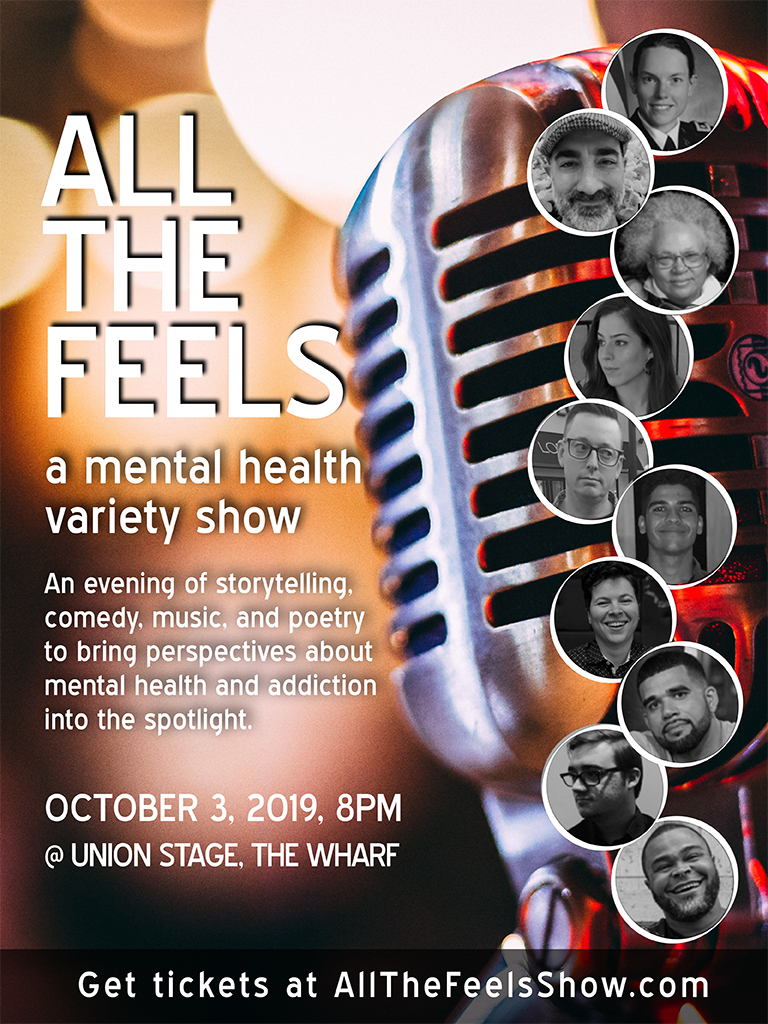 Union Stage will host a second edition of the locally produced All The Feels: A Mental Health Variety Show. The show features ten performers of comedy, music, poetry, and storytelling, to shine a spotlight on everyday, serious experiences of mental health. Their stories are engaging, poignant, and sometime hilarious – including living with multiple personality disorder, coping with debilitating anxiety and bipolar disorder, surviving suicide, and reflecting on medication, therapy and trauma. The show will be held Thursday October 3 at 8 p.m. at Union Stage, 740 Water Street SW, Washington D.C. 20024
The lineup of performers is Anne Barlieb, Topher Bellavia, Carolivia Herron, Mikala Jamison, Andy Malecki, Damon Modarres, Maddox Pennington, Dominic Rivera, Sam Robotham and C Thomas.
Barlieb is an army veteran who will be sharing a spoken word piece about the psychological challenges that followed her many years of service as a fighter pilot. Herron is a published author and professor at Howard University who wanted to participate in All The Feels to "share my creative works celebrating my successful healing from mental illness. I have always loved public speaking and humorous story-telling." Rivera is a father, husband and popular local comedian who does material about his struggles with anxiety. His interest in doing this show is "to show others its okay to share your truth."
Producers Ali Cherry and Kim Levone, two local showrunners who share a passion for mental health advocacy, chose the October date for its proximity to World Mental Health Day. "Our first show exceeded our expectations", remembers Cherry, "both in the quality of the performances and the response of the audience." Levone continues, "It's an intense show but not a heavy one. There are serious feelings and some tears, but there is also laughter, warmth and a lot of support."
Levone is a clinical social worker and produces the Silver Spring based Improbable Comedy. Cherry is an area comedian, mental health advocate and producer of Comedy in Coffee Shops.
DETAILS
$25 tickets available at www.allthefeelsshow.com
Union Stage, 740 Water Street SW, Washington DC 20024. Full food and drink menu available. Doors open at 6:30 p.m. Show starts at 8 p.m. Recommended for ages 16+.