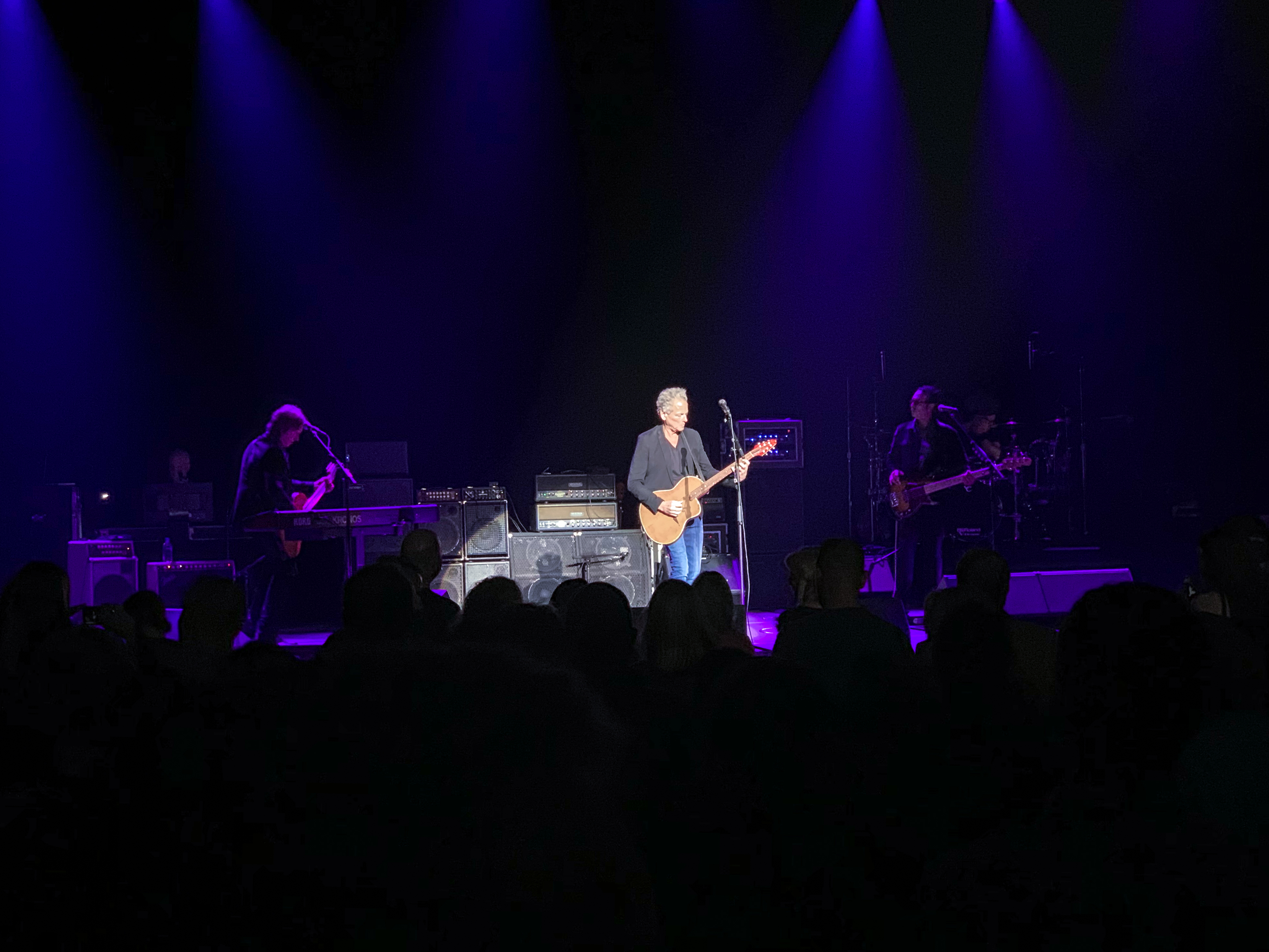 Friday, October 19th Lindsey Buckingham performed at the Warner Theatre in Washington D.C. to support the release of new Solo Anthology: The Best of Lindsey Buckingham CD Set. The Warner Theatre was filled with fans whose excitement to see Lindsey live was evident all night long.
I will admit, I am a big Lindsey Buckingham fan. I first saw him live in 1993 at the Bayou in Georgetown, Washington D.C. which unfortunately is no longer there. Some of the biggest bands have made a pass through The Bayou. For me when I think of my favorite artists who I would love to see live in in concert, Lindsey Buckingham is in the top 5.
Buckingham came out on stage to the fans standing ovation yelling "We love you Lindsey", with one yelling "Fleetwood who?". The energy at Warner Theatre was one that gave me goose bumps. I was thrilled to be there for this night of music.
Buckingham acknowledged the "Fleetwood who" comment a few songs in the set and had this to say about Fleetwood Mac. He was taking what happened positively, not look at the past but the now and future.  It gives him the opportunity to be out on the road supporting his new album and being able to play songs he normally doesn't get to play.
He opened up the night with "Don't Look Down" which kept the fans on their feet. He next played his first solo hit song "Go Insane". The music he played touched his entire solo career, with "Trouble" From his first album "Law & Order" to "In Our Own Time" from his latest solo album "Seeds We Sow".
This was an evening of Lindsey Buckingham's music, playing songs such as "Street of Dreams", "Slow Dancing", "Holiday Road", and "Surrender the Rain". He also played a few of his songs with Fleetwood Mac, "Never Going Back Again", "Big Love, "Tusk", "I'm So Afraid", and the one Fleetwood Mac song that he is best known for "Go Your Own Way".
To me "I'm So Afraid", Buckingham's guitar work is a masterpiece. The song starts off with guitar, vocals, and drums. Halfway through the song, the vocal stop, and the guitar tempo changes into goose bump inducing tones that you can sense and feel anger and fear in the guitar. The sounds grab you and pull you in to the very end. He puts a lot of emotion and feeling in his guitar and this is one song that really showcases how much he and his guitar are one. To end the song, he walked across the stage letting fans help him strum his guitar, which is something these fans will never forget!
I never tire of Buckingham's music. One reason is his guitar playing. While most guitarist use picks when they play. Buckingham doesn't. Which allows him to play some of the most complex melodies you will hear out of a guitar.  His finger's dance around while he is playing and it's fascinating to watch.
A second reason is his vocals. When Buckingham sings, the vocals come out powerful and full of emotion. His show at the Bayou at the time blew me away, and to this day, it still does. One example is "Big Love" live. The studio version is drums and his guitar, and his vocal. Live its different, It's just Buckingham's guitar and vocals. The finger work on his guitar playing on this live is nothing less than amazing. He plays the guitar with much speed and complexity that you think there must be more than one person playing the guitar… it's all Lindsey Buckingham.
At the Bayou I was lucky and blessed to be standing right in front of the stage, and being that close, the one thing that really amazed that night was his vocals and how he sings is just as amazing as his guitar. He performed "Big Love" there. When he sings "Looking out for Love", when he gets to the word Love, he moves in a manner to give the word love such a powerful punch.
Buckingham played "Turn It On", "Down On Rodeo", and "Treason" for a three-song encore. The band left the stage but he stayed, He had talked about friends of his in attendance and how important it was for him that they were there.  He looked over at his friends.  they really wanted to hear him play a song that he had not played in 3 years. As a thank you to his friends, to end the show, after admitting he may mess up, he played a heartfelt version of "Rock Away Blind". It was a touching end to a great show.
Opening up for Lindsey Buckingham on this tour is a new artist from Nairobi, J.S. Ondara. He is touring to support a new album which will be released on February 1, 2019. He is a perfect example of going to a concert and seeing someone new and hearing great music. He mentioned a few times, the songs of his were songs were have never heard before, since his album has not been released yet. His music, great vocal range, and humor caught the attention of the audience. After he played his set, which including his first single "American Dream", he received an applause that is not usual for an unknown artist opening up a show. He is a great job warming up the audience as they were fired up and ready when Lindsey Buckingham came on stage.
My closing comments on Lindsey Buckingham. There are not many people whose importance to a band is so great, whether they leave on their own or get kicked out. that they hire two people to replace them.  Lindsey Buckingham is that person, and not once, but twice!
Yes, he is that great.
Buckingham has always been amazing to see live. One of my most favorite shows I have ever seen was his show in 1993, and this show ranks up with it.
Rating: A+
Jeff Talbert: @JTalbertPhoto