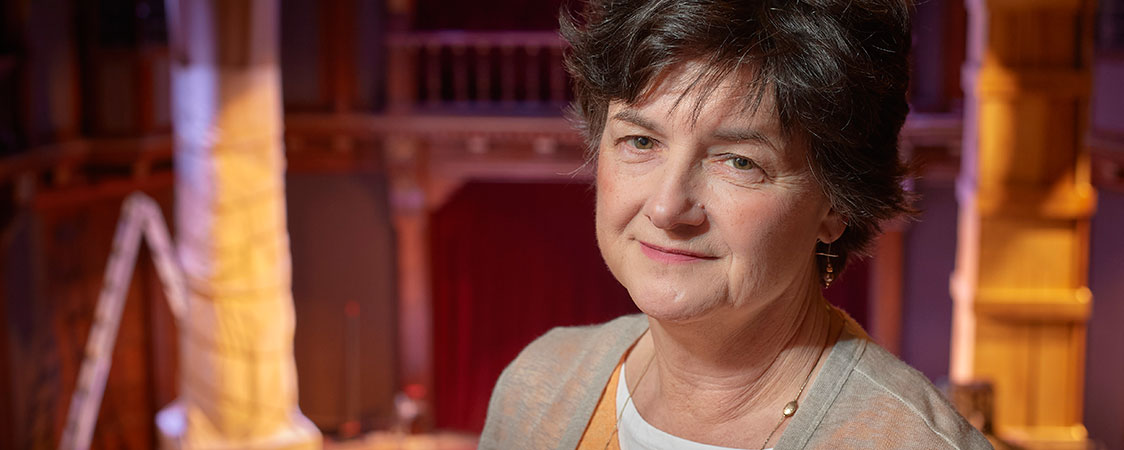 Janet Alexander Griffin, longtime member of the senior team at the Folger Shakespeare Library, will retire in Spring 2021, after four decades of leading the Folger's diverse array of programs for the public.
Griffin, who began her career at the Folger in 1977, became the Folger's Director of Public Programs in 1982. In this role, and more recently as Director of Programming, Griffin has shaped the vision and strategy for inclusive cultural programming across the institution, including theater performances, concerts, poetry readings, talks, screenings, and other humanities programs.
"Janet's record of accomplishment at the Folger and in the city of Washington is truly extraordinary," says Folger Director Michael Witmore. "The programs she has led during her career are touchstones for us—from intimate classical theater to early music to contemporary poetry, and so much more. These programs are foundations on which the Folger will continue to build for decades."
"Seeing performances in the Folger's historic theater over the years has been a source of great joy and discovery," says J. May Liang, chair of the Board of Governors. "Sharing Janet's innovative presentations of Shakespeare and his world with family and friends has made for many rewarding experiences, and that's true for hundreds of thousands of Washingtonians. Her work has been a gift to our community."
Griffin grew up on the Gulf Coast of Mississippi. She earned a BA in English Literature from Rhodes College in Memphis, Tennessee, and an MA from University College Dublin, Ireland. Griffin says, "I had the great fortune to find the Folger early in my career, just after graduate school. Inspired by the immense riches in the Folger's collection, I have been privileged to create programming that stretches across disciplines and connects performance to scholarship—a bond that is evident in the Folger's gorgeous architecture, with the theater sitting right next to the reading room. It's been a joy to join with a wide audience for varied events and to give a stage to new imaginings of old and meaningful ideas."
Founding Folger Theatre
In 1991, Griffin reconceived theater productions at the Folger, establishing and developing Folger Theatre as a home for creative, contemporary approaches to classic theater, producing more than 100 plays in 29 seasons. She produced 29 of Shakespeare's plays—more than two-thirds of the canon—including many of the most challenging plays. Griffin also showcased contemporary works, both commissioning and premiering new plays. Under her leadership, Folger Theatre has been recognized with 158 nominations and 31 awards for excellence from Washington's Helen Hayes Awards, including four for "Outstanding Resident Play" and two for "Outstanding New Play."
Among new theatrical works that Griffin developed for the Folger stage is the late Lynn Redgrave's Shakespeare for My Father (1991), which toured internationally and later earned Redgrave a Tony Award® nomination. Redgrave, who became a member of the Folger's Board of Governors, later premiered Rachel and Juliet (2009), a play about her mother, actress Rachel Kempson, at the Folger. Redgrave's final performance at the Folger was as the recorded voice of Apollo in Folger Theatre's premiere of Anne Washburn's Orestes: A Tragic Romp (2010).
Other new plays developed by and premiering at Folger Theatre include District Merchants by Aaron Posner (2016), which won the Helen Hayes Award for Best New Play, as did Melissa Arctic (2004) by Craig Wright; Caleen Sinnette Jennings' Casting Juliet/Playing Othello (1998);  Karin Coonrod's texts&beheadings/Elizabeth R with Compagnia de' Colombari (2015); Reduced Shakespeare Company's William Shakespeare's Long Lost First Play (abridged) (2016); and Robert Richmond's Hamlet-inspired piece, Gravedigger's Tale (2016.)
Artistic Collaborations
Holly Twyford won her first Helen Hayes Award portraying Juliet in an early Folger Theatre production directed by Joe Banno in 1997. She became a mainstay of the Folger stage, performing more than 16 major roles, most recently as Constance in King John (2018). Other actors active during Griffin's tenure are Kate Eastwood Norris, Craig Wallace, Louis Butelli, and Ian Merrill Peakes, who led Macbeth (2008), directed by Teller and Aaron Posner. This magic-filled Macbeth is available as a video on the Folger's YouTube channel.
Recognizing an artistic partner in Aaron Posner, one of Washington's most successful theater artists and now Associate Professor in the Department of Performing Arts at American University, Griffin first brought Posner to DC to direct As You Like It in 2001. Among their most memorable collaborations are the 2006 Measure for Measure and Posner's 2016 play District Merchants, a Folger-commissioned exploration of Shakespeare's The Merchant of Venice set in post-Civil War Washington and featuring Craig Wallace as Antonio. "Janet has been an exceptional artistic leader, making Shakespeare alive and vibrant for DC theater audiences," says Posner. "I, like so many in the community, will miss Janet's insight, her vision, her faith in artists, and her commitment to taking real artistic risks."
Early work set an innovative, modern approach to the production of Shakespeare plays. London-based director Richard Clifford brought a polished style to classics such as She Stoops to Conquer (2002), Mary Stuart (2015), and Amadeus (2019). Timothy Douglas, who made his DC directorial debut at the Folger, staged a Caribbean-styled Much Ado About Nothing (2009), and Vivienne Benesch set a memorable Love's Labor's Lost (2019) in a replica of the Folger's Reading Room. Eleanor Holdridge revived The Gaming Table (2012) by the 18th-century playwright Susanna Centlivre, and Rosa Joshi directed 1 Henry IV (2019) with Edward Gero as Falstaff.
Robert Richmond, whom Griffin first brought to the Folger with Aquila Theatre's Julius Caesar (2000), is another frequent collaborator—particularly on challenging works such as Henry VIII (2010) and Timon of Athens (2017). He also directed the Folger Theatre cast recordings of seven unabridged plays for the Folger Shakespeare Audio Editions, available through Simon & Schuster Audio. Richmond will direct Folger Theatre's planned production of A Midsummer Night's Dream in a specially built Folger Shakespeare playhouse inside the National Building Museum, currently scheduled for Summer 2021.
Partnerships and Co-Productions
Griffin formed liaisons with national and international partners. Folger Theatre was the first to bring a production from Shakespeare's Globe in London to Washington with Hamlet in 2012 and again as one of only two American stops on the Globe to Globe Hamlet worldwide tour in 2014.
Other co-productions and collaborations include: King Lear with The Classical Theatre of Harlem, featuring André DeShields (2007), Henry VIII with the Alabama Shakespeare Festival (2012), The Two Gentlemen of Verona with Fiasco Theater (2014), Pericles with the Oregon Shakespeare Festival and the Guthrie Theatre (2015), Saint Joan (2018) with Bedlam, As You Like It (2017) with Hudson Valley Shakespeare Festival, and the Folger-commissioned Confection (2019) with Third Rail Projects, an immersive exploration of food culture inspired by the Folger collection and Before 'Farm to Table': Early Modern Foodways and Cultures collaborative research initiative, which premiered in the Folger Reading Room.
Music at the Folger
In other arts, Griffin developed the residency of Folger Consort into one of the most successful and enduring early music series in the country. There have been more than a thousand live concerts, 21 recordings, and five awards for Best Classical Chamber Ensemble from the Washington Area Music Awards. The Consort has performed not only in the Folger's Elizabethan Theatre, but also at Washington's National Cathedral, The Kennedy Center, and the Music Center at Strathmore. On tour, the Folger Consort has performed at the Frick Gallery, the Weill Recital Hall at Carnegie Hall, The Julliard School, and the Music Before 1800 series in New York; Lincoln Theatre and the Green Music Center in Napa Valley, California; and Wanamaker Playhouse at Shakespeare's Globe in London. Folger Consort has also been broadcast on National Public Radio and public television.
Notable performances by the Consort include Hildegard von Bingen's Ordo Virtutum (1997) and James Primosch's The Tempest (1998), a new setting of verses and lines from Shakespeare's play for Elizabethan-era instruments commissioned by the Folger. Collaborating with Folger Theatre and Folger Institute, the Consort has combined scholarly inquiry with stagings of William Davenant's Restoration-era Macbeth (2018), adapted and directed by Robert Richmond; John Milton's masque Comus (2001); and the medieval mystery The Second Shepherds' Play (2007 and 2016), adapted by Mary Hall Surface.
In 2007, as part of the Shakespeare in Washington celebration, Folger Consort presented a performance of The Fairy Queen, Henry Purcell's 1691 semi-opera based on A Midsummer Night's Dream, with period orchestra and special guests Sir Derek Jacobi, Lynn Redgrave, and Richard Clifford. The group later collaborated on performances combining music and verse from The Tempest and The Merchant of Venice. Most recently, the Consort performed its first virtual concert, Christmas with the Folger Consort (2020), filmed at St. Mark's Episcopal Church on Capitol Hill in DC.
"Ours has been a wonderful and productive relationship over the years," say Robert Eisenstein and Christopher Kendall, Founding Artistic Directors of Folger Consort. They praised Griffin as a "formidable instigator of performing arts programming in the nation's capital, producing an astonishing array of poetry, theater, and educational programs from the Folger."
A Commitment to Literary and Humanities Programming
Griffin has ensured the appreciation of contemporary literature at the Folger with one of the longest running and most prestigious poetry series in the country. Named for the Director of the Folger who started Folger public programs and hired Griffin, the O.B. Hardison Poetry Series has welcomed hundreds of distinguished and emerging poets to read their work in the Folger's intimate theater.
Readings have included United States Poets Laureate, among them Joy Harjo, Rita Dove, Robert Pinsky, and Billy Collins, and a diverse range of leading literary voices from Allen Ginsberg and Gwendolyn Brooks to Seamus Heaney, Eavan Boland, Czeslaw Milosz, and Derek Walcott, creating a rich archive.
Griffin helped establish popular poetry programs like the Emily Dickinson Birthday Tribute Reading, which serves a black cake inspired by Dickinson's recipe; the Folger Poetry Board Reading, where acclaimed poets share their favorite poems by other poets; and Not Just Another Day Off, readings that celebrate the life and work of Dr. Martin Luther King, Jr.
Likewise, Griffin developed a 30-year partnership, beginning in 1983, with the PEN/Faulkner Foundation to bring writers to Washington audiences, including the PEN/Faulkner Award for Fiction and the PEN/Malamud Award for Excellence in the Short Story.
Lectures have featured a wide range of thinkers, writers, and artists, among them director Peter Brook, geneticist / archaeologist Turi King, Shakespeareans Marjorie Garber, Stephen Greenblatt, and James Shapiro, and most recently, with the Eudora Welty Lecture series, writers Jesmyn Ward, Chimamanda Ngozi Adichie, and Salman Rushdie.
Other humanities programs connected audiences more deeply with the Folger, including Folger Fridays—play readings, talks, dancing demonstrations, and more; program-related talks, from pre-show discussions to early music seminars, and specially-curated collection displays; and Shakespeare's Birthday Open House, an annual afternoon celebration for thousands of revelers with performances, scavenger hunts, arts and crafts, and birthday cake.
Looking to the Future
In recent months Griffin has been working with Folger Director Michael Witmore to prepare for the Folger's re-opening after extensive renovations. An integrated approach across the Folger's varied activities will be led by the Director of Programming. This recently created position is now occupied by Griffin and will carry forward with her successor following a national search.