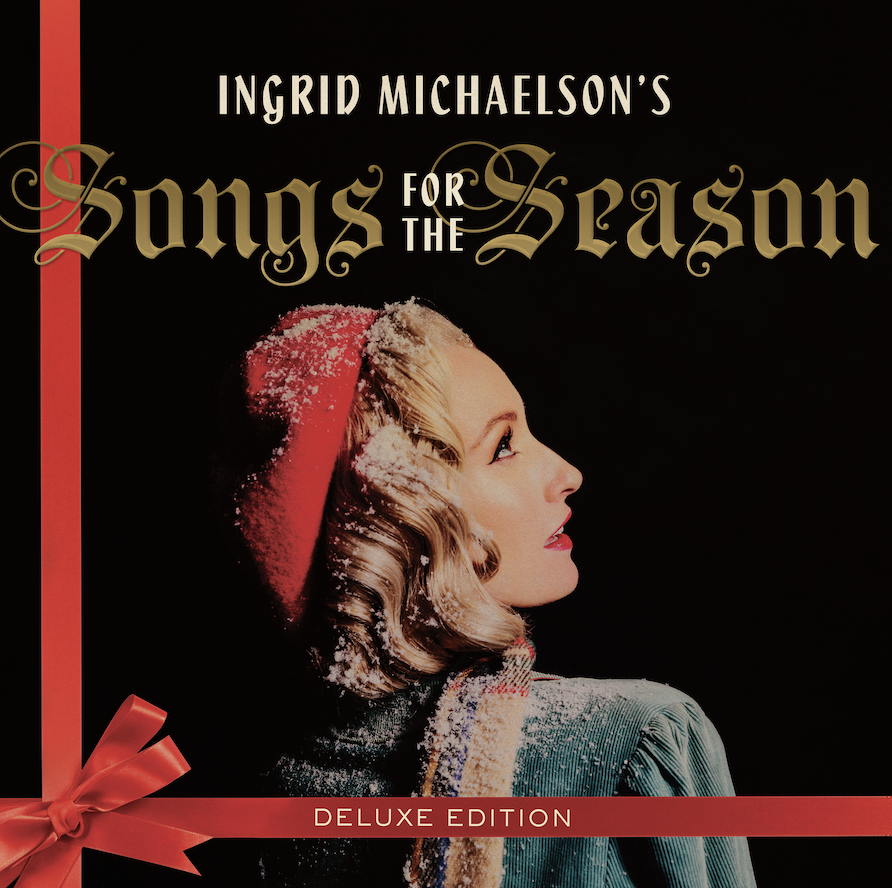 Good afternoon, one and all and welcome to the holiday edition of THE INTERVUE. It was a few weeks ago that our guest "The patron saint of charming Christmas tunes" have released her highly awaited holiday project "Songs for the Season: Deluxe Edition". Released back in the fall of 2018, this new Deluxe Edition features five new tracks, including the previously released single "Christmas Valentine" featuring Jason Mraz , which has amassed over forty-five million streams. And ladies and gentlemen of DMV she is going to come to not one, not two, but three shows at the Kennedy Center, December 10-11th.
Let's welcome one of Christmases biggest fans, Ingrid Michaelson
Ingrid, welcome to the interview!
Hello, hello. That was quite an introduction.
Absolutely. And you definitely have a commonality Christmas because several years ago, I saw you at the Mistletoe Meltdown in Towson many moons ago.
Okay. I mean, I've done a lot of these sort of, you know, radio holiday events. And they all have fun names like that. But yeah, I mean, I've just loved the holiday season forever. And ever since I was little, my parents would have these huge parties on Christmas Eve, and the whole neighborhood would come and my dad would play piano and everyone was saying, and it was just always such a lovely time.
And I think growing up, it just was so special to me. And as I got older, I just kind of clung to that to that warmth, and that joy and that special feeling that it gave me and it just kind of like, gets more and more intense as I age and my brother is like we grew up in the same household like, I mean, I love Christmas, but not like you do. So, I think it's just you know, you know, it's something that's in my bones. It's in my family, but also it's definitely an active choice that I as an individual has made over and over again.
Absolutely. But before we talk about your Christmas album, what were some of the songs that were your favorites growing up?
Well, I mean, I've always sort of gravitated to these older songs, you know, Nat King Cole and Judy Garland and Bing Crosby, that that's sort of just that's kind of where my where my ears always went to. So, I would have to say that sort of just old, kind of nostalgic Christmas vibe.
I would have to agree with you every time I hear Nat King Cole's "The Christmas Song", you know, is the holiday, you know, it's Christmas, you know, we're ready to have a great time on December 25th.
Yes and for me, I start listening to Christmas music in September. So I'm ready. I'm ready to have a great holiday season from, you know, mid-September on, I just, you know, it like gets me through the year. I know that I have like such a large chunk of the years like, well, that's Christmas time, like the temperature would have ever said.
Hey, well, you got to be ready. You got to be ready.
And then I have like, I have a I have a Christmas, a Christmas present app. So, I like fill in all of my Christmas presents. And you know what status they are? Have they? Is it just an idea I had? Or has it been bought? Has it shipped? Has it been wrapped? Has it been presented? And I have every year I go to the next year and I just kind of copy and paste the same people into it. But yeah, I go, I start my Christmas shopping. I basically start like I just shopping all year round. And a friend is like, Oh, I love this glasses. I'll be like "mental note the Christmas present", you know. And then five months later, they're like, I can't believe you remember that. I'm like,
Hey, that's wonderful. You're gonna have to tell me this Christmas app after our interview. I need this Christmas, especially since I got through some major shopping for family & friends. So we got to talk about this app later on.
It's really good. It's very organized.
So let's talk about this wonderful album, which just released just a few weeks ago, and I listened to it almost three days now and I cannot get enough of it. Especially when you envision an album that was "An instant nostalgia classic and will convey authenticity, warmth and familiarity." And I felt your album, Songs for the Season, has done just that. And more.
Oh, thank you. Yeah, I really wanted it to, to be able to be thrown on a mix with those great classic songs that we were talking about. And to not feel like it's out of place I wanted to kind of seamlessly blend in with those older songs. So I'm glad that you liked it. Thank you.
Yes, I definitely love it too, especially what you have done to Mariah Carey's "All I Want For Christmas is You" When I first heard it, and I heard it at least 50 times by now. It felt like it's the golden age of radio feel especially when you teamed up with Leslie Odom Jr. who by the way is actually coming to the Kennedy Center just a few weeks before you at the end of this month.
Oh awesome. Yeah, he's so such an amazing, talented human and everybody, everybody around him knew that but in the last you know, since 2018 member we've put out that record, he's had so much success and just kind of blown up even more. And that's really lovely to see. Yeah, what he sounds like is what he sounds like there's no tuning there's no you know, he's just that's as talented as he is.
And we actually did a music video for it and we had a one take a one take music video which is pretty hard. And we had these beautiful dancers that were sort of dancing our feelings and we were standing on opposite sides of the of the set and it's one of my favorite videos I've ever done, and he was pretty great in it so check it out.
Oh, I've already have checked it out I just can't believe you did it in one take die that's amazing.
Yeah, we filmed it probably after we like we rehearse been a bunch and we you know do hair and makeup tests and lighting and stuff. But once we actually were filming, I think we did five takes and I think the fourth one was the one we like it was something like that once it took you know a chemical rocket started to go out with the lighting right to go out to get all the all the little details. Then once we were going, we went through it. Maybe five times. Yeah.
Amazing. And you brought some amazing star immense star power with this holiday album you brought Christina Perri, Grace VanderWaal, Leslie Odom Jr. and Zooey Deschanel and that wonderful Christmas tune "Merry Christmas, Happy New Year" you colloborate with her. And I want you to tell us a little bit more about the tour because you're right, I have a feeling this is gonna be a catchy Christmas tune. A song you cannot get out of your head until the end of season even longer.
So, I started to write it about a year and a half ago and I teamed up with an amazing writer. His name is Dave Barnes. He and I actually wrote Christmas Valentine, which is a song that I did with Jason Mraz. And so I reached out to him. I was like I have this course idea. And you know, I think we did. We had such a great time with Christmas Valentine that maybe let's try our hand at another, another holiday song. And he and I had a session and we just figured out very quickly the song. And we left the bridge open. I was like, let's see if we can get like a really great talented songwriter come in and finish the song and sing on it.
That's exactly what happened to Zooey, I actually tweeted, I don't use Twitter that much anymore, but this was like a year and a half ago. And I think I only wanted to write a song with sing at Christmas song with Zooey Deschanel and it was like mid pandemic, maybe it was like, April, you know, and it was just like, spirits were low. And, and I just threw it out there to the atmosphere. And she wrote back to me, she was like "Of course, let's do it!" So, it all happened on Twitter. It's funny. And then we got together in the studio this summer. And we recorded it. And she wrote the bridge and spoke a little bit here and there.
And so, I really, you know, I can't believe it actually happened. I'm such a fan of hers. And I think her voice also just has a very nostalgic feeling like just innately. She kind of just sounds like she's been recorded in the 1950s kind of a thing. So, there was something really special about the addition of her voice and her writing on the song, it just makes it feel like such a perfect second chapter of this of this 2018 record, such a perfect addition to the Deluxe.
Absolutely, you're right about the vibe of Deschanel's voice between her voice and your voice. You're right. It felt like it's been fifty years as this song has been recorded, but yet it was just recorded just three years ago. And I love that tune. And I said it's stuck in my head now. So, I have a feeling it's going on the iPod, it's going on our Christmas travels this year, which I'm glad it's going to be.
Now I want you to talk about some of the previously tunes that were added to the deluxe edition for 2021, which was just released not too long ago.
Yeah, so that so that Zooey Deschanel one is a new one. And then the Jason Mraz was from two years ago, but it was kind of floating around just like a single so we scooped it up and added it. And then the other three new ones, I want to pick all ones that were really like high energy, and joyful and nondenominational.
So we went with "Winter Wonderland", "It's the Most Wonderful Time of the Year" and "Marshmallow World", which is kind of an under done song, that "It's marshmallow world in winter". It's very cute. So yeah, I was like high energy, really joyful. Let's make this so that everybody can listen to this, even if they don't celebrate Christmas, and they don't want to hear the words Christmas like. So I picked those three songs like very specifically for those reasons.
Well, I'm definitely glad you picked those three. I think those five wonderful songs by definitely never heard "Marshmallow World" until I started listening to you out but I think I'm falling in love with it slowly but surely. But it's amazing that you added these five wonderful songs.
Now let's talk about you're coming to the Kennedy Center during its golden anniversary, 50 years, you'll be performing three shows with the National Symphony Orchestra December 10 11th. What can people of the DMV look forward to among these three amazing shows?
Well, I didn't know it was the 50th anniversary. That's very….
Oh, yeah. You're in a historic year right now.
I mean, the Kennedy Center, I've actually never been to it personally, I've seen pictures and I've seen videos, but just the experience of being in that theater is pretty amazing. And obviously, the orchestra is I got a week because we have have one rehearsal day. And then we have the show on Friday, two shows on Saturday. So, we don't really have much time, but there's such a well-oiled machine, dude. I mean, like, I've heard the, the arrangements, they can send you sort of like, you know, computer generated arrangements of what the song sounds like. And they are glorious. I mean, they're beautiful. And they made them very, very festive. Like, it's just, it totally is gonna put everybody in such a great, beautiful mood.
They're going to be playing a few of their own pieces without me on stage, some holiday stuff. So, it's going to be like, it's mostly me and my bandmates on stage. But then we're going to kind of slip off for admission and I think they have an intro and an outro that they do on their own just to show off their own fabulousness and I've gotten this thing with an orchestra before not this one, but it I have twice before and it's very overwhelming at first because I'm used to seeing, you know, either myself or a couple of bandmates, or you know, at maximum, there's six of us on stage. And now there's like sixty people, all, you know, playing different pieces that come together to form your song. And it's just to credibly overwhelming. And it's really powerful. And it's really beautiful. So, I'm just very excited. I think it's going to be a night, three nights, or three shows to remember.
Every time I hear the National Symphony Orchestra, whether it's at A Capitol Fourth, our annual Independence Day concert or the National Memorial Day Concert, they always perform so admirably so beautifully. And I'm so glad you get to work with them for these three amazing shows. So I got applaud you, and especially being at the Kennedy Center for the very first time, especially in this 50th anniversary.
Yeah, I had my last live performance was December of 2019, because I do a holiday show every year, that's local New York City where I live. And so I have that one a few days before. So that's going to be like, technically my first show back well, but then the Kennedy Center arc is going to be my second, third and fourth. And then like, so I'm definitely the first was an orchestra in a very long time. So I'm glad that I have my show to kind of like break the ice a little bit, because that might be a really intimidating number one step back from, you know, the pandemic.
So I'm excited, I gotta say that I'm a little nervous. I'm a little nervous, because it's all you know, it's all about re-entering the world, and I've been a little slower to re-enter than other people. So I'm a little nervous, but I'm, I'm mostly excited. And I feel like it's having that many people on stage with you. It just feels very powerful and very moving. And like, what a way to kind of kick open the doors again, you know?
I feel like, I feel like you know, if you do things safely, we can totally do things again, that's kind of my new mindset is if you do it safely, you can do it. And they totally are over there.  I'm very appreciative of, of how careful everybody's been and how respectful everybody's been to it's been a very lovely communication thus far.
Now, this double disc album, which has a limited edition on Amazon has a recipe card for your favorite brown butter blondies. I want you to tell everyone about putting this holiday recipe in this double disc album.
We wanted to put something that was kind of fun and special for people who bought the vinyl and also has a download code on it as well. So it's not just a recipe card. That's really cute. It looks like something that like your grandma had in her, you know, in her little drawer with like an oil stain on it or a butter stain and it just looks like it's written on a typewriter. It's very, very cute. Yeah, that's the double disc. And we're I believe we're only really doing it on through Amazon.
But I think vinyl is just making such a gigantic comeback right now. And I wonder, Gee, I wonder how many people are asked, are people actually listening to it? Or are they sort of like displaying it? It's almost like a piece of art. But I really hope people listen to it because the vinyl only accentuates that. That old sound that we're going for. It's just it's just so warm and it's a little crackly and so I hope that if people want to, if people do get the vinyl, I hope that they're spinning it for sure and even on like even Be a fancy, a fancy record player. In fact, I like it. I was like, what kind of like low key record players? Because it sounds to me like, kind of older, you know? Yes, because I'm very excited about it.
I can't speak for my vinyl collection that I listened to my vinyl, and I display them, I switch them out every month. So, I definitely will include yours among the vinyl collection I have right now. And that's why I like listening to since I'm an 80s. Baby. I love hearing the crackling and the music and the old style of a record being played on a turntable was amazing. And it brings me a little bit higher than listening to digital music as I'm a child of that era. And I want to listen to the music the right way, you know?
Yeah, I mean, there's a time and place for everything. You know, I think it depends on what your mood is. My dad pretty much primarily listened to records. He listened to CDs a little bit, but we grew up in a vinyl household where he had, I mean, I'm not even kidding. Probably over a thousand records. At some point, he was just, and it was mostly classical music. But all the Christmas music that came out that came out hardcore on vinyl, and for him it was a lot of like, you know, Handel's Messiah and Swedish folk tales, and, you know, symphonies playing, you know, Sleigh Ride, things like that. So I had to kind of, like sneak off and, and listen to my own Christmas music somewhere. But yeah, there's something very Christmassy to me about vinyl too. I don't know why, but there just is.
It's like a childhood, you grew up with it. And it's part of your life. And there's no matter how many years go by, you cannot escape that sound that a feeling that emotion that something's spring for your child and vinyl's definitely one of them.
And, Ingrid, thank you so much for taking time out of your busy schedule. I'm looking forward to seeing you in the next few weeks at the Kennedy Center, December 10, and 11th in Washington, DC, and I hope you get to enjoy your time in DC and being part of National Symphony Orchestra and giving us some Christmas tunes.
Yeah, you know, what I'm really looking forward to. It's just making people smile and making people feel joy and making people just feel something that makes them float out of their seat. You know what I mean? I think we all just need to float a little bit right now. So, I'm looking forward to doing that. And, and what's going to happen in turn is I'm going to float. You know what I mean? When you get an audience to really back with you, it's the best medicine in the world. So I'm really looking forward to it.
Ingrid Michaelson's Songs of the Season: Deluxe Edition is currently available stores everywhere. The double disc deluxe edition is only available on Amazon.com.