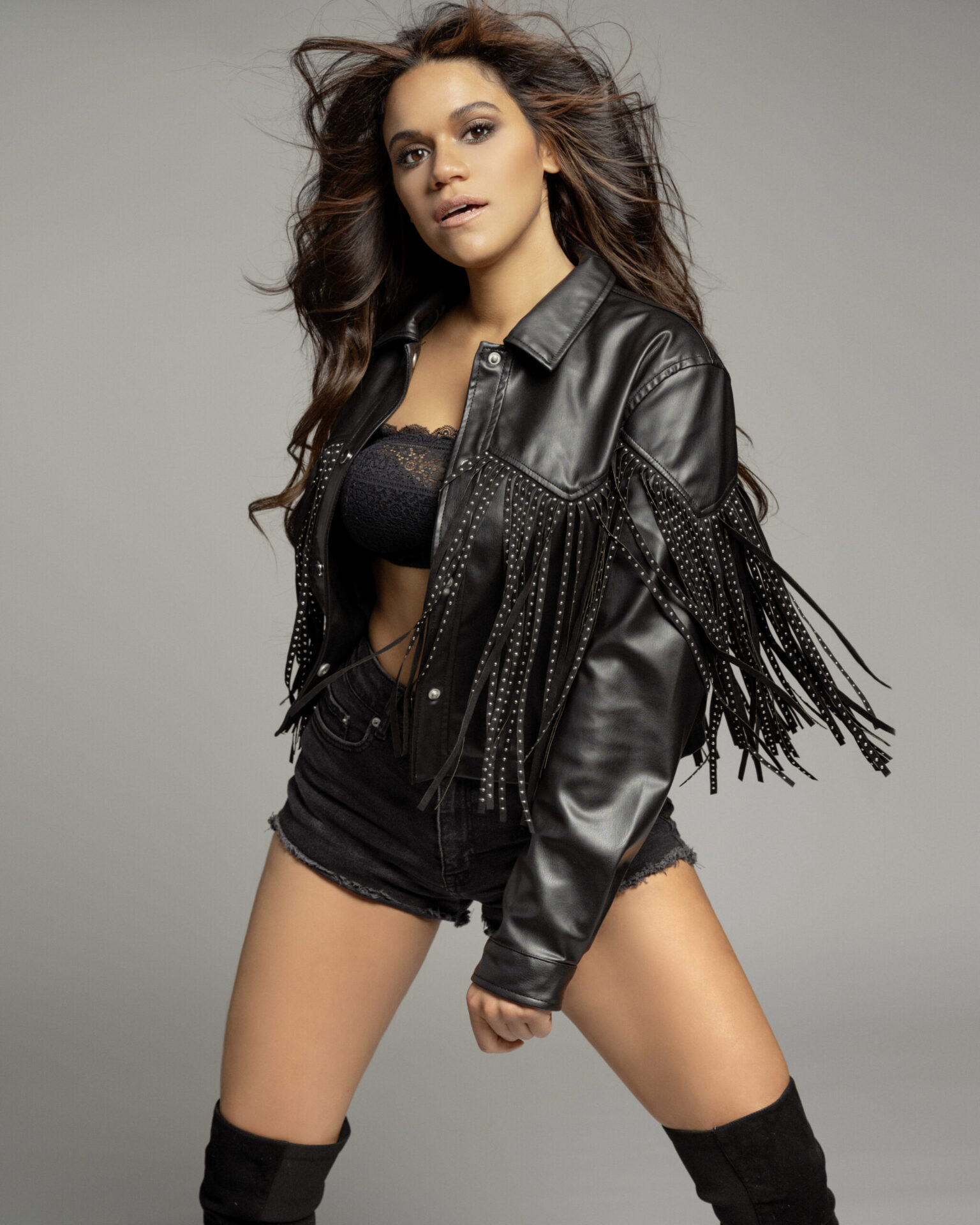 In tonight's edition of THE INTERVUE, I talked to a young actress who has made a name for herself in the world of episodic television with stellar roles on ABC's Grand Hotel, the CW's & Roswell, New Mexico. Now, she's taking the world by storm through her Vegan/Animal Rights activism as she takes on her most challenging role to date on the FX drama Mayans M.C. 
Let's give a warm welcome to actress, vegan and owner of Castby & Penni, Justina Adorno
Before we get started, I would like to wish you a happy belated birthday – the 3-0. That's a milestone. How did you celebrate this grand year?

Thank you, I celebrated with a few close friends and family. It is a milestone and it feels like a transitional phase.

Can you tell us a little bit about your role in Mayans M.C. and what attracted you to the role?

My character "Nails" is someone who works at the bar that the crew frequently goes to and she catches the attention of "Angel" (Clayton Cardenas). I was drawn to the character because of how relatable she is.

Were you a fan of Sons of Anarchy before joining the show?

I knew of the show and of Kathy Segal's role on Sons of Anarchy (she's is a total badass by the way). A few years ago, someone mentioned that I should watch the show so I can see an example of a strong female performance. It's so funny that now I'm on the spin off years later.

When did you realize that you wanted to pursue acting?

After watching a high school performance of Seussical: The Musical, I knew that I wanted to perform/act. There were so many moments throughout my childhood where I would watch movies or plays and felt so inspired by storytelling.

You have played such strong female characters throughout your career from 'Steph' in Roswell, New Mexico to 'Yoli' in Grand Hotel. How do you mentally prep for those roles?

Prepping for every character is different but listening to music helps. Frankie Loyal recommended a few songs that helped him get into character and it made me smile, because since college I would always have a song for each character. It helps embody the essence and subtext for your characters journey if you pick the right song.

Why do you feel it's very important to have representation of different creeds, colors, and sexual orientations voiced and to see that these stories and more are being told?

How can we not?! Look at the world. We all look, speak, love and act differently based on where we were brought up. That question just seems silly to me now and makes me hope that others also know how important representation is.

Grand Hotel was an amazing show that I missed, and I was sad that it only had one season. What were your fondest memories of being in that series and working alongside Eva Longoria, Demian Bichir, and Roselyn Sanchez?

I absolutely loved Grand Hotel and know that it was highly underrated. Honestly, it should have had at least 4 seasons. The whole experience was a dream come true and we had the best cast and crew. Working with everyone that was a part of it, made it all the more magical. Every day on set was a dream and it was a joy coming into work. I was always so excited to see everyone and work on new material. I felt that I was at home.

We have to talk about your rescue cats, Castby and Penni. Where did you come with those creative names and what do you love about them?

Haha, my babies! They are truly a gift from the world to me. When I found Catsby we instantly connected. We picked each other. We get each other on a whole other level. I named him Catsby because I wanted to name him after Leonardo DiCaprio or one of the characters he's played. Leo has been one of my favorite actors of all time ever since I watched Titanic in the theaters.

Penni was found during a rainstorm by a church I grew up going to as a child. "Find a penny pick it up all day long you'll have good luck" – that's my baby girl! She's magical and she has been giving me good luck ever since I rescued her. She was a tiny kitten, and her little back legs weren't working so I nursed her to health. She is the most loving "scaredy-cat" ever but she's my penni penni po po!

How do you use your social media platforms to educate your followers on the abuse that animals endure?

I usually post daily videos and images that speak the truth that most of us aren't willing to face. It's what helped me along my journey. I also post about vegan alternatives within different categories in life, clothing, makeup, products etc.

You have a second Instagram page dedicated to your Vegan journey @justinaveganjourney. How did the process of becoming vegan start for you and how has the journey been so far?

This journey started long ago but truly began when I was fifteen, when I said out loud that I no longer wanted to eat animals. It's been a roller coaster ride ever since. There were years when I was vegetarian and then would lose my moral code during Thanksgiving or at a wrap party after a show. I didn't even realize that the glue to my shoes were associated with the harm of animals. It wasn't until three years ago when I told myself enough is enough and I no longer wanted to feel guilty about my actions. I finally live my truth and help animals because I love them, and they don't deserve horrific treatment!

I read that you only use vegan makeup while on set. Do you have a favorite brand and what are the benefits of using vegan makeup?

I love using Inika as well as Kat Von D's brand (KVD) and CoverGirl's vegan line. There are so many benefits to using vegan makeup and above all it's rewarding because you know that you aren't contributing to the cruelty of animals.

Now that you reached a new decade by being 30, what are your hopes and dreams for this new decade & what advice would you give to yourself at twenty?

Continuing to grow and evolve into the woman that I am spiritually and artistically. This new decade feels so fresh and exciting. If I were to tell my 20-year-old self anything, it would be to continue to be brave and fearless.

Finally, what would you say to the viewers who have not seen Mayans M.C. but need to jump on the bandwagon and watch?

Do it!!! It's honestly my favorite show right now!
Go see Justina in Mayans M.C. – Tuesdays at 10pm EST on FX & follow her on Instagram @justina.justina