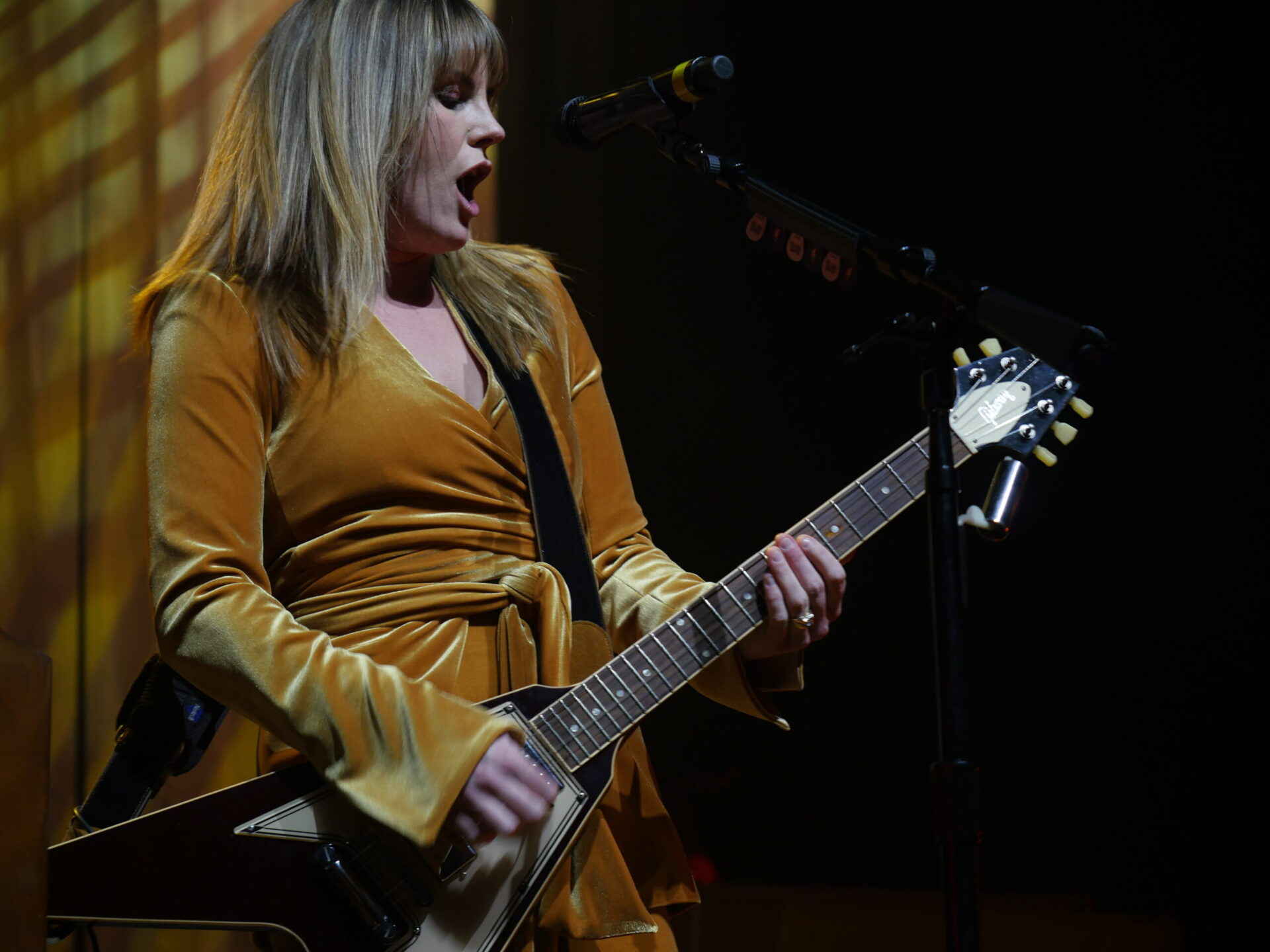 The crown jewel of Washington D.C.'s Wharf revitalization project, The Anthem opened its doors more than two years ago, quickly establishing itself as the top venue for performers visiting the District. It's hard to believe that after all this time, the concert destination could still be celebrating firsts, but that's exactly what transpired Saturday night when Grace Potter graced the venue's stage for the very first time. Having taken some time away from music the past few years, her last tour, which included multiple sold out nights at the 9:30 Club, pre-dated The Anthem's opening by more than a year. Her triumphant return to the nation's capital made for a "special night," as she expressed, not only because of her return to touring with her new album, "Daylight," but because of her rediscovering her passion for music, and for performing, before our very eyes.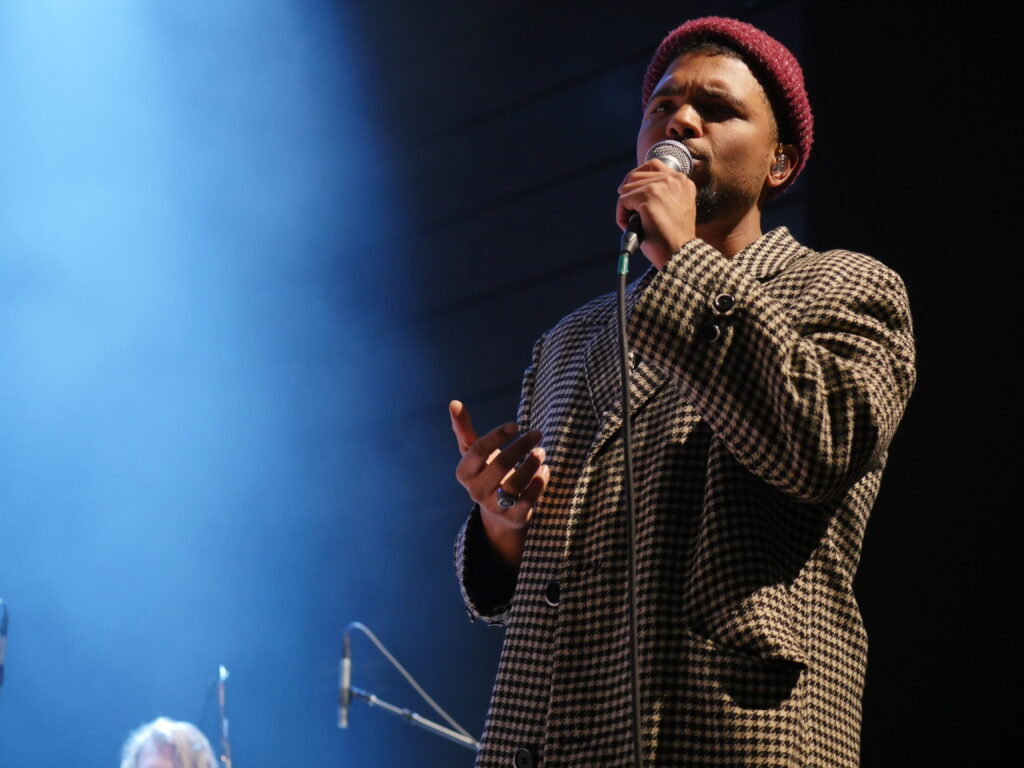 The choice of Devon Gilfillian as her opening act, a talented singer and adept guitarist from Nashville, was fitting. With his bluesy rock guitar and soulful voice, the pair complement one another perfectly, making for an effective one-two punch. Touring on his first full-length album, "Black Hole Rainbow," released only two weeks ago, the performer impressed with his chart-topping single, "Unchained," and with the raw, sentimental "Lonely." But it was his earlier singles, absent from the new album, that were the highlight of his set, injecting energy directly into the veins of the audience. From the funky bass beat of "High" to the roaring guitar riff of "Troublemaker," evoking the style and skill of the great Gary Clark Jr., Gilfillian came alive and came into his own. Don't sleep on his name; the future is exceedingly bright for this rising star.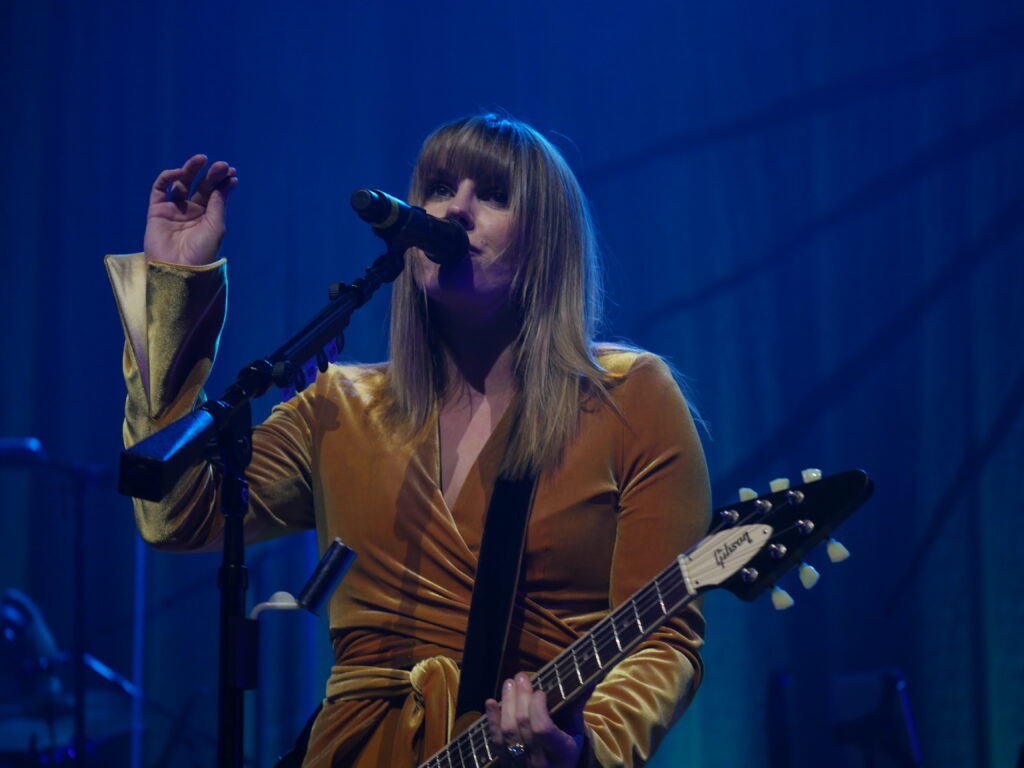 Though he did his best to steal some of the spotlight, the night belonged to Potter. A charming, genuine, lively performer, tossing her hair about and high-kicking her way across the stage, it was evident how much joy she gets from the act of performing. In a vibrant, velvet ensemble, a sunny yellow to fit the daylight sun-themed backdrop behind her, she delivered a fire and ice performance, alternating between the hard rock sound of her Grace Potter and the Nocturnals hits and her generally gentler solo work. I say "generally" because there's still a rhythmic rock flair peppered into her new album, which was on display as early as the first song in her set, the titular, "Daylight," in which the pacing makes you go from swaying to head banging, then back to swaying.
Keeping the set relatively balanced in terms of new and old music, Potter delivered with both, beautifully blending their sounds so that musical themes from one flowed straight into the next. The pairing of "Back to Me," with its catchy chorus characterized by backup singers who hold the weight of a southern church choir, with "Big White Gate" and its gospel-like organ intro, was particularly genius. Her experimentation with layering instruments was also a fun twist, as she intermittently incorporated a three-person brass section into her music. This trio of horns elevated the richness of the compositions and became the life of the party on more than one occasion.
Adding to the uniqueness of her set, Potter sprinkled in a few surprises covers throughout the night, from Elvis's "Can't Help Falling in Love" to TLC's "Waterfalls." But the most special moment among them had to be her cover of Etta James's "I'd Rather Go Blind." While the song itself wasn't a surprise–she recorded a studio version way back in 2018–Gilfillian's return to the stage to alternate on vocals was. A refreshing collaboration, the duo played off each other's soulful energies, adding to the weight of the song's lyrics.
The night finished heavy on Nocturnals hits, beginning with "Stop the Bus," an unexpected crowd favorite. The song included an unusual stunt in which guitarist Benny Yurco laid down on his back, holding his guitar up for Potter to strum in between bouts of playing her own. Though he accidentally bumped her head with his guitar's headstock while trying to right himself, he made up for the gaffe with an impressive guitar solo from a still-seated position. The band then went all out for its finale, playing "Nothing but the Water," a two-part song that spans the spectrum of pace and genre. Beginning with a chilling, stripped down, slow, bluesy tune comprised of only vocals and percussion, the song transitions to an upbeat party anthem with an organ at its heart, shades of The Rolling Stones' "Sympathy for the Devil" seeping from its shout band style. If you thought Potter was a supreme vocal talent and guitarist, wait till you hear her sing while rocking out on a Hammond B-3 organ. It's always a treasure to see a performer treat the unofficial end of their set with the energy of an encore.
Speaking of, Potter wasn't done yet. As she returned for an encore, she took the crowd on yet another roller coaster, just as she had with the flow of her set all night. Easing in with an acoustic version of "Stars," a moving song which perfectly showcases the power of her voice, she then ramped up the intensity with "The Lion the Beast the Beat" and "Paris (Ooh La La)," channeling Joan Jett at times. But as Potter reached the official end of her set, she couldn't seem to pull herself away from the stage. She had one song left in her that she couldn't help but share. "I wasn't sure if I was going to be able to do this song," she said, choking up, wiping away tears, but "I feel so empowered and so loved right now. … You're making me really happy I decided to keep making music." In that moment, everything fell away. The crowd wasn't watching a performer anymore, they were all right there with her onstage. As she described the cathartic significance of her song, "Release," about putting in the rearview everything that took her away from music these past few years, she invited everyone to let go of something that was holding them back. With its sad, yet healing tone, you could sense a weight was lifted from the room as soon as her voice met the soothing organ chords. And for three plus minutes, the whole of The Anthem, a venue that can fit up to six thousand people, fell near-silent as they engaged in a collective therapy session. Finishing the final chorus, acapella, her voice drew strength from the raw emotion pouring from her soul. While very few people have a voice talent as rare as hers, even fewer could control it as masterfully as she while holding back tears. A moment like that is why you go to concerts–to share in something special; to remind ourselves of our humanity and to connect with one another. I've never witnessed a more deserving ovation.
FINAL GRADE: A-