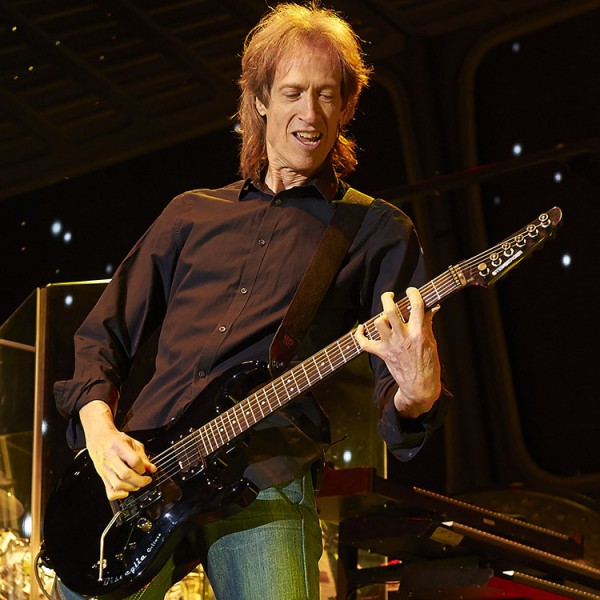 If you listened to rock music in the 1970's, chances are you became a fan of the group Boston. Their fans were rocking out to many of their hits such as "Don't Look Back", "Amanda" and "I Think I Like It". One particular gentleman was rocking out to their music around that time and later joined the band to create some of our favorite hits. I had a chance to talk to Boston Guitarist Gary Pihl about his first time recording with Boston and the 40th Anniversary tour.
How did it feel to record "I Think I Like It" from the "Third Stage" album?
Boy, I'll tell you. It was a dream come true for me. Of course I was in the Hagar band when we go to open for Boston. We liked them, they like us, they said "you should open for us". I was very familiar with the music and of course, always loved it. In '85, when Sammy got the call to join Van Halen, Tom asked me if I'd play on a song. I was so thrilled as can be to be apart of that sound. Again, especially, after seeing so many shows and loving the music. It was a dream come true for me, and again one of those iconic bands. I remember the first Boston song I heard. I was at the light and the guy in the car behind me runs up to me and says "Gary, you gotta check these guys out!" The first hit on Third Stage was "Amanda" and now we're meeting women named Amanda who were named for that song.
What type of organ was used in the song "Long Time"? Do you still use that same type of organ today?
Yes, on both accounts. It's a Hammond Organ, and they don't make them anymore like that. They're still around and it's the organ of choice for a lot of people, because it's the only way to get that kind of song. Tom is one of the greatest keyboard players of all time. He's a great keyboard player as well and knows his way around the Hammond. We still use them live on stage. The live sound is so much better than before. The sound technology has improved over the years. People say it sounds better than the record.
Are there any future projects in the works?
You know, we're always writing songs and we're jamming on sound check. You never now, there may be another album in the works because we're always working on stuff.
What are you most looking forward to where the tour is concerned?
GP: You know, people sometimes ask what's your favorite town to play in. Sometimes, we'll play outdoor places that don't have a roof. Some are open to the elements and sometimes you get rain. Sometimes those are the best shows. Those are the ones people remember. People ask us "do you get tired of playing the same songs?" I would if I was sitting in my living room playing them.
What should the fans expect to see at the 40th Anniversary performances?
We will have some special visual effects, that's all I can say about it at that point. We want it to be a surprise and every show will be different here and there. We'll play all the hits everyone knows and throw out a few new songs. Even some deep cuts we haven't played in awhile.
How did you feel when you first joined Boston?
It was a dream come true for me. When Tom asked me to play on "Third Stage", that was a big enough thrill for me right there. After six weeks into it, there was another song and Tom wanted me to come in and I thought that was it. Sammy had joined Van Halen and I was out of a job. Tom said "We'll start working on the next album." In essence he offered me a job and I moved my wife and kids to Boston and Ive been here ever since.
Do you play your songs note for note or do you improvise?
Both. Sometimes, some songs we'll try to play it note for note, but we deviate from the record or extend it so it's longer than the record. They (fans) won't be disappointed. We definitely try to mix it up. And of course part of that, we don't use any artificial backing tracks, that's all us. If you hear us make a mistake, that's all us.
Many of you have seen Boston in concert and have amazing memories of them. Now, you have the chance to create more memories with the 40th anniversary tour. Check out their website bandboston.com for the dates and make a plan to see Boston when they come to your town.