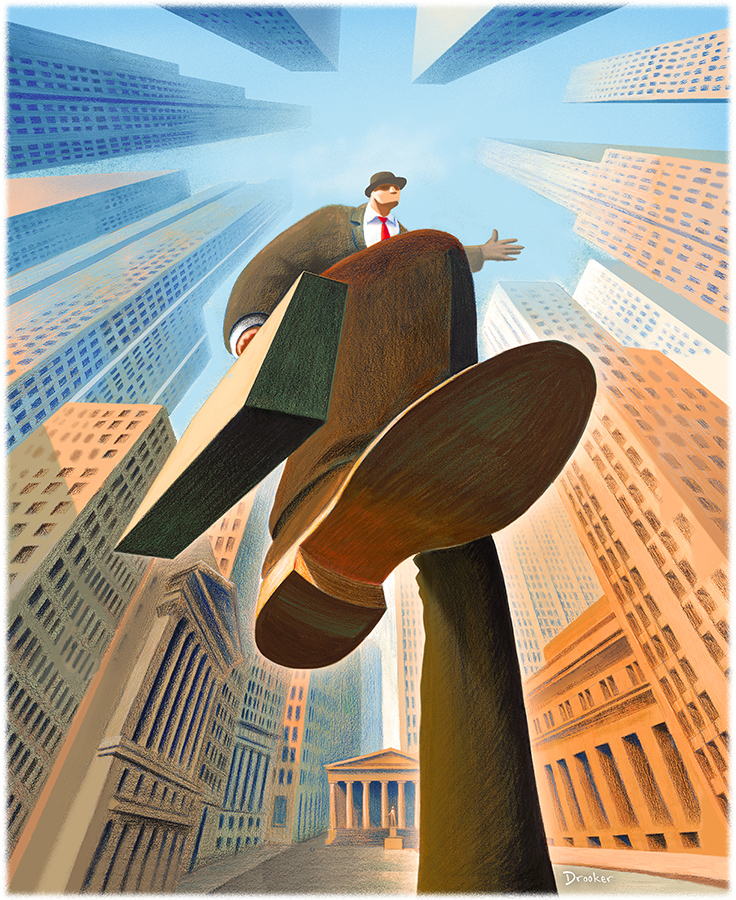 Arena Stage at the Mead Center for American Theater announces the full company for Pulitzer Prize-winning playwright and author Ayad Akhtar's (Arena's Disgraced) timely tale Junk. Inspired by the real junk bond giants of the 1980s, Akhtar explores how the riveting, hostile takeover of a family-owned manufacturing company paved the way to expose the rise of greed, power, race and wealth that led to reshaping the rules of Wall Street and the world. Directed by Jackie Maxwell, Junk runs April 5 – May 5, 2019 in the Fichandler Stage.
Arena Stage is excited to welcome back Akhtar, who was a resident playwright as part of the American Voices New Play Institute in the 2016/17 season.
"Ayad Akhtar's masterful use of language creates rich, complex characters wrestling with the vast issues of our day—identity, greed, religion, race and politics," shares Artistic Director Molly Smith. "His work is immediate, muscular, bitingly funny, thought-provoking and absolutely vital to the American theater. Tackling the cultural and political tension in international and American financial systems in Junk, he is giving us a new perspective and expanded questions on our personal motivations."
"I am so thrilled that Junk will be playing at Arena, in the nation's capital—where we have all witnessed the result of money's increasing predominance in our national, political life," explains Akhtar. "I do believe the central story of our time is not identity, but money. And it seems to me the central thread of that American tale takes us right through the events of the mid-'80s, and the rise of debt as a tool for empowerment, both individual and corporate."
Also returning to Arena Stage, Thomas Keegan (Arena's Watch on the Rhine, The Kennedy Center's George WASHINGTON) portrays Robert Merkin, a trailblazing investment banker attempting to rewrite a new America, while four-time Helen Hayes Award-winner, Edward Gero (Arena's The Originalist and The Pajama Game) takes on the role of Thomas Everson, Jr., a third-generation owner of a family steel company based in Allegheny, Pennsylvania. Jonathan David Martin (Broadway's War Horse, Arena's The Heiress) also returns to Arena as Israel Peterman, along with Lise Bruneau (Arena's The Heiress and Watch on the Rhine) as Maximilien Cizik.
Making their Arena Stage debuts are Perry Young (U.S. Tour of In the Heights) as Raúl Rivera, Kashayna Johnson (Kennedy Center's She A Gem, Theater Alliance's For Colored Girls) as Jacqueline Blount, David Andrew Macdonald (Broadway's Rocky and Mamma Mia!) as Leo Tresler, Nicholas Baroudi (CBS's Person of Interest) as Giuseppe Addesso and Elan Zafir (Folger's King John and Way of the World, Ford's Ragtime) as Boris Pronsky.
Rounding out the cast are Elliott Bales (Arena's Kleptocracy and The Great Society) as Union Rep/Corrigan Wiley, JaBen Early (Arena's The Great Society and All the Way) as Kevin Walsh/Curt, Amanda Forstrom (Off-Broadway's Julius Caesar) as Charlene Stewart/Lawyer, Shanara Gabrielle (Imagination Stage's Charlotte's Web) as Amy Merkin, Michael Glenn (Arena's Sovereignty) as Mark O'Hare, Dylan Jackson (Kennedy Center's Dead Man Walking) as Devon Atkins, Michael Russotto (Arena'sThe Shoplifters and Guess Who's Coming to Dinner) as Murray Lefkowitz and Nancy Sun (Studio's The Hard Problem) as Judy Chen.
"I think the Fichandler, Arena's famous four-sided space, is the perfect location for this play, allowing it to move at the same volcanic speed as its driven characters think," adds Maxwell. "With a newly trimmed and sharply focused version from Ayad, we plan to sweep the audience up from the first moment, not letting them go until the last second of this tempestuous story is done!"
Post-Show Conversations
Connect with our shows beyond the performance at a post-show conversation with artists and staff– April 16, April 24, and May 1 following the noon performance; April 23 following the 7:30 p.m. performance and May 2 following the 8:00 p.m. performance.
PRODUCTION INFORMATION
Junk
By Ayad Akhtar
Directed by Jackie Maxwell
In the Fichandler Stage / April 5 – May 5, 2019
ABOUT: As the brilliant and calculating Robert Merkin prepares a hostile takeover of a family-owned manufacturing company, he is not concerned about crossing the line to get what he wants in the name of "saving America." Inspired by the volatile and cut-throat financial world and the junk bond giants of the 1980s, "this epic piece of work" (Chicago Tribune) is an enticing look at the money makers, their hubris and those who tried to hold them accountable. Pulitzer Prize-winner Ayad Akhtar's (Disgraced) latest work asks if redemption is truly possible or if there is always a new scheme waiting in the wings.
CAST: 
Union Rep/Corrigan Wiley: Elliott Bales
Giuseppe Addesso: Nicholas Baroudi
Maximilien Cizik: Lise Bruneau
Kevin Walsh/Curt: JaBen Early
Charlene Stewart/Lawyer: Amanda Forstrom
Amy Merkin: Shanara Gabrielle
Thomas Everson, Jr.: Edward Gero
Mark O'Hare: Michael Glenn
Devon Atkins: Dylan Jackson
Jacqueline Blount: Kashayna Johnson
Robert Merkin: Thomas Keegan
Leo Tresler: David Andrew Macdonald
Isreal Peterman: Jonathan David Martin
Murray Lefkowitz: Michael Russotto
Judy Chen: Nancy Sun
Raúl Rivera: Perry Young
Boris Pronsky: Elan Zafir
PLAN YOUR VISIT
TICKETS: Tickets for Junk are $56-95, subject to change and based on availability, plus applicable fees. For information on savings programs such as pay-your-age tickets, student discounts, Southwest Nights and hero's discounts, visit https://www.arenastage.org/tickets/savings-programs/.
Tickets may be purchased online at arenastage.org by phone at 202-488-3300 or at the Sales Office at 1101 Sixth Street, SW, D.C.
Sales Office/Subscriptions: 202-488-3300
Group Sales Hotline for 10+ Tickets: 202-488-4380
TTY for deaf patrons: 202-484-0247
Info for patrons with disabilities: 202-488-3300
PERFORMANCE DATES:
Sunday, Tuesday & Wednesday at 7:30 p.m.
Thursday, Friday & Saturday at 8:00 p.m.
Saturday & Sunday at 2:00 p.m.
Weekday matinees at noon on Tuesday April 16, Wednesday April 24 and Wednesday May 1
###
Connect with us:
Facebook: facebook.com/arenastage
Twitter: @arenastage
Instagram: Instagram.com/arenastage
YouTube: youtube.com/arenastage1
Website: arenastage.org