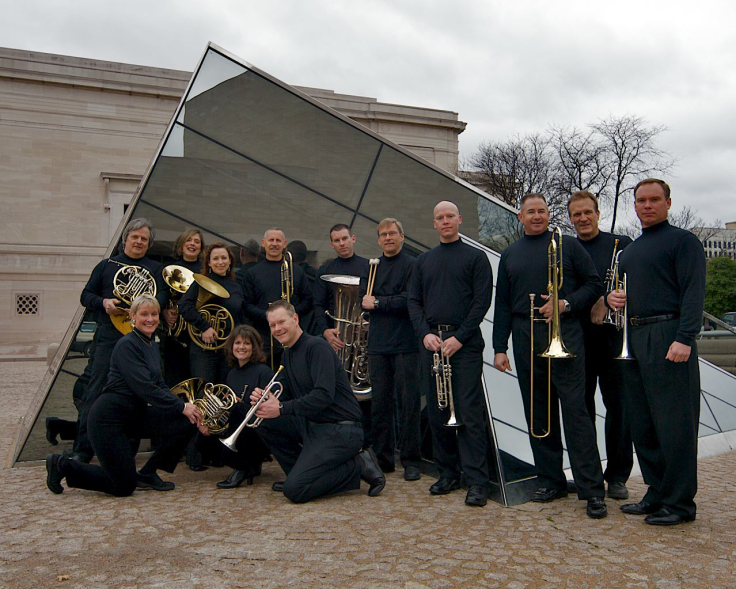 It's a festive evening with rather festive results and it was brought to you by the Washington Symphonic Brass. They were paired with The National Philharmonic Chorale and both were conducted by the great Victoria Gau. I have covered a number of holiday concerts this season at the Music Center at Strathmore and each concert has had its own particular feel whether it is rhythmic, traditional or joyous. A Festive Evening with the Washington Symphonic Brass had a feel that was both triumphant and grand. I guess when ever you feature a 13 member horn ensemble and 100 piece Chorale it will sound triumphant to say the least.
This wasn't by any means just a routine holiday performance. It more or less featured traditional holiday music from around the world. Of coarse they did play some American classics as well. There was a piece entitled "Christmas Memories" with songs such as "Christmas is Here", "Frosty the Snowman" and "Welcome Christmas". They also played "You're a Mean One, Mr. Grinch" which was one of my favorites. The Tuba in that particular song bellowed and really got every bodies attention. Also a part of that number was "Hark! The Harold Angels Sing" which was absolutely magnificent. The Chorale really lifted your with spirit and when coupled with the horns it made it sound transcendent and heavenly.
There was a lot of experimentation with the direction in which they protruded the sound. There was a song entitled "Tonttu" (Christmas Gnome) which a horn quartet performed the whole song from the back of the grand tier of the music hall. It was interesting but I found myself looking over my shoulder to see where the music was coming from. They also did this with the song "In the Bleak Midwinter" in which a quartet performed a portion of the song from backstage. I mean like I said it was interesting but I think the music sounds best on stage. I thought this kind of took away from the triumphant sound created when the entire ensemble is performing center stage and utilizing the design of the music hall. Other than that everything sounded great!
They performed "Troika" a traditional Russian song but It might as well been an American Christmas song. I only realized it as they were performing but iterations of this song has been featured on a number animated television holiday specials. They also performed "Ode to Joy" which I was confused when I saw it on the program. I didn't know it was a holiday song but apparently in Japan it is celebrated as such and it makes sense; I mean the holidays are a joyous time of year. A piccolo trumpet was played during the performance of this song and I thought that it was great hearing "Ode to Joy" performed an octave higher and the arrangement was interesting as well.
This was a magnificent performance. The pairing of the Chorale and the horns was brilliant. This program was put together extremely well. Everyone associated with making this performance possible should be given a round of applause. It lifted my spirits and just the quality of the sound was great. It was an acoustic performance which means no microphones, amplifiers or speakers were used but the sound they were able to protrude with those horns was amazing. I guess that was the whole meaning behind the quartets performing from different areas of the music hall. I would really recommend seeing the Washington Symphonic Brass they really are a group of outstanding professionals.