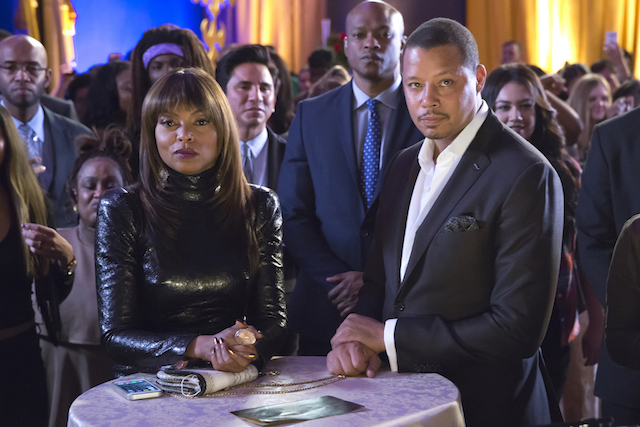 I've stuck with this show all the way through the fall finale, and "mixed emotions" doesn't even begin to describe my reaction to this episode. I am super thankful that certain characters are back and that Lucious has been knocked down several million pegs, but I'm still frustrated that we had to eat the tripe the writers have been serving us the past few weeks to get to this point.
It's nomination day for the American Sound Awards, which I guess was the only name left since there are about 100 music awards shows now, and Jamal is getting ALL the nominations. He's also getting a lot of loving from his new beard, Skye Summers. I shall call them…SkyeMal. No letters, Delta! I won't be using that name for long anyway; these two weren't meant to be since she's not a dude and Alicia Off-Keys has to get back to singing her own songs.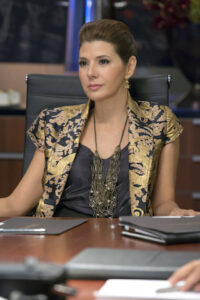 Lucious only gets one ASA nomination, but he is still smug as a bug in a rug, riding high from rescuing Cookie and acquiring SwiftStream (how did Taylor miss this opportunity?). His protegée also bests Hakeem by getting a nomination in the rap category. All of those good vibes go away when Camilla returns to burst his bubble. Cookie can spit in her face all she wants, but that won't change the fact that the Original Cougar's talent for revenge is at boss level. She did way more than a half-ass twerk for Mimi and pulled off the coup that Cookie couldn't.
Everything is coming up cougar because Boo Boo Kitty magically becomes every Lifetime Movie villain all rolled up into one, and I'm here for it. What Anika did to Rhonda is the worst thing ever and watching it happen made me just as uncomfortable as watching Jerry Grant take advantage of Mellie on Scandal. However, scheming and plotting is more up her alley than sniffing around Cookie and Hakeem. This was the woman who sold Lucious out to Beretti, slept with his son and drugged one of his artists. Welcome back, B. I'll be looking out for you in March.
Thumbs Up/Thumbs Down
UP: "Aye." Hakeem's betrayal was hugely satisfying, especially with the flashbacks of Lucious doing him all kinds of wrong. Taste the karma!
DOWN: "She fixed you." Lucious and his homophobic nonsense have got to go.
UP: "…not 10 million dollars good." Thirsty's thirst being rewarded with the same nonchalance Boo Boo Kitty got after exploring Mimi Whiteman's nether regions was nothing short of hilarious.
DOWN: Ti-YAWN-na. I cannot deal with The Princess of Empire/Lyon Dynasty/Wherever Hakeem is and her boring performances.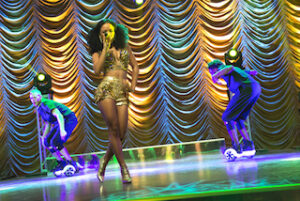 WTF Moment of the Night
Da Brat shows up and doesn't rap. I'm really annoyed with the fact that neither Porsha nor Jezzy showcased their talents, but we had time to hear SkyeMal sing their ho-hum tune yet again.
Final Grade: B
Empire (and my Empire reviews) return in March 2016.