On this edition of THE INTERVUE, we are getting ready to head down south for the new Apple TV+ series, Acapulco, a bilingual comedy series starring and executive produced by Eugenio Derbez.
Told from the perspective of his present-day self, "Acapulco" tells the story of twenty-something, Máximo Gallardo (Enrique Arrizon), whose dream comes true when he gets the job of a lifetime as a cabana boy at the hottest resort in Acapulco. He soon realizes the job is far more complicated than he ever imagined and in order to succeed, he must learn to navigate a demanding clientele, a mercurial mentor, and a complicated home life, without losing his way to shortcuts or temptations. The series takes place in 1984, with Derbez narrating and playing the present-day version of the main character, Máximo Gallardo.
In our first set of interviews for this new series, I spoke with actors who share the role of Máximo Gallardo: Eugenio Derbez and Enrique Arrizon!
Last night I saw the series, and I can tell you that I know it will be a success. I want to start with you, Eugenio, of what Acapulco is because Acapulco comes to my mind, and I think of tacos, tequila, parties, vacations. What else does Acapulco bring us in this series?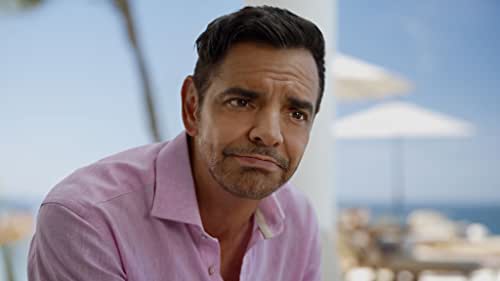 Eugenio Derbez (ED): Bring everything you just mentioned and much more. Because Acapulco, besides being one of the favorite destinations of all Mexicans abroad. Also remember that in the eighties, all of Hollywood went to Acapulco to these legendary parties that were held in the Duke of Allah and the princess. I do not know where the big parties were But during the day it was also very familiar, you could and with your children go to the beach and at night to the nightclubs and all these stories that are told about Acapulco that happen in these large hotels is what we are going to see in the series, what is happening in these places of some sort of perdition where nothing else the upper sphere of society can access the city. You hear stories, but you don't know if they are true or they are legends. Here in the series, we are going to tell all the stories and what a boy like Enrique, who is Máximo in a young version everything that has to go through and face and we will see if he can sell his soul to the devil to achieve his dreams.
Enrique Arrizon – "Young Maximo" (EA): How much are you willing to pay to achieve his goals.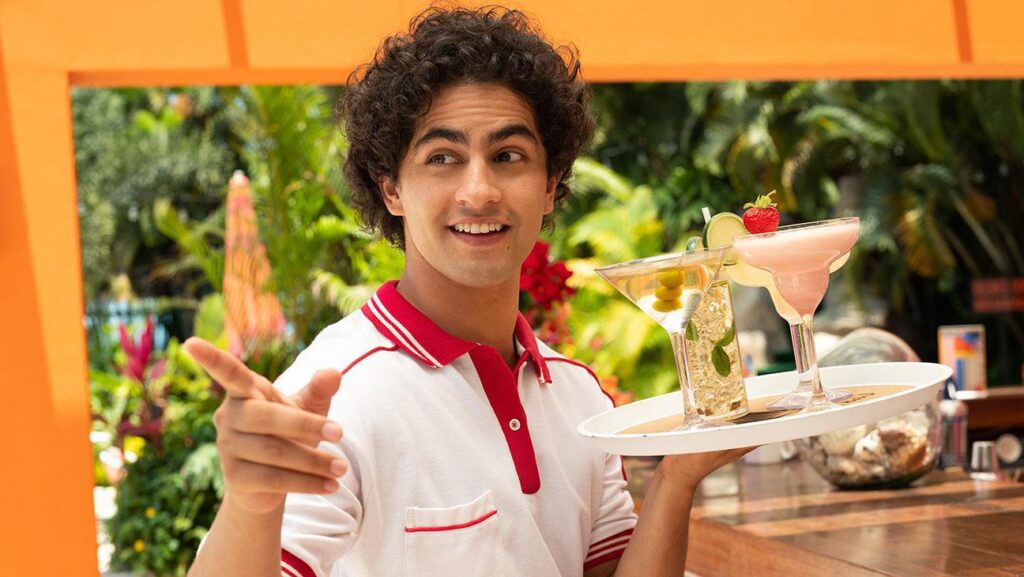 Enrique, you get travel back to the 1980s in which you are practically telling the story of Maximo, which is Eugenio.
EA: Obviously, it is a great responsibility first. I am super grateful that they have chosen me. It is a privilege. It was a great challenge. It is a bilingual series. It is an excellent opportunity to show the world all these stories, just as Eugenio said they were told in Acapulco. So imagine being a guy who enters a hotel where a thousand things happen where guests become very exotic. For him, it is something new, but imagine receiving huge tips that can help your family. If you think twice, you might be willing to do anything to help your family and move it forward.
Eugenio, this story is a bilingual series in Spanish and English. What is the purpose?
ED: Reflect reality. To me for example, gives me a lot of courage to see Hollywood movies where suddenly you were going to Mexico. In Mexico, everyone speaks English in the film, and that is not true. In Mexico, you do not arrive, and everyone speaks English.
EA: Or they all have a hat or mustaches.
ED: The stereotype, and not then, how can we not break with stereotypes and false reality. We are going to show Mexico as it is, and if suddenly the mother and the son are speaking. They are from there, then they talk to Spanish that everything is bilingual, that it feels natural that it feels really organic, and to remove the stereotypes that not everyone wears hats and not all are like that, so that is the purpose.
Well, to finish, why do you think it is essential to show this story globally?
ED: First, it is essential to show the beautiful part of Mexico because sometimes the world has a wrong idea of ​​Mexico through the news, and the only thing they read is there are so many deaths, drug trafficking, criminals, and Mexico is much more than that. And that is what I wanted to achieve with Acapulco that we teach the beautiful part. That Mexico is also much more than criminals and drug traffickers. For that and teach an alternate reality.
EA: And with an intelligent comedy without diverse stereotypes where the friendship of all values ​​persevere, love, self-reflection is in the characters, everyone will identify with them. It is a story full of love, so why not show the world.
ED: And familiar. now in days, there are no family products, this series can be seen with the whole family.
EA: Like in the eighties when people gathered on the sofa to see all the same thing, this is the same.
Keep an eye on this space tomorrow as we conclude our Acapulco interviews with stars Fernando Carsa & Camila Perez