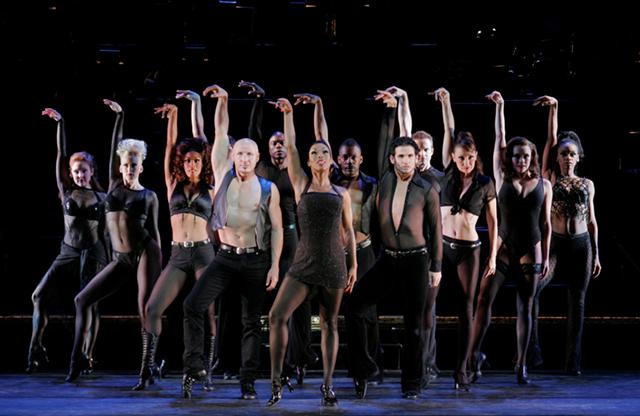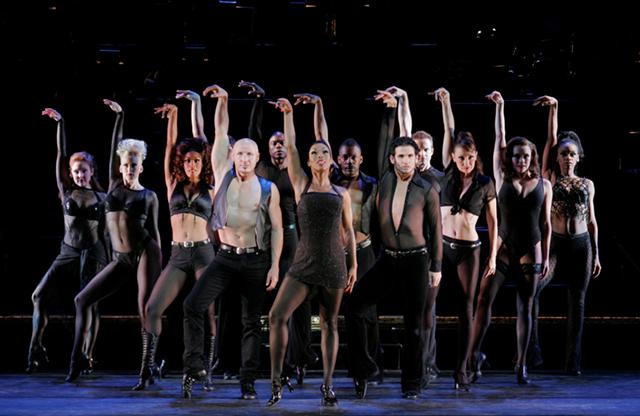 Last week I had the privilege of attending a fabulous performance of "Chicago" at the National Theatre. For those unfamiliar with the story, it is about a woman named Roxie Hart who is in prison in the late 1920's for shooting her lover. This is complicated by the fact that she is a married woman. At the time, the story details, no woman has yet been hung for murder.
The intricate story line follows Roxie and the other female prisoners as they struggle in a corrupt system by bribing the Prison Matron, "Mama" and others to secure a good lawyer, newspaper coverage and hopefully a light sentence when their trial time arrives. Roxie (Bianca Marroquín) and fellow prisoner Velma (Terra MacLeod) vie for the attention of Mama (Roz Ryan), their lawyer Billy Flynn (John O'Hurley) and newspaper reporter Mary Sunshine (C. Newcomer).
Those who have seen "Chicago" before and those who haven't will be very impressed by the emotional and humorous performance of Roxie. For example, as she sings about the love of her husband, she is flirting with another guy. Her facial expressions are priceless. Her gestures really emphasize her character. She also does wonderful vocal character imitations when speaking. She really puts a comic twist on many of her lines. Her singing voice is also great. The dancing also will leave the audience impressed.
Ann Reinking who is a Tony award winner did the wonderful choreography. Her style was definitely influenced by Bob Fosse, prior choreographer, as she was his protégé and romantic partner in the 1970s. The creativity of the dancing in this show was so amazing that my jaw had to be lifted from the ground several times. When the dancers were synchronized, it was done with perfection. And when they broke off into their own moves as singles or couples, it was stunning. I especially loved the number for "All I Care About" where the girls danced around Billy with Feathers. The company amazingly performed some very impressive dance numbers overall.
The direction of Walter Bobbie is also noteworthy. The orchestra was on stage during the entire show and the actors actually interacted with them. When Roxie greeted the band, they were more than happy to greet her back. At one point Roxie actually walked up to the Orchestra Conductor to show him her headline in the newspaper. She was more than willing to conduct for him while he read the paper. Billy actually told the Orchestra Conductor "if you get yourself a real instrument, they'll give you a chair". It was really cute.
Mama's performance was incredible. In addition to an amazing voice and fabulous facial expressions, she gave cute little snarls at the audience. She really gave the character an attitude.
Another notable voice to mention is that of news reporter Mary Sunshine. The strong and operatic soprano voice was impressive. Although a bit shrill at points, it really intentionally emphasized the sickening sweet character that embodied the reporter.
John O'Hurley (who is well known for his performance of J. Peterman on the TV show "Seinfeld") really lit up the stage as Roxie's lawyer, Billy Flynn. Most impressive was the voices he did while speaking for Roxie, as he literally had her on his lap as a ventriloquist's dummy. Roxie's gestures during this song, "We Both Reached for the Gun" were also hilarious.
One should also mention the amazing vocals of Jacob Keith Watson who played Roxie's husband Amos. He is mealy mouthed and unassuming in his character. Then he really belts out a lovely rendition of "Mister Cellophane".
Also noteworthy is Matthew Winnegge who carried off playing an entire court jury. As he switches chairs, he switches characters. From a blind man to woman to a drunk, he was able to make each jurors character believable without saying a word. It was really cute.
Velma is also quite wonderfully portrayed. The actress has a wonderful alto voice. Her dance moves are also impressive, but quite mechanical and stiff, which emphasizes her cold character. As she competes as a rival with Roxie for the attention of the media, Mama and Billy, it is uncertain throughout the plot if she and Roxie will become friends. As with any great show, it is filled with surprises and plot twists. This is a must see A rated show.