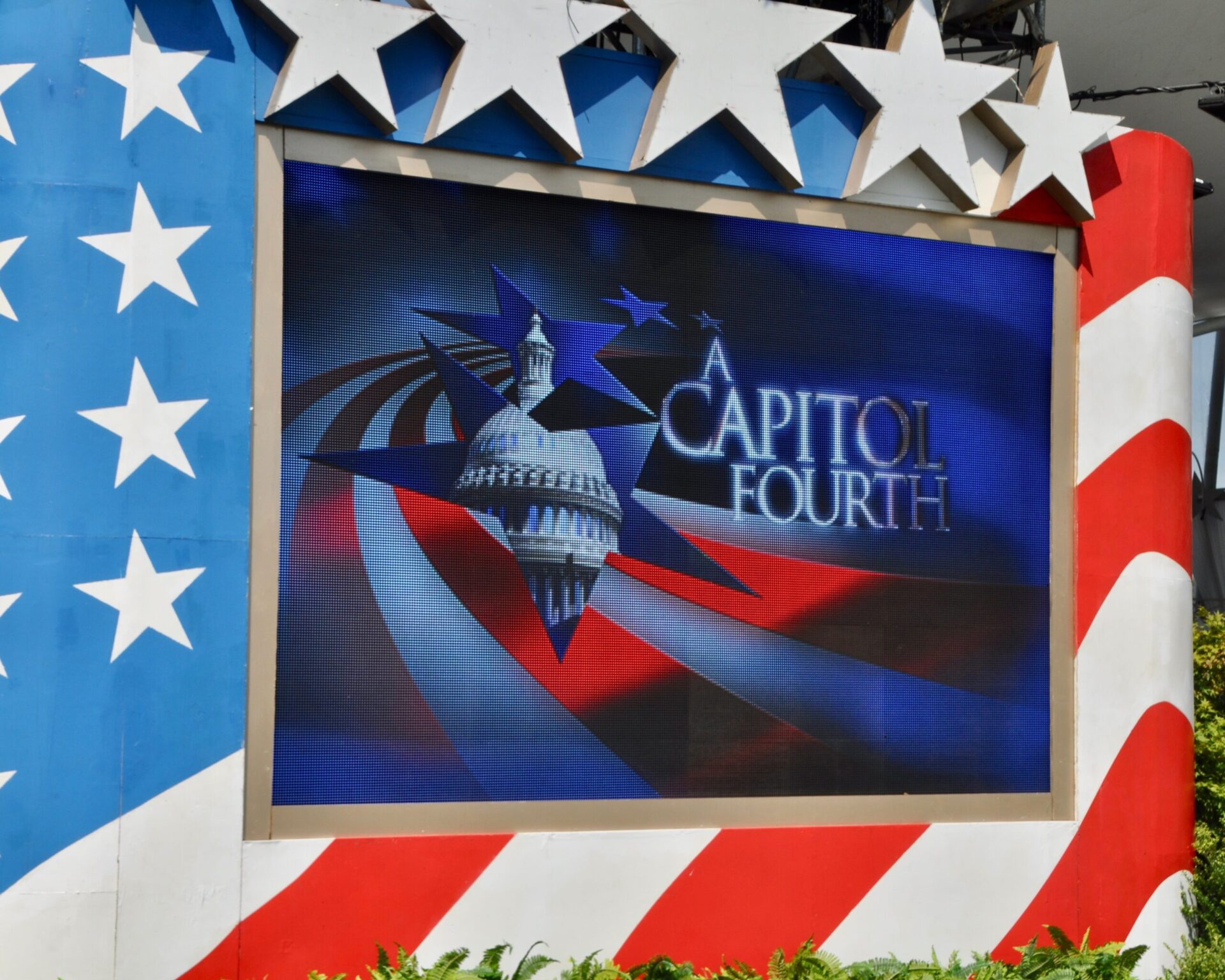 Get ready to celebrate America's 243rd birthday with the longest-running Independence Day live concert to hit the USA, A Capitol Fourth! This amazing concert is celebrating its 39th edition tonight at 8:00 pm EST on PBS promises to deliver a star-studded extravaganza that features John Stamos, returning as host for the third consecutive year. What better way to celebrate our independence day that to see amazing stars performing against the backdrop of the U.S. Capitol with the fireworks lighting up the skies in the Nation's Capital.
With almost four decades of entertaining the hundreds who attend every year on the West Lawn and the millions watching across the country, A Capitol Fourth continues to push the envelope of bringing the best entertainment for our citizens to enjoy on their Independence night and this year is no exception.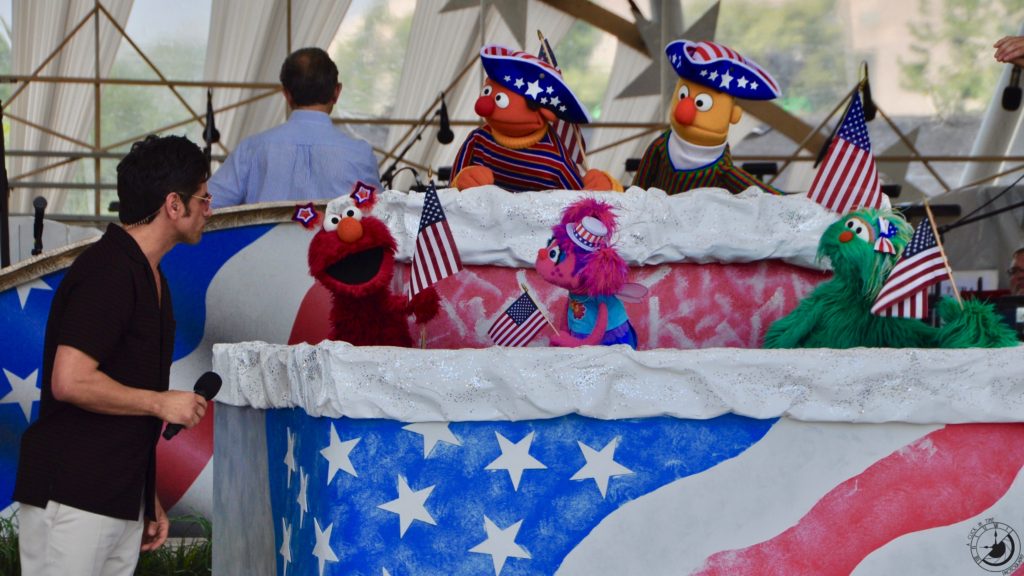 Returning as the host of the annual concert is a staple of the Fourth, John Stamos! This man has done it all, he has performed with Sugar Ray's Mark McGrath and performed with the Beach Boys in previous years. This year, we are looking forward to Stamos playing the drums with the MusiCorps Wounded Warrior Band. MusiCorps is a component of the MusiCorps program at Walter Reed National Military Medical Center. The band is composed of injured service members who have become musicians. This is a performance you cannot afford to miss!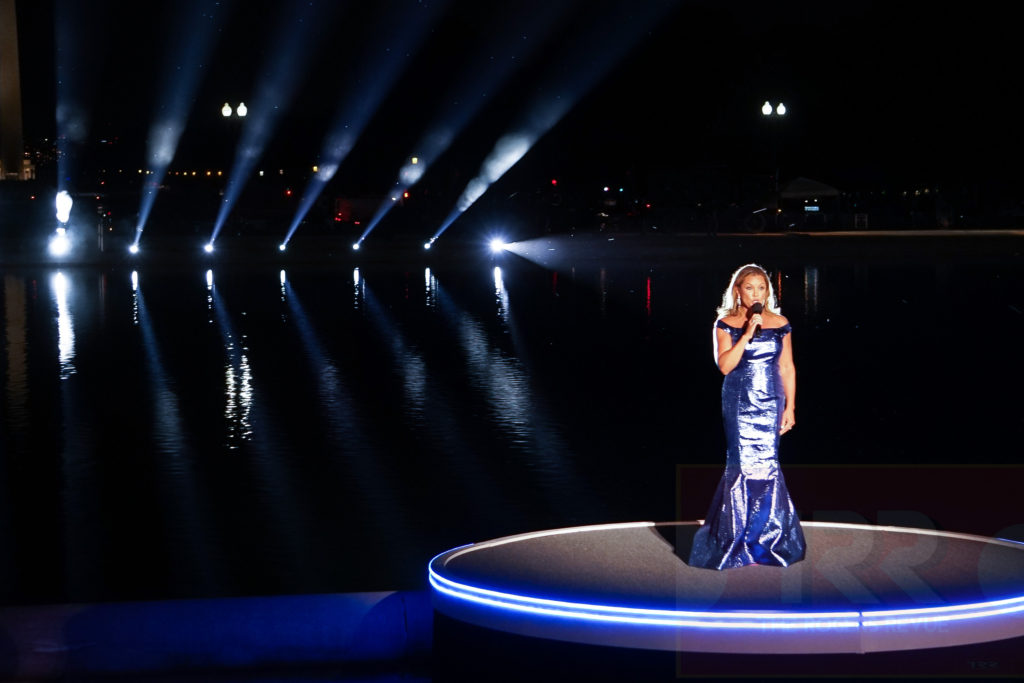 Also on hand tonight, we have the mighty O'Jays calling us to board the Love Train, the legendary Carole King performing with the cast of the Broadway smash-hit musical "Beautiful" with singer Vanessa Carlton playing the role of Carole King, Gospel singer Yolanda Adams giving a tribute to the Queen of Soul – Aretha Franklin, actress/singer Vanessa Williams, and from The Greatest Showman, Keala Settle will perform her signature song "This Is Me"!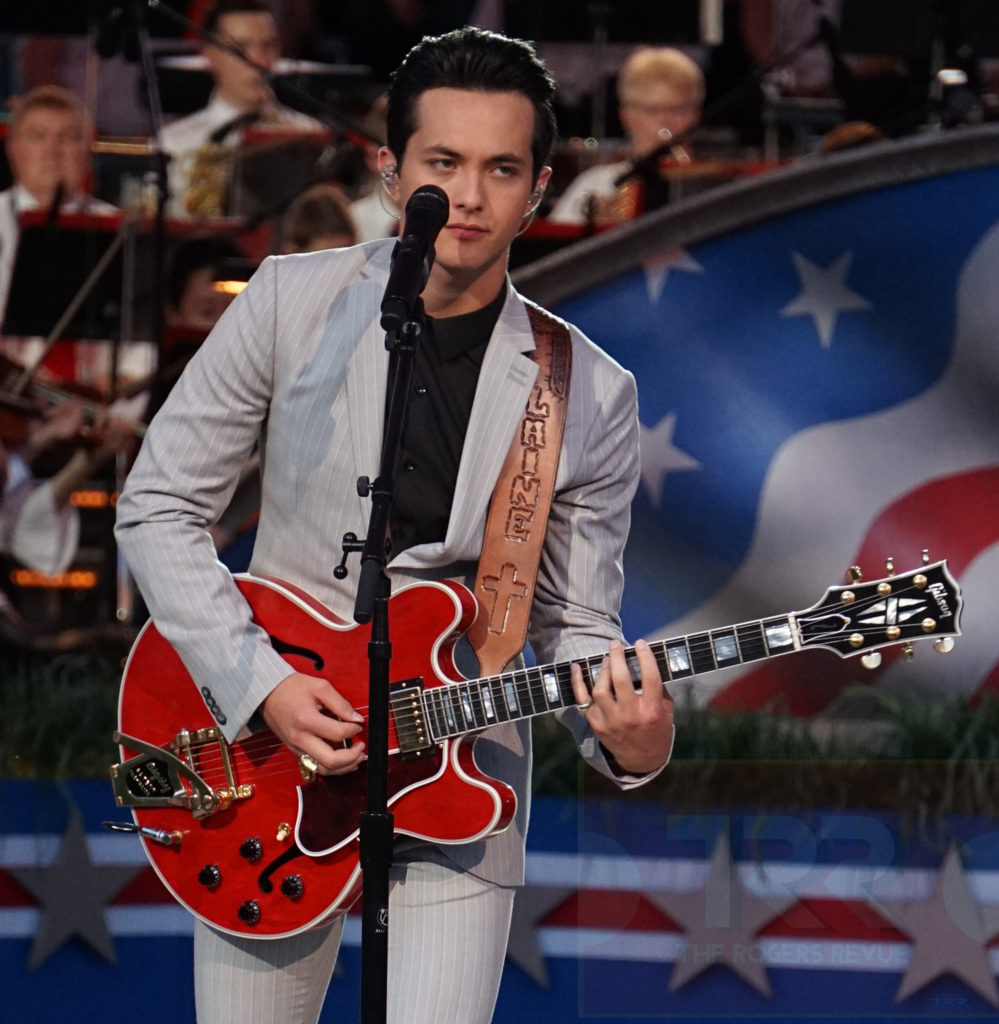 I had the chance to meet chat with some of the talent performing tonight! First up is this season's American Idol winner Laine Hardy and I asked him how does it feel to be performing at the annual event "I mean, it feels amazing. The weather is fine today. I am really excited for the Capitol Fourth show, all the fireworks and the fun things you know." 
Next, I asked Laine how did he get involved in music in the first place? "I was a little kid, like five years old and I still remember it. My mom was driving the road and a song came on the road and I asked my mom "Who that was?" and she said it was and she told me that it was Elvis and it was "Heartbreak Hotel". After I heard about Elvis, I started looking him up. I went to Barnes and Noble and get books of him and that's what get me started. I love music from the 50s to the 70s. That's what I grew up to and connect to."
I asked Laine "How does he celebrate the Fourth?" and he says "Usually me and my buddies get tons of fireworks and we just pop them off."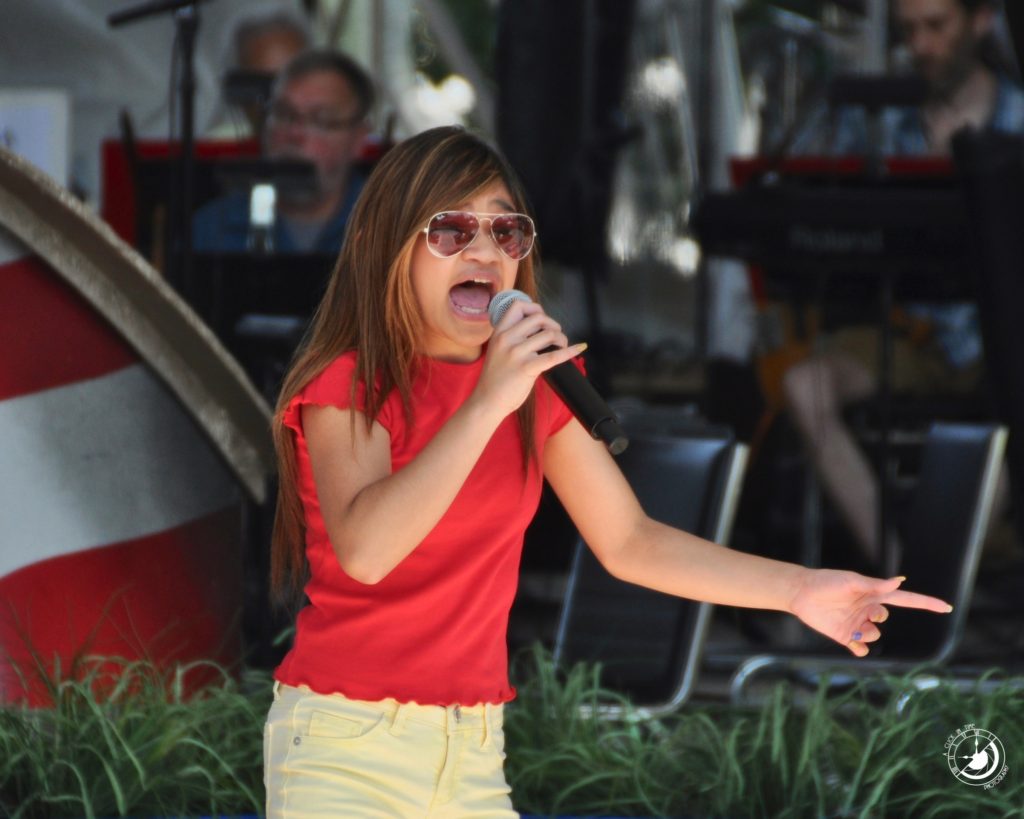 The next celebrity is eleven-year-old Angelica Hale. She made history by becoming the youngest runner-up on America's Got Talent. I asked her about her feelings about performing tonight. "I feel so honored to be performing alongside so many other performers and entertainers and I'm so honored that they invited me to be part of this. So, I want to thank everyone here. It's actually my first time spending the Fourth of July here in DC which is awesome! So what a way to spend it and the Capitol Fourth is one of the biggest celebrations for the Fourth of July!"
Hale also has just released a new single called Feel the Magic and she talked a little more about it. "I am so happy that I was able to because now I get to express myself through my own music and I actually write my music. I wrote that song. It's a lot of fun being able to express my feelings through my own music and inspire other people through my very own words and my very own song."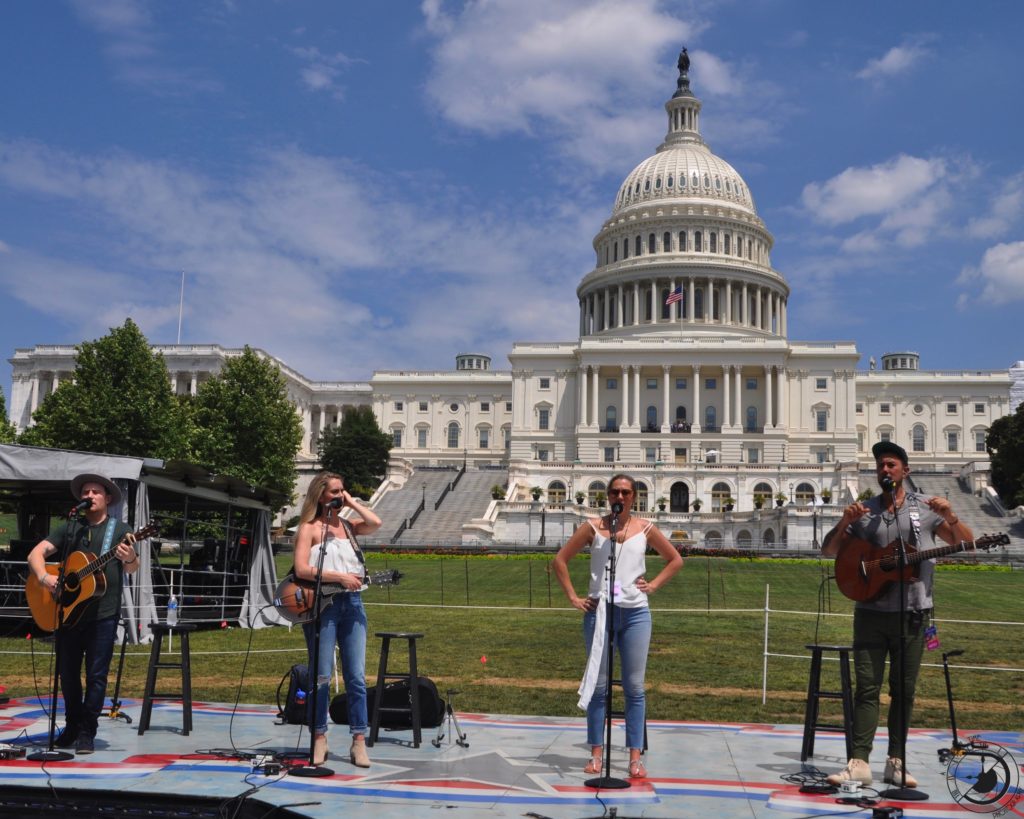 The country music band Gone West featuring Colbie Caillat will be performing tonight and I asked them what can we look forward to their performance tonight. Colbie tells us "We're singing our song Gone West and it's really fun because we been friends for fourteen years and we started this band together. All four of us sing lead on this song, so its really special and we are just excited to be here!"
Next asked the band "What Fourth of July traditions do they have?" Nelly Joy  says "We like to set off fireworks at our house in Nashville." "We usually go to the lake or something like be by the beach with the family and watch the fireworks," says Colbie Caillat. Bandmate Jason Reeves says "I just love cooking with friends and eating stuff like watermelon, hamburgers & hot dogs."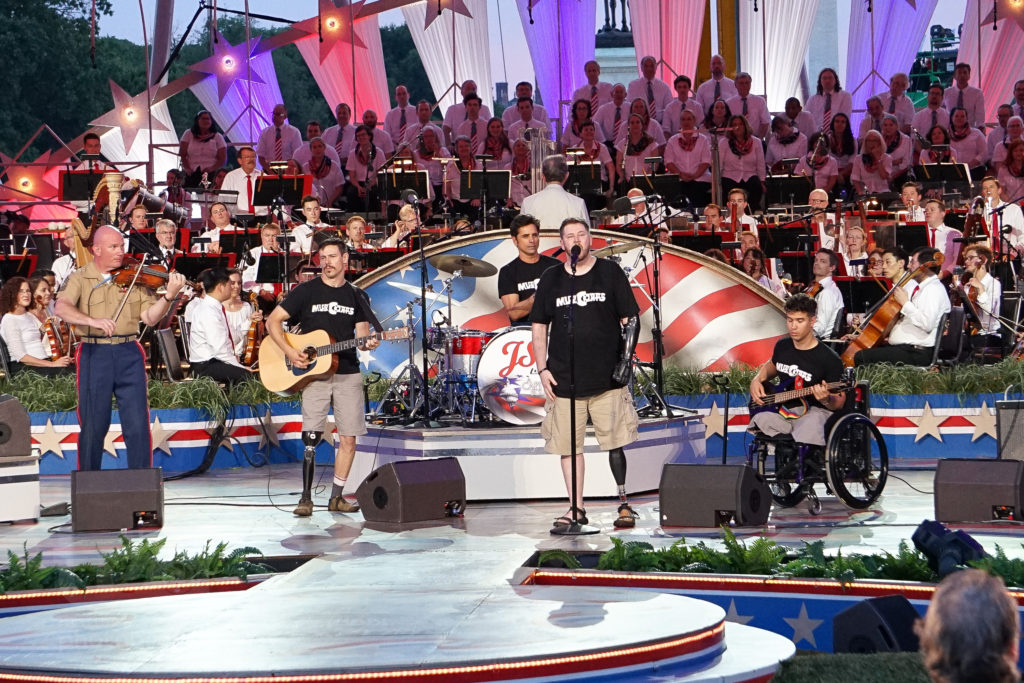 Finally, I asked our stars "What would they like to say to our servicemen and women serving here and abroad?" Laine Hardy starts us off by saying "I just want to say thank you for your service and keeping us safe. We all appreciate and y'all the best!" Gone West's Jason Reeves adds "We're extremely grateful for what they are doing and we hope that they are safe and well you know. We would not be able to do what we're doing now without them so its an incredible thing that they do." Justin Kawika Young adds "Also thank their families. We know that its such a sacrifice that they make as well being away from the people that they love. We appreciate that, too!" Nellie Joy wraps it up with "One of my best friends flies. his name is Gavin and they actually live here so thank you, Gavin, for your service." 
A Capitol Fourth airs tonight at 8:00 pm on your local PBS stations with an encore presentation following the broadcast. For more information, go to www.pbs.org/a-capitol-fourth/