Catherine Foley Goes to Bakeaway Camp
6 min read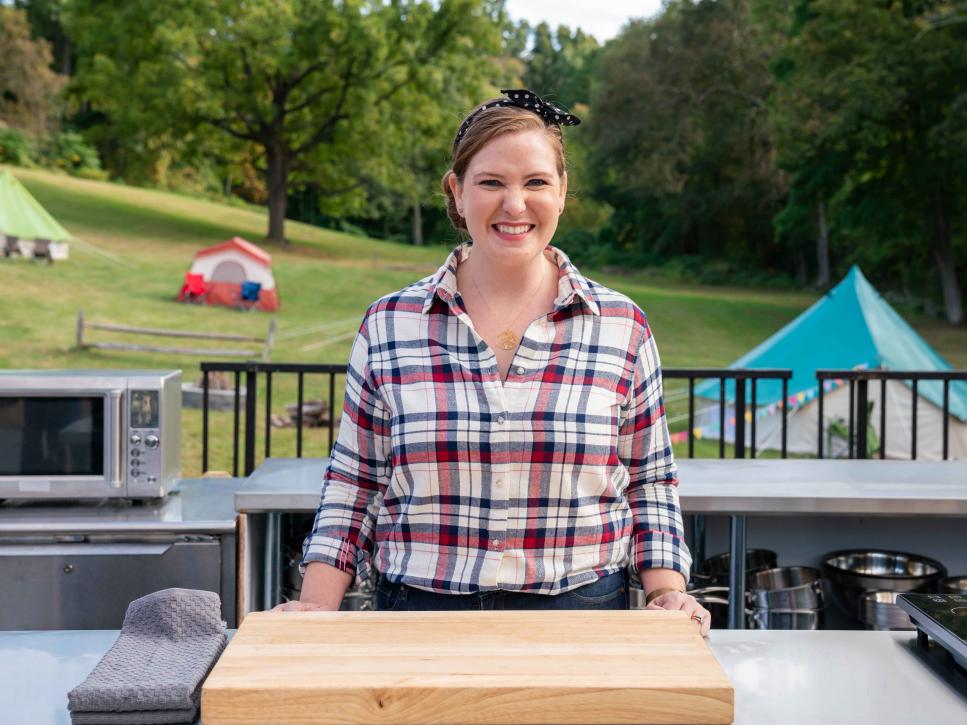 Good afternoon and welcome to your newest installation of THE INTERVUE. On today's edition, a brand-new competition is coming to the Food Network next Monday night. It is Breakaway Camp with Martha Stewart. This competition brings six talented amateur bakers who are competing for the grand prize of a new kitchen filled with appliances worth $25,000! To talk about her experiences of the competition, we have a local baker from the District of Columbia. Ladies and gents, may I present – Catherine Foley!
Catherine, welcome to THE INTERVUE
Thank you for having me!
You're in a brand-new series. For those who looking forward to the series next week, tell us what it's all about.
This show is brand new on the Food Network and the whole idea is that six home bakers come to camp and they compete in various challenges. Martha Stewart is the camp director. Each person can potentially win a challenge and be mentored by Martha Stewart. Not everybody gets to go to her house but if you win a challenge, you get to go and get a personal mentoring session with her.
That's wonderful.
The stakes are really high!
Who can ask for anything more?
I agree, I definitely would like that prize.
How did you hear about the show and what led you to take on the challenge?
I have always loved baking. I watch Food Network for as long as I can remember. I have always been a fan of the baking challenge type shows whether it's the Spring Baking Championship or Halloween Baking Championship. I always like the environment and those type of shows. I was in the process of a different show and was not chosen. They asked if I was interested in auditioning and going through the process of this show. It was a very long process, and, in the end, it worked out. So, its really exciting to be chosen.
Picking up on that question, how long was the process?
I think from start to finish it took about two months, give or take. I had to fill out applications. I had to provide them a few examples of my baking. I a few Skype interviews with the producers. I had a baking challenge to do at home which was timed. Then I had a few other conversations and then essentially, I was chosen. It was quite the process to find the bakers for their shows.
Can you tell us about the challenge you did had home to be selected for the six coveted spots?
It was two challenges. One was a 45-minute Smores challenge, which happens to be the theme for the challenge of the first episode. The second challenge was that you had four hours to make a camp theme two-tier cake. In a home kitchen it can be quite difficult. I have made lots of cakes: wedding cakes, celebration and birthday cakes, but its hard especially in a time crunch to do it at home. You had to make sure that you had room in your refrigerator which I live in a condo in Georgetown. So, I don't have the kind of space in my refrigerator. There are a lot of logistics that go along with doing this in your home kitchen. It was definitely a fun challenge.
I read from your bio that you are a self-taught baker. This is a two-part question: First when did you realize that you had the gift of baking?
I have been baking my entire life. I grew in a family where food is the center of our lives. They are the center of our get-togethers. Its always been important, sitting around a meal and being together in a kitchen. Usually its just for fun and a relaxing outlet for me. I would bake with my mom. I would bake with my aunt who lives next door to us growing up. I usually go over there for the weekend and bake with her and its just simple things like baking things from scratch. Just like being in the kitchen with family. is really what sparks my love of cooking and baking. Making family recipes is really important. I've always loved it. When I was living on my own in the UK, that's when I really got more into because I had time. I was out of college and grad school. Besides the grad school when I was working I had time to spare and began to challenge myself.
The second part of the question is what's your signature dish?
(giggles) That's a hard question. I dont know if I have a signature dish but I do have a cake that I make all the time. Its a layer cake, a celebration style cake. It's a lemon scented white cake with lemon curds and fresh strawberries. People love it because its a little mix of sweet and tangy.
Do you have a website since I read that you made custom desserts especially for the people of the DMV?
I am in the process of developing of website but I do have a Facebook page. The website will be done by the time the show airs. The best place to go is my Instagram. I take orders through direct messages and email. My email is catinthekitchn@gmail.com
Dont forget to see Catherine and wish her well tonight on Bakeaway Camp with Martha Stewart: Extra Sweet, Monday May 11th at 9pm/8pm CST on the Food Network!
Want to know more about Catherine, check out her social media